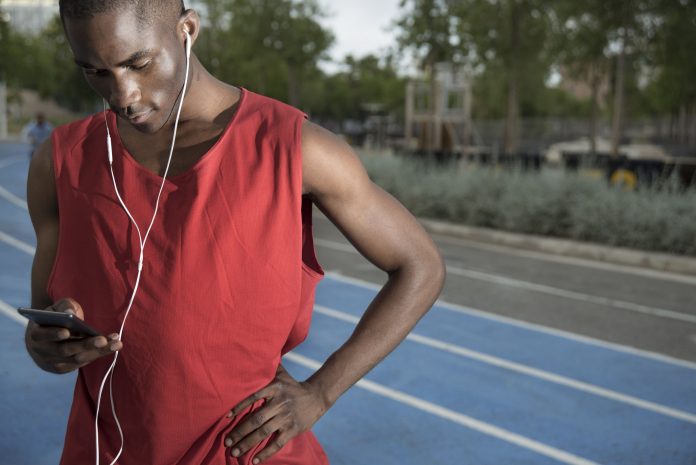 The app is suitable for both a novice runner and an experienced marathon runner. Track workout statistics (calories burned, distance traveled, pace, progress), compete with other users of the service and make the best routes for jogging.
1. Speedometer Apps for iPhone are a very versatile solution that works not only with smartphones, but also with smartwatches, fitness trackers and even smart sneakers. True, the interface is only in English, but it's easy to figure it out.
2. RunKeeper.
A very popular application among runners, which has already collected more than 26 million users. The program allows you to track and control all parameters of your workout: pace, distance, time spent, heart rate, calories burned. To do this, at the very beginning, you just need to select the type of activity. It can be running, walking, cycling, swimming, snowboarding – whatever you want.
RunKeeper can comment on your athletic performance and give voice instructions, so you don't have to take your smartphone out of your pocket while exercising. The program also syncs with dozens of different sports services, such as Fitbit, Withings or Garmin.
3. Pacer.
Very easy to use application. It works in the background like a pedometer, keeping track of your activity throughout the day. The main thing is to carry your smartphone with you all the time. Pacer records your steps, distance traveled, calories burned, and time spent running or walking.
Premium users also have access to personalized workout plans: set goals and complete them, and the program will tell you what to do. Pacer can also sync its data with MyFitnessPal, Apple Health and Fitbit services.
4.iSmoothRun.
Exclusive app for iPhone owners that uses GPS and built-in pedometer to track physical activity. The program measures the distance traveled and elapsed time, pace, heart rate and calories burned. All of this data can then be exported to Dailymile, Runkeeper, Runningfreeonline, Garmin Connect, Strava, Movescount and other sports services. Or post to Facebook and Twitter.
iSmoothRun also tracks your shoe's mileage and tells you when it's time to buy new sneakers. In addition to running, you can walk and cycle with it and track your weight loss progress.
5. Strava.
This extremely popular application serves not only as an activity tracker, but also as a kind of social network for sports fans. Go to the "Recording your workout" section, press the "Start" button and start running. The program will record your speed, distance traveled and time, as well as mark the route on the map.
Before starting a workout, you should choose its type – running, walking, cycling, canoeing, and so on. Plus, Strava lets you find the best running spots on your city map. And of course, in the application you can share your achievements and compete with other athletes.
6. Couch to 5K.
Couch to 5K is an app for beginners. It is designed for people who have not got up from the couch for most of their lives, but suddenly got the idea to run a cross for five kilometers. You need to devote half an hour to classes three times a week, and in nine weeks under the guidance of Couch to 5K, you will start to run like a real athlete.
The program offers a special workout plan for beginners, calculates the distance you have run, and also allows you to listen to your favorite playlists while you run.
7. Vi Trainer.
After installation, Vi Trainer prompts you to choose a goal – to lose weight, improve your run, or just keep fit. The program will tell you how best to train, adjusting to your physical parameters.
The more you run, the more effective and efficient the Vi Trainer will select. But the app has two drawbacks: First, it asks for money. And secondly, the interface and voice acting are only in English.
8. Runtastic.
Convenient GPS tracker with a simple interface. Tracks distance, time, speed, ascent, route and calories burned, saves statistics and allows you to monitor the results of your workouts. The program can also sync with Garmin Connect, Google Fit, MyFitnessPal and other fitness devices like Bike Speedometer App iPhone.
In addition, Runtastic allows you to track shoe wear and remind you to buy new sneakers. In the application, you can save routes on the map, choosing the best running spots near your home. Runtastic also offers media player control, so if you run to music, you don't have to constantly switch from program to player.
9. Zombies, Run!
Most fitness tracking apps are pretty dull stuff. Calories, meters, steps – can these boring numbers motivate you to go in for sports? Zombies, Run! it is intended to diversify you workout and turn your morning jogging into a fun game.
Here you will not only have to run, but to save yourself from the zombies. Can't keep the pace you want? It means that soon the hungry dead will overtake you. The roar and roar of undead in your headphones make you give your best and run like you've never done it before.