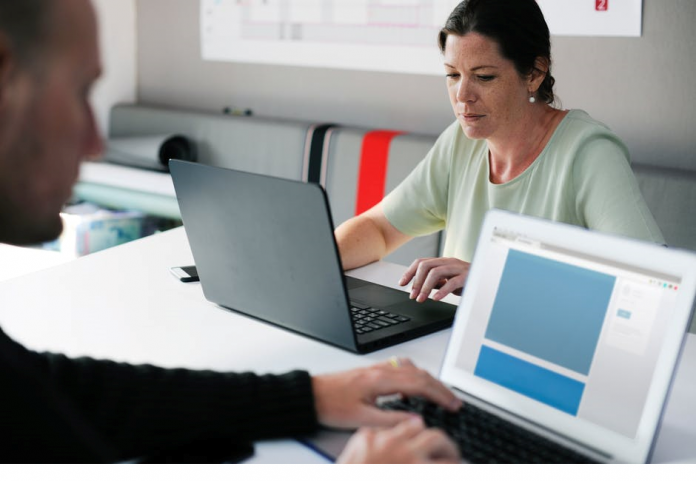 According to a report, 43 percent of small businesses either use manual methods to track inventory, or don't track at all.
This is not only detrimental to the efficiency of stock flow but can also inhibit the success of a business in general. But even for those that use technology to track their inventory, they do so from their desktop devices.
While this may not be a bad idea, there's the need to step up inventory management for more efficient and sustainable transactions.
More so, business transactions are now taking place on a global scale covering multiple locations, thanks to the internet. This means that you need flexible inventory tools to help you track your stock and keep you updated on any changes.
For this reason, we've rounded up a comprehensive review of the best inventory management apps for your mobile device, to help you keep tabs on your inventory with more convenience:
1. Sortly
Sortly is an intuitively designed inventory management app with user-friendly features, making it easy to manage your inventory without stress.
The app also allows you to organize items into several folders and sub-folders depending on the category of the items. You can add photos in folders which make it easier to search for items through images rather than just text. Searchable tags and notes can be included in the folders.
The app also offers handy features such as barcode reader, and a reminder schedule to notify you about expiration or purchase date.
Sortly is available in free and paid plans for Android and iOS versions.
2. Inventory Now
If you have a bulky stock, Inventory Now is your best bet in managing your warehouse. It helps you filter and sort any details of your inventory such as category, date, and barcode while displaying this information on the overview screen. Accumulated profits and profit margins are also displayed.
To keep a record of a new item, simply scan the product using the barcode scanning option and it'll be added into your inventory record.
For maximum functionality, you may consider using the scanning option to pair with e-payment services as a replacement for your point of sale system.
3. Stock Control
Although Stock Control has few features, it's a functional inventory management tool for those managing many supplies at once. For instance say, you want to manage your personal inventory separately from that of your business; or you got a couple of businesses with different stock.
Its search tools are also a huge plus as they allow you to search any item and the precise location at a notably fast speed.
If there's a shortage of a certain item, the app will give you an alert on time with the exact details of the product. The app also supports the export and importation of data to and from your Mac or Windows computer.
4. Nano Inventory
Nano Inventory is recommended to business owners looking for functionality ease of accessibility.
The app enables you to track inventory movement, product descriptions as well as your expenses and income. In addition, Nano Inventory helps you create reports related to your margin, revenue, and turnover.
The selling point of the app is perhaps its ability to work offline. So, you don't need an internet connection to update your catalog or when managing stock for multiple locations, using the app.
5. Inventory List InvTaking
Sometimes all you need when managing inventory is a quick glance to check if everything is flowing smoothly. This is exactly what Inventory List InvTaking app gives you.
It offers a quick synopsis of your stock by displaying crucial product details such as category, date, quantity image, code, and model.
Alternatively, you can also create customized search filters to help you track your items better.
To enhance efficiency, the app generates monthly chart statistics of your inventory, which you can export to other devices.
As for security, Inventory List has a password feature to give you secure control of your supplies.
6. Inventory Scanner X
As the name suggests, this app focuses majorly on using scanning options as a way of managing inventory, orders, and sales.
To achieve this, the app is built with multiple scan modes such as; single-scan, continuous-scan, and smart-scan which also make it easy to keep any other inventory related document.
The app supports the importation of master data by CSV files as well as GPS to record your products' location.
Inventory Scanner X is available for free download.
7. On Shelf
On Shelf is a unique inventory management app that features customer-specific tracking. This enables you to see your customer purchase habit, recommend specific products to them as well as contact with your entire customer base.
What really sets this app apart from the rest, is its reporting capabilities which highlight your invoices, and also most and least profitable goods.
The app also makes it easy to switch from your current inventory management tool to the app through importing data.
However, it's important to note that the app comes in two versions one for iPhone and another one for iPad, and cannot be used interchangeably across these devices.
The price of the app depends on the duration of your subscription.
Choosing the Best Inventory Management App For Your Business
With the huge collection of inventory management apps, it's easy to feel overwhelmed by the sheer number of choices available. This is why you may consider the following factors in order to determine the right fit for your business' inventory needs:
Volume Of Inventory
Inventory management apps vary depending on their sophistication to manage the amount of stock. As such you need to assess the amount of inventory you have currently and account for anticipated growth.
With this, you'll be able to choose an app that scale-able or at least one that will make it easy export data from after some time.
Type Of Inventory
Inventory apps aren't a one size fits all kind of thing. Even though there are some versatile ones, you'll get more functionality and efficiency when using industry-specific inventory management apps.
For instance, if you run a food supply business, you want an app that makes it easy to track the location, expiry date, and time-in-stock report.
Get the Right Inventory Management Apps for Your Business
Despite the fact that inventory management is quite a stressful task, it has to be flawless for the success of your business. Using the above guide on best inventory management apps, you can be sure to find a suitable app to help you keep track of your stock with a lot more convenience.
Follow this blog for more.