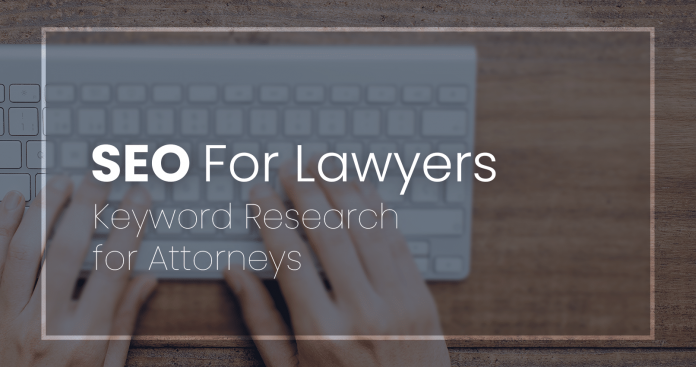 When it comes to improved visibility and higher traffic generation to a law firm website, one of the most important components is the SEO of the website. Search engine optimization is a crucial part of any marketing strategy, regardless of the kind of website it is or the size or nature of the business. That being said, optimizing law firm SEO is a key to better rankings on Search Engine Result Pages (SERPs) and increased traffic generation. 
When it comes to the SEO of a law firm website, regardless of the firm's size, be it a solo practice or a large law firm with international operations, a key part of the process is keyword research. Effective keyword research is crucial to better visibility of a website and to drive traffic to such a website. It also leads to better conversions helping a law firm acquire more clients, providing good ROI. 
Keywords Are The Key
SEO keywords are those words or phrases that people type into Google and other search engines when looking for a certain product, service or seeking certain information. Most people search for various products and services on the Internet. For example, the potential clients of a law firm also search for local law firms in a region on the Internet. 
Not just that, they may also look for answers and legal recommendations about any issues that they might be facing. These searches are done by typing certain words and phrases on search engines like Bing and Google. The primary goal of SEO is all about making such potential customers land on your website through their searches. 
This is where keyword research stands fundamental to the success of any law firm SEO strategy. 
The Basics Of Keyword Research
Hiring a specialist for the SEO of a law firm website is definitely the best way to go. They can implement the best strategies and techniques to drive faster and more effective results for your law firm's website. Although, there are a few basic things that you must know about keyword research for attorneys. This will help you better understand the SEO process and proactively participate while the experts handle the job. 
The keywords you choose must be relevant to your firm's legal services. 

You must choose highly targeted keywords. 

The keywords you use must have good levels of traffic. 

The keywords you choose for your site's SEO must be adequately competitive. 
Creating A List Of Keywords
Last but not least, creating a list of keywords for your firm's SEO will require you to keep in mind three key features of the keywords you choose. For your service areas, you will have to find relevant keywords with:
A commercial intent 

A research intent 

A localized intent 
Ending Note
In conclusion, keyword research for law firm SEO is all about the relevance and popularity of your chosen keywords. Taking the help of specialists and experts of SEO can be the best solution for the best SEO strategy of a website.