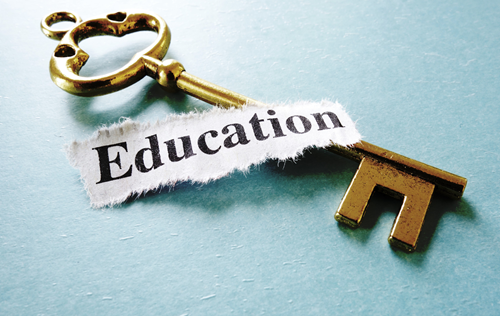 It should come as no surprise that the teaching profession is tough. Even with growing classroom sizes and increasing need for teachers, schools are having a difficult time keeping educators.
According to a recent study, 8% of teachers leave the profession each year while another 8% move on to other jobs within the education field. If you're considering leaving the classroom, and still want to make an impact on future generations, consider some of the best jobs in education. Becoming a preschool teacher can be a good option too.
1. Training and Development
Being a teacher and working in training and development has a long list of similarities. In both cases, you'll be empowering and educating others for the betterment of their longterm success.
Even if you don't have a background in training and development, a bachelors degree in education will suffice. You'll be responsible for working alongside an organization and teaching others the goals and values of the company.
2. Superintendent
Otherwise known as the CEO of the school system, a superintendent is one of the most influential jobs in education. They need to constantly be in tune with the needs of the education system. Although there is often higher education needed to be hired into this role, having a background in education allows you to have knowledge of the ins and outs of the classroom.
Their main responsibility is to put policies and procedures in place that improve schools. A superintendent will also help to manage faculty and staff within the schools while assisting in resolving issues and conflicts. Another large piece is managing schools' budgets to effectively use funds at the benefit of each school.
3. Instructional Coordinators
A job as an instructional coordinator is a great transition from the classroom while still staying in education. In this role, you'll be instrumental in conducting research on the best classroom practices, curriculum, and plans for instruction for various learning styles.
You'll also get to work with other teachers by educating them while selecting new learning materials for schools. Instructional coordinators will have a direct hand in shaping the quality of education and improving the classroom.
4. School Counselor
One of the best benefits of being a school counselor is that you get to work with elementary, middle, and high school students. Not only that, but you'll get direct contact with faculty and staff alike.
The overall goal of a school counselor is to provide support, improve success, and give access to personal, vocational, and educational counseling. You'll work closely with classroom teachers to identify behavioral or learning issues and problems while providing solutions.
A school counselor doesn't just provide emotional support but plays a vital role in the current and future success of students and the school as a whole.
5. Teach Online
The need for virtual teachers is at an all-time high as more and more students are seeking online education. Online teaching ranges from blended courses that have a mix of in-person and online training to full-time online learning.
As an online teacher, you'll have a variety of options for the age and grade levels you want to engage with. Ranging from elementary to college-aged students, no matter your background, you'll be able to utilize your experience in education. You also have the option to have a full-time job teaching online or do it part-time.
6. Education Policy
A job within education policy is one of the most important roles a person can have simply because you're speaking about things that directly affect the future of students. You'll have the opportunity to answer tough questions about education in order to increase the success of the children in your schools.
Coming from an education background, you'll be able to draw on on your own experiences to assist in influencing educational decision making, ensuring the needs of the student are at the center. You'll be concerned with policies and rules that shape the classroom.
7. Private Tutor
As a private tutor, you'll be responsible for providing one-on-one learning to a student. You'll be able to engage with a variety of age groups, ranging from elementary students to adult learners. This is an opportunity for you to work with learners to improve their skills in certain areas whether it is in English, a second language, math, or another subject.
The most beneficial part of being a private tutor is the ability to stay in education while working with a smaller group of individuals. In general, this allows for a flexible working schedule. You can partner with an organization or you can work for yourself. There are hundreds of incredible tutoring opportunities available nationwide.
8. Librarian
Just about every school has a library. Even though you'll be in contact with the students, you won't have to formally teach them. While this may sound like an easy job, you have quite a bit of responsibility when it comes to providing content for the school.
As a librarian, you'll need to choose, organize, and distribute age-appropriate learning materials across the school. Not only this but you're responsible for researching the latest tools useful for classroom learning.
9. School Administration
Many individuals who are now in leadership roles at schools began their careers in a classroom. As a school administrator, you are responsible for the day to day operations of a school, ensuring everything runs smoothly. Other duties include overseeing budgets, reviewing the curriculum, and ensuring each school is following local, state, and federal regulations.
Those who come from an education background will have developed leadership skills, which will be much needed in school administration. You'll have the opportunity to lead and influence large groups of people while also staying close to faculty and staff within the school.
10. Education Consultant
The times are changing and so is the classroom. An education consultant is responsible for staying on top of the latest and greatest in learning trends to ensure their school provides students with all they need to succeed.
You'll work with families and students to research and develop ways to improve student performance. You'll also be consulted when it comes to educational policy, curriculum development, and administrative procedures.
Finding the Best Jobs in Education
Just because you don't teach in a classroom doesn't mean you can't have a positive impact on education. Some of the best jobs in education take place outside of a traditional classroom but are equally as rewarding.
No matter where you choose to invest your talents, there are hundreds of great fits for someone with a background in education.