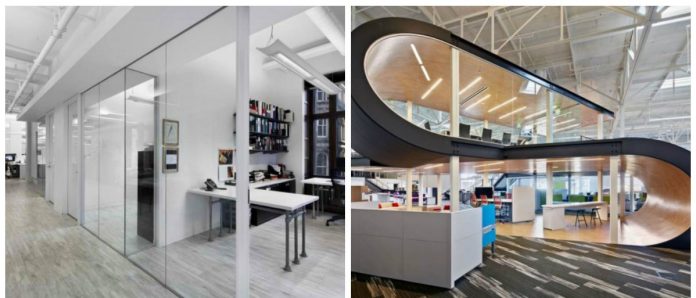 The modern business office has evolved considerably over the past 10 years – and now, largely because of COVID-19, home offices have become a significant part of working life, too. Whether you are a business owner who has an office floor situated in a busy city, or an entrepreneur who works from the comfort of a home office, you need to focus on the interior features within your workspace. The features and design of an office are vital to driving engagement, commitment, and morale – whilst also providing practical benefits to employees.
The biggest concern when it comes to making alterations to offices, or any space for that matter, is usually costs. You will be relieved to know that refreshing your office and converting it into a safe, modern place to work is not as costly as you might imagine – so there is no need to worry on that front.
Here are some top tips for you to follow regarding your office's interior design that will not only make your office look better – they will make it a more practical and efficient place to work.
Fire safety equipment
Let's start with a classic – fire safety equipment. Fire safety equipment has been a key feature in offices for over 100 hundred years. Even though fires are less frequent these days, it is important to remember that they can still happen – and you need to be ready in case of an emergency.
Two key pieces of equipment are a smoke alarm and a 'DoorSense', which is a device that keeps fire doors held open when they need to be. To get started with getting all the fire equipment you need, amongst other beneficial equipment, check out Tradefix Direct.
A lounge area
Some people wrongly assume that the office is for working and nothing else. Although being a place for work is the primary function of an office, it is recommended that it also has a lounge space. A lounge space helps to create a happier work office – which will be a key focus post-pandemic.
A lounge space is an excellent design feature that enables employees to relax and unwind during their breaks instead of sitting uncomfortably at their desk. A lounge space does not have to be huge (it is dependent on how much space you have available) – but it should feature:
Comfortable, reclining chairs
A table for drinks and other items
A TV
A miniature water fountain
Notes and white boards for when those innovative ideas come to mind mid-conversation
Excellent lighting
Lighting is often an undervalued feature in offices and homes. This should not be the case – as lighting effects our mood and is a fundamental part of design.
Your office should be looking to optimize natural light where possible. You will need to strategically arrange desks and furniture so that employees can experience the maximum amount of sunlight through the windows. This way, they will feel better whilst working and it will make the office feel homely opposed to corporate and cold.
Of course, it is not always sunny weather outside – so you need to ensure you have excellent lighting choices within your office. Don't go too bright (you do not want employees to feel like they are at a lightshow) and don't go too dark, either. It is all about finding the right balance.
You could go for the standard, ambient ceiling lighting or you could go more modern by using LED smart bulbs that can be controlled via your iPhone or Android. The colors and brightness levels of smart bulbs can be easily altered – although they are better for home offices than big, corporate ones (if you have a big office space with 10+ employees, you would need at least a handful of smart bulbs to achieve the effect you want and it is unlikely that all will want the same effect at the same time).
Green items
Now, as the world becomes more eco-friendly focused, the use of green furniture and appliances in offices has grown significantly in popularity. Here are some examples for you to consider adding to your own office:
Small plants (that will help to keep the air fresh and boost morale)
Office chairs with recycled materials
Eco-friendly pen stands
Walls that create an aesthetic and personality
Your office walls are a fundamental part of the interior design. They help to create an aesthetic and mood for you and your employees through colors and art. So, if your office walls are dull, lifeless, and empty, it is time to freshen them up.
Think about the personality of your business – you need to convert this into a visual form. For example, if you are a fun, friendly, customer-orientated business with a lively office space, you should create a bright and fruitful aesthetic – such as blue office walls with framed paintings on the wall.