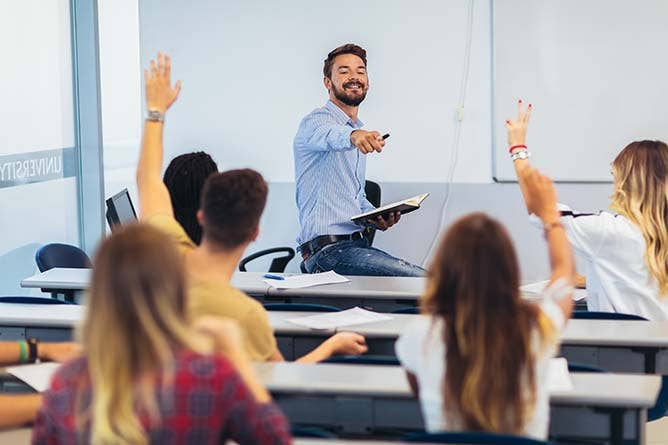 Though the hours are long and the work is tough, being a teacher is incredibly rewarding. As a teacher, you have the privilege of impacting the lives of children in profound ways and changing the world as a result. So, first of all, kudos for thinking about starting a career in teaching.
What you should know before starting this journey is that the requirements to become a teacher can be rigorous. Let's take a look at them step-by-step.
Think About Where You Want to Teach
The path you take to becoming a teacher will depend on where you want to teach. So, you'll want to decide at the outset whether you want to teach at the elementary, middle or high school level. For instance, teaching at the high school level means specializing in one subject (taking significant coursework in an area like math, science or English). Conversely, teaching in elementary school may only require a bachelor's degree in elementary education.
You'll also want to think about whether you want to teach in private school or public school. Public schools are overseen by the government and, as such, have very specific requirements. Private schools are run independently and may have their own, separate requirements.
Earn a Bachelor's Degree
Once you know where you want to teach, you can pursue your bachelor's degree in teaching. A bachelor's degree is the minimum requirement to teach in most states in the U.S. These degree programs typically consist of general education courses and courses in the theories and principles of teaching like student assessment, instructional strategies and human development. You'll also take coursework that's designed to increase your knowledge of your chosen area (special education, social studies, health, etc).
Degree programs like these typically take four years to complete and require students to have a minimum GPA and SAT score; these requirements can vary considerably from state to state and program to program.
Do a Supervised Teaching Practicum
Most states require teachers to have practical experience in the classroom, so most teaching degree programs include these in their curricula. During your practicum experience, you'll observe teachers, lead instruction in a real classroom and be evaluated by the administrators of the school, who will report on your progress to your university. It's during this time that most teachers say they grow the most.
Pass Teacher Certification Exams
Teacher certification requirements vary from state to state but most require a bachelor's degree in teaching, practical experience and the passing of an exam. Most states use the Praxis exam. There are multiple types of Praxis exams — some offer an assessment of core teaching knowledge and others specialize in subject areas as wide-ranging as reading, agriculture or economics.
Some states require a Praxis exam in addition to other exams (such as the EdTPA Teacher Performance Assessment) and others don't use the Praxis at all. It's important to check with your state's certification requirements to make sure you're doing everything necessary to get licensed.
Get Your License
Passing your state's exam doesn't mean you're licensed yet. Like the exam requirements, each state has its own prerequisites for getting a teaching license. Most include a criminal background check and many only license teachers who had a certain GPA during their undergraduate studies.
Once again, it's critical to check with your state department of education to see what the requirements are.
Pursue a Master's Degree
Several states, including Massachusetts, Ohio and New York, require teachers to get a master's degree within a certain time frame after getting their license. This is typically around 5 years. Others may require a master's degree to teach in a field of special education. Master's degree programs are highly specialized and offer advanced coursework in topics like intensive support methods, curriculum development and teaching students with disabilities.
While a master's degree may not be required in other situations, it can be a good idea for teachers who want to advance their careers in education or move into leadership roles. Master's degree-holders might be able to work in positions like Teaching English as a Second Language (TESOL), special education teacher and instructional designer. A master's degree may also qualify you to teach at the university level.
By that same token, a doctoral degree (such as a Doctor of Education or a Doctor of Philosophy in Education) is an important step for teachers who want to become administrators at the highest levels, filling positions like curriculum coordinator, school principal or educational researcher.