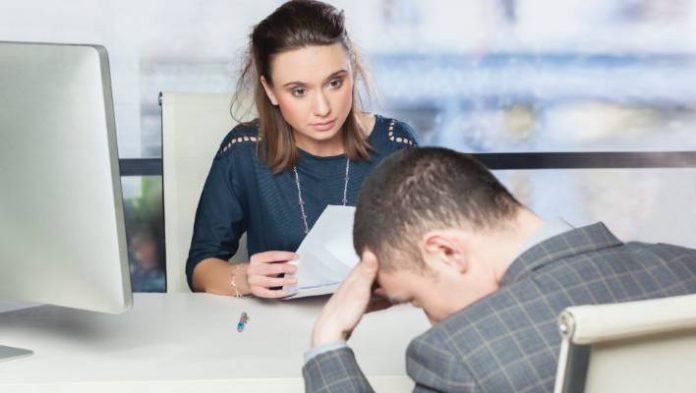 You did it!  You landed an interview for your dream job.  Now what?  It's time to prepare yourself for the interview.  
The good news is you're qualified.  You know what needs to be done to find success in the position.  You have to make it through the interview.  How do you show the super suits that you have what it takes to get the job done?  Even if you answer all the questions correctly, there are still a few things you can't overlook when it's time to interview for a job. 
These are six things you should never do at a job interview.
Never Show Up Late
Nothing says I have no interest in this job, like showing up late to an interview.  It's the best way to leave the wrong impression.  As the old saying goes, "Early is on time, on time is late, and late is inexcusable."  
If you want the job, show up on time.
Do Not Dress Inappropriately
Wrinkles are ugly, period—iron your outfit and dress in neutral colors.  Don't show up wrinkled.  And, don't walk through the door in all kinds of bright colors and crazy patterns.  It's a job interview, not an acid trip.  Plain Jane is the move in this case.  If you want to stand out, wear a fun tie or some jewelry so that they will remember you.  
It Would Be Best if you Never Spoke Negatively About Past Employers
Even if your last employer is tied up in an age discrimination case, don't bring it up.  It's not the place to talk badly about anyone or anything.  You are there to sell yourself.  Be positive and make your energy contagious.  Let the negative stay in the past.  You are looking for a new path, leaving the old baggage in the past.
Do Not Fidget or Mumble
If you fidget, it shows you lack confidence.  Go in there, fold your hands in your lap, and speak confidently.  You can even use your hands to emphasize a few points when you are answering the questions.  Just don't talk like you have marbles in your mouth.  Not only does it scream, "I don't trust myself," but it's hard to understand your answers.  You could be giving the interview team the cure for cancer, but if they can't understand what you are saying, you might as well be singing your ABCs. 
Do Not Act Unfamiliar with the Company
This one is straightforward.  Do your homework on the company.  Know the stats and the data.  Then, during the interview, be sure to slip in any info you can.  It will show the team you understand the mission and vision of their business.
Never Pass Up the Opportunity to Ask Questions
Often, you will want to put your Nikes on and run out of the interview room.  But slow down, Forrest.  Come prepared to ask questions.  Please make a list and memorize it.  Even if your questions are answered during the interview process, say, "Well, one of my questions was, …but you answered it when we talked about…." 
Conclusion
There you have it.  Now you have the skills to land the job as well as the tools to get through the interview.  All that is left to do is iron your suit, research the company, and take a few deep breaths to calm your nerves.  Before you know it, they will be attaching your name to your new office door.  Good luck!