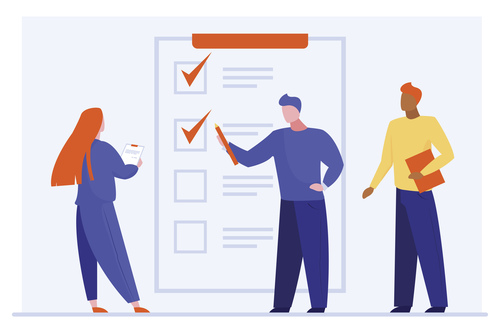 Personality is an interesting thing to explore so personality tests are very popular. You can easily find a lot of personality tests on the internet, one of them is The Bridge Personality. The Bridge Personality is a valid, reliable personality test that can help you to get insight into the personality as well as competencies of yourself or your employees and applicants. It specifically focuses on work situations as well as makes sure that candidates always receive the most relevant questions personally.
This personality test uses algorithms that adjust the test questions if candidates try to direct the test or complete it in a socially desirable way. Personality tests can be a way to get to know yourself, but it is not for diagnosing a personality disorder. Taking a personality test can give you quite many benefits.
Some of the benefits that you can get after taking such a test include knowing your own strengths and weaknesses, understanding others better, and knowing the right situations to reach your potential. In this article, we will tell you what advantages you can get by taking a personality test.
Knowing Your Strengths and Weaknesses
As it is said before, you will be able to know your strengths and weaknesses by taking a personality test. This will help you to know what types of work that are suitable for you and the ones that should be assigned to others. Understanding your strengths and weaknesses can also help your teamwork skills.
Knowing What You Like and Dislike
Similar to knowing your own strengths and weaknesses, taking a personality test can also help you to find out what you like and dislike. By knowing what you like and dislike, you will be able to easily choose the career or major you want to pursue.
Understanding Yourself
Are you looking for your true self? Or are you confused about how to define yourself? If yes, taking a personality test can help you to understand yourself better. It is undeniable that personality tests make people understand themselves. You can know what you like and dislike, your strengths and weaknesses, these actually tell you who you are. By taking such a test, you will be able to know if you are introvert or extrovert, if you are a leader or follower.
Knowing Your Potential
Every person has different potentials. And some people do not know that they have potential and what kinds of potential they have. So, if you want to know your potential, you can take a personality test. Not only intelligence, but personality tests will also let you know about your passion and in what circumstances you can express your potential. Is it easier for you to focus when a deadline is getting closer?
Are you the type of person who cannot work when you are stressed? Would you rather a job that involves imagination than one with strict rules? When you take a personality test, you will be served with questions that lead to these.
Choosing the Right Job
As it has been said previously, understanding yourself can help you to find a suitable job. However, a personality test can also be used by a company to find employees who meet the company's criteria and requirements.
Knowing the Right Situation to Reach Your Potential
A personality test can certainly help to identify your potential and situations that can optimize that potential. You can find out what kind of work environment that is suitable for your potential, the right way to deal with problems and stress, and how to manage your work habits.
Improving Your Personality
Every person always grows and changes along with life events that happen to them. Their growth is also affected by their environment as well as their life experiences. Knowing your personality, including the bad ones, will encourage you to be a better person.
Why Choose the Bridge Personality?
The Bridge Personality is the most used personality test, especially for the development and selection employees. Since it uses algorithms that make sure test takers have been honest when completing the test, you will always get valid and reliable insights of yourself or candidates. It is the only test in the world based on the famous 4-colour model, 16 Jung Types, and Big Five. You will get a report for each of these apps.
Those are the benefits of taking a personality test. Besides being beneficial for individuals, a personality test is also beneficial for employers who look for potential employees. Consider choosing The Bridge Personality to get a valid result.