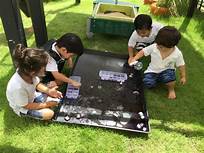 There are plenty of preschool and kindergartens in Bangkok that you might know. Apple Tree International kindergarten is one of the famous kindergartens in the heart of Bangkok. It is an international kindergarten that is located strategically in Bangkok. Lately, international schools have become popular because of the teaching methods that are different from public schools. Apple Tree kindergarten does not only offer a unique technique of learning, but it also gives the children the opportunities to reach their potential for the best of who they are. Here are the reasons why your children will enjoy the day at school with Apple Tree International kindergarten.
Qualified Teachers and Staffs
The Apple Tree kindergarten believes that a teacher is not just a teacher. They have qualified and proven teachers that are passionate about what they are doing. Helping and guiding children in the early years are soul-fulfilling for them. Thus, they are motivated to help children explore the world. The staff and trainers are also well-trained and qualified to handle children at an early age. Thus, your children are always with the best people at Apple Tree kindergarten.
High Quality and Safe Facilities
The facilities at the Apple Tree kindergarten are custom-built. The learning method that this school implements is paired with facilities that the children need. Instead, classes full of walls, this Apple Tree kindergarten has plenty of outdoor space where children can enjoy the sun and be physically active. All the interactive toys and facilities are imported from Europe to support the learning method at this kindergarten. They come with high-quality material and are safe for children.
Decent and Healthy Meals 
During the time at the kindergarten, your children will have meals at the school. You can easily see the menu on the book or the website. They modify the meal menu daily. Your children will have the proper nutrition they need during the day at the school. There will be snack time and lunchtime for the children.
Native Language Speakers
For the language extracurricular activities at this kindergarten, they hire native language speakers. It is important to know that each teacher who will help your children to learn is the best at what they are doing. It will give a positive outcome for your children in the long run.
Plenty of Cultural Events
Celebrating cultural events at the school and professionally organized by teachers will let your children learn about cultural differences. This kind of event will allow you and your children to gather with other parents and children and unite. It is good to introduce your children with so many important events that relate to culture, tradition, and even sports.
Apple Tree kindergarten believes that learning does not always need to be from books and sitting for hours listening to the teacher. Here, your children will have plenty of interesting games and activities to do while learning. It will give your children a better outcome at the end. It is possible to book a tour to Apple Tree kindergarten if you want to experience the daily activities in the school. It will allow you to witness how Apple Tree kindergarten learning through playing method is positive for children at an early age