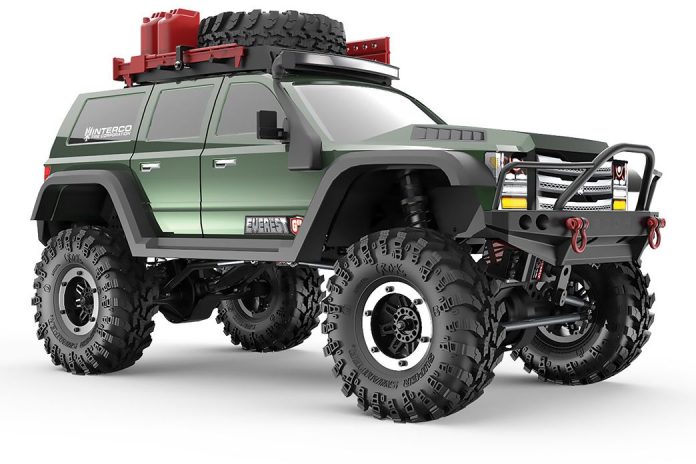 Driving Rock Crawlers with the all-important remote control in your hand is a great hobby and is fast becoming a worldwide phenomenon among all ages.
It is not only teenagers who have taken to this sports n a big way but adults too and some have been engrossed in this sport so much that t is an addiction to many.
They have formed clubs to bring their expertise and knowledge on the rigs that they may be driving to the table and share experiences and improve their knowledge.
There is much to learn and keep oneself updated all the time as manufacturers of these all-terrain remote control Rock Crawlers are dishing out new flair all the time.
The diehard drivers need to keep abreast of all that is happening in this sport as it has grown in leaps and bounds over the last few years.
It is envisaged that this phenomenal growth would not abate and would bring in something new all the time and where this would all end is anybody's guess.
The excitement that remote-controlled Rock Crawlers have brought forth is minuscule to what the original remote controlled cars brought to the young a few years back.
These are the same monsters that you would see big time with real people inside them but what you would have at your fingertips is the same and nothing less.
Your remote controlled Rock Crawler could perform all that the real one could and without exaggeration t could even better the real monster.
That is the power of the remote-controlled Rock Crawlers we see today so getting one for you and trying your off-road driving skills would push your adrenaline up. Of that, there is no doubt.
Once you are hooked on it there is no letting go, it may seem like child's play but it needs some exquisite driving skills if you are to master it.
The RC Rock Crawlers are not the usual run of the mill remote controlled contraptions they are a breed of their own. You can get to know more about them by taking a look at this video.
They are distinctly categorized into three divisions all of which are specialties that would provide excitement unlimited but being different in applications.
Technical Rock Crawlers
The name say's it all, where these need expertise and driving skills to maneuver over very difficult obstacles and are not really good for racing on the open stretch.
They could be powerful but slow and would have great pulling power when throttled to pull away from rocks, mud, and another terrain.
They are referred to as Technical Rock Crawlers and come with different configurations to meet any challenges thrown in front of it, for the drivers to test their skills.
What these could do other remote controlled cars cannot and they have what it takes to negotiate the most difficult of terrains provided the appropriate skills are bestowed on it.
Rock Racers
Rock Racers are more off-road racers that could tackle some light obstacles like sand, rough terrain, mud, grass and others.
It would not be able to climb rocks as well as what a Rock Crawler could achieve but has the power to outrun it on a flat stretch which would ensure its advantage over the former.
Most remote controlled car racing tracks are built with light obstacles to push the Rock Racers to the limit and they are good at negotiating bends and gain speeds on the stretches.
Trail Rigs or Trail Trucks
Trail Rigs and Trail Trucks are basically for off-road driving and would not be suitable to race on flat surfaces as they are built with one purpose alone and that is to climb rocks.
They are extremely good at what they are designed for and in the right hands would test their mettle against any terrain.
Trail Trucks have been put through some extremely difficult terrain by those who have mastered the art of driving these contraptions and it is excitement at its best.
The recent productions are superlative in performance and would roll out of the box in which it was delivered to you straight onto the nearest rock and another impossible terrain to do you the honors.
If you are contemplating making remote-controlled Rock Crawling your hobby, you are in for a treat and you would see what it could do to you.
The Trail Truck models available today, have all been tested and passed, hence taking it up as a hobby would let you have unlimited power in your hands.
Total power in your hands, which otherwise you may not have because there are hardly any concerns those driving it could face injury or death, even if it rolls down a precipice.
Remote controlled Rock Crawlers would bring you immense excitement which is what we generally look forward to any life and f life and limb is safe "so what the Hell".
It may not be an expensive hobby too, and the cost would easily fit into an average Rock Crawler enthusiast's wallet, and there are ample terrains at a short driving distance available to many.
If you are contemplating to pick up this hobby get to a club close to where you would live and talk to some of the guys and gals who are into it.
Watch them push their contraptions over rocks, sand, mud, and rocks where you would get a hang of what this sport is all about.
To take your pick of the best contraption that you would like just look up the RC Rock Crawlers | Best Remote Controlled Trail Trucks of 2018, you are sure to find what you would like.
The choices are aplenty and check out whether it would suit what you have in mind, and along with it join a club and you too could be a master after a few runs on the rocks.
This is a sport that is catching on fast and is gaining popularity worldwide and is not limited to any age group which is the beauty of it all.