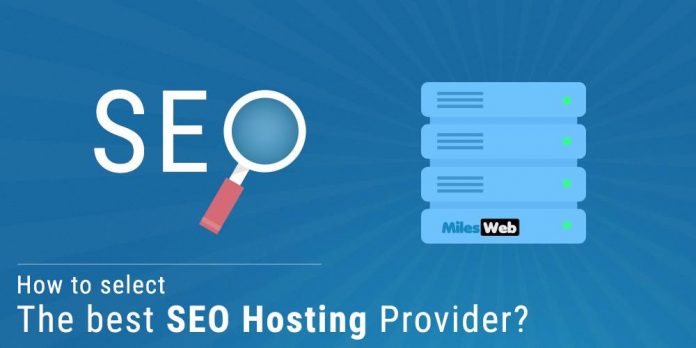 Have you ever questioned yourself how does web hosting and SEO relate to each other? I think you haven't because it is observed that web hosting services are often neglected by the web designers or website owners. And that is also one of the reasons why most of the companies are struggling to get on top of search engine.
If your website is slow and unresponsive, then Google will not give top priority to your website, and this will affect your ranking as well as traffic on the website.
There are multiple parameters which you can list down while selecting  SEO web hosting to host your website. For e.g., how to choose an SEO web hosting provider? how SEO gets affected by the hosting provider? and much more.
Let's understand what these parameters mean.
How SEO gets affected by the hosting provider?
SEO is all about implementing a set of rules on your website to improve your website's visibility in a search engine. All these rules are interrelated and connected with web hosting. Some of them are the speed of the website, uptime, security and SEO awareness.
Website speed:- Speed is the foremost factor that affects the On Page SEO. It is mandatory that your website should load quickly within a short span of time and this will help you to take benefit of SEO. In addition, it also offers better user experience. For better speed of the website, you require best web hosting services that commit to provide features like maximum uptime and good datacenter infrastructure.
Website availability:- Yet another factor that affects your search engine ranking is the availability of the website. Google does not consider those websites that face frequent downtime and this leads to removal of those sites from their index website list. If your website is down due to any reason then this may affect your website traffic and brand.  In such cases, web hosting provider plays an important role to keep your website live 24*7*365 days.
Security:- Due to the growing competition, it is important to protect your website from hackers and get on top of search engine. Here again, your web hosting provider wins the situation by providing the best security to your website. Therefore, it is necessary to choose providers that offer the best features in terms of security to protect your website. We at MilesWeb offer multiple solutions to safeguard your websites, such as CodeGuard, SSL Certificate, SpamExpert and Web Application Firewall.
SEO Awareness:- It is essential that your web hosting provider should have the knowledge of SEO and its basic principles. This is crucial because sometimes a web hosting provider restricts the Google bot in the robots.txt, suspends the account, asks to remove the plugins, etc. due to heavy traffic on the website, as their infrastructure is not able to handle the load. This again affects your SEO and rankings too.
In conclusion, it is suggested that a web hosting provider should not perform any activity without informing you. If the provider does, it will damage your SEO and reputation of the company.
How to choose an SEO friendly web hosting provider?
I have been working in this industry for 3 years and I have experienced that selecting a web hosting provider for the website is a very tough job. Due to the growing competition, most of the users are facing this issue and to avoid this,  I have listed down a few key points that will help you to select the best provider.
1) Years of experience:- It is very important to know how many years of experience your provider holds in this industry. If your provider sounds technically good, then you can try a free demo, check pre-sale services or visit review sites before signing up.
2) Reviews:- As I said before, visit review sites to check the ratings and reviews of the providers.
3) Datacenter:- Before selecting the hosting provider, it is important to know some key points about datacenters like datacenter locations, the technology they use, do they have their own datacenters? etc.
4) Your hosting requirements: – If you are looking for a web hosting provider then it is assumed that you know your requirements. For e.g., if you are starting a new website then you can opt for shared hosting and upgrade in the future as per your requirements. In case, you are not aware then it is suggested to consult your provider and take suggestions.
My Recommendations:-
MilesWeb, India's best web hosting provider offers multiple types of hosting services at affordable cost. Their servers are located in India, the UK, USA and Romania and their main features are 99.95% uptime, 24*7 support and 30 days money back guarantee. You get a complete choice to select your server location and plans as per your requirement.
Generally, their web hosting plan starts from Economy Rs. 99/- mo followed by Value and Unlimited plans. If you are looking to host unlimited websites, then consider their Unlimited hosting plan that includes features like a free .com domain, free SSL certificate, free Spam Experts, unlimited SSD disk space, bandwidth and email accounts.
Apart from this, you get the scan and removal feature, SiteBuilder with 400+ templates, free migration, instant chat response, support in English, Hindi, and Marathi.
To protect your website, MilesWeb offers latest security technologies like SSL Certificate, SpamExperts, Codeguard and Web application firewall.
In their VPS hosting plan, they offer cloud infrastructure with built-in SSD Storage for smooth functioning.
If you are looking for cheap reseller hosting plan or want to host unlimited websites, then check Unlimited Linux Reseller plan and Cheap Linux Reseller plan.
In Unlimited Linux Reseller Plan, you will get a free WHMCS license, unlimited SSL certificate, bandwidth, SSD disk space and email accounts at  Rs.560/mo.
Whereas in cheap Linux reseller, you can host unlimited websites along with unlimited bandwidth, unlimited SSL certificate and email accounts at Rs.290/mo.
Additionally, they offer website backup and restore service at affordable price and it is your call whether to include it or not in the plan.
For smooth functioning and better performance of the website, you can consider cloud hosting and launch your cloud instance within minutes. Their cloud includes best features like automatic vertical and horizontal scaling, the rich marketplace with 1 click deployment of apps, pay per usage facility, docker container support, easy deployment of apps, etc.
In their dedicated plan, you will get a hybrid dedicated server located in India and the US datacenter at Rs. 3500/mo.
They also empower small businesses to get online by providing hosting solutions at the cheaper rate. They have successfully established themselves in the Indian market and you can reach them anytime through chat, email, and phone.
Author Bio:-
Ekta Tripathi:- A passionate Digital Marketing Expert and Content Writer working with MilesWeb. I am passionate about writing blogs related to information technology and Digital Marketing. In my free time, I love to watch news channels and hang around social networking sites. If you are interested in knowing more about Reseller hosting than visit: Cloud Hosting India.