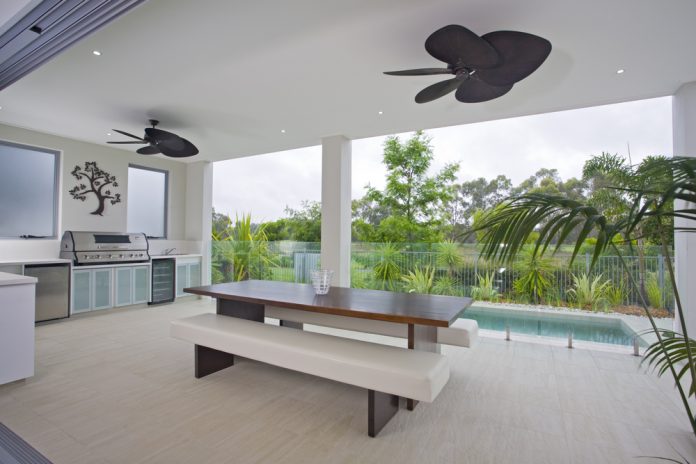 Fans are a touch of luxury for every home, and they come in a variety of shapes, sizes, and styles. The difference in shapes, sizes, and styles greatly impacts choosing the right fan for a home where it is very important to consider the ceiling height, room lighting, and location. They can be great for a living room, workplace, and outdoor space. If you have a beautiful outdoor porch, patio, or deck, you should consider enriching it with some outdoor ceiling fans. Not only that, it will be decorative, it will also help you relax better on hot summer days.
Their advantage over the indoor fans is that they include moisture-resistant motor housings and blades that battle warping. Blades are made to be great for any weather, so you don't have to worry if weather changes. There are two categories of outdoor fans, damp and wet ceiling fan. The first withstand humidity and moisture, so it is suitable for covered patios, porches, and sunrooms with no direct exposure to precipitation. But, if you want a fan that can be exposed to rain, snow, or if you live near the ocean, then a wet-rated ceiling fan is an appropriate decision.
Luxury Fans Made of Silicon Steel
If you need finishing detail for your porch and you want something that looks luxurious, then you should check for outdoor fans made of silicon steel. They look modern and will bring contemporary and industrial style to your place. Most importantly, it needs to be UL listed for damp locations so you can be sure that it will last long. Color should be your choice, and you can choose between light and dark colors. A big plus is when it's compatible with a light kit so you can have a nice enjoyable evening.
Low Profile Outdoor Ceiling Fans
In this case, height is the key to the decision to choose outdoor ceiling fans. If you need a low profile fan, you will find many different designs, both wet and damp ceiling fans. You can choose different shapes of blades and material that they're made of. Wooden touch will give your space a more natural look, but the metal and white color is the best choice if you want something modern and simple.
Outdoor High Ceiling Fans
They are perfect for moving more air and cooling down larger areas of space. Most people are searching for this model because it has better cooling power, which makes spending time outdoor very comfortable. They often come with eight long blades, and in different colors, so you can choose the perfect one for your space. They can vary from 70 to over 90-inch blade span, and they have a great DC motor.
Fans with Remote and Smart Control
This kind is very practical because you can change your seat speed and enjoy spending your time outdoors. As they bring a sophistication look to outdoor spaces, it will give warmth to your space if you choose one with lights. You can play with designs and choose something modern or even with subtle medieval design. Technology gives better comfort and easier control.
Conclusion
There are many options for fans, and it is really hard to choose when there are so many beautiful designs. The best way of choosing is to decide what style you want to reach, modern or some natural style. You can find different kinds of fans with lighting, remote and smart control, bigger or smaller, higher or lower, and in every style. Enjoy your search, and find the perfect fan for you.