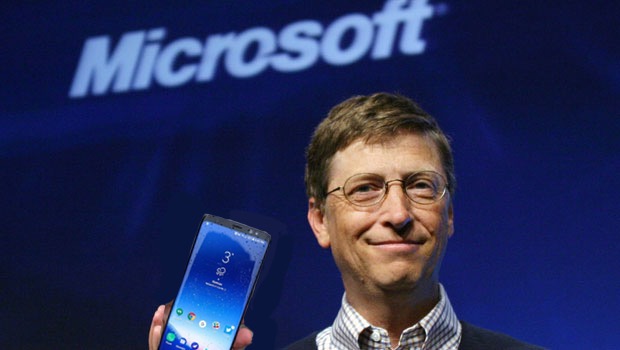 Most people consider that Windows phone died about a year ago. However, it is officially ends when Microsoft no longer supports Windows Phone 8.1 in July, 2017. This circumstance marks the end of Windows Phone. Since the Windows Phone era has ended, Bill Gates no longer uses it too. Now, he has moved on to Android. It is not clear what Bill Gates' Android is though. However, he gave a small hint during an interview.
Bill Gates revealed that now he uses Android Smartphone
Recently, Bill Gates was interviewed by Fox News Sunday. In this interview, he said that he is using an Android Smartphone. However, he did not say which Android he uses. He only revealed that it is full of Microsoft software on it. In this interview, the host asked, "So, no iPhone?" And Gates respond this question with negative statement. He said, "No, no iPhone?"
Why does Bill Gates doesn't use iPhone?
In the past, it is widely known that Bill Gates banned iPod and iPhone in his home. And it seems that he is not interested with Apple products. All of his PCs are Windows-based. And his current smartphone and tablet are Android based. He banned Apple products in his home for a reason. Years ago, Apple sued Microsoft. Therefore, it is no wonder that he avoid this particular label. As a Microsoft co-founder, he would want to be loyal to Microsoft. That's why his house is full of Microsoft products. His wife and kids do not use Apple products either. However, his wife ever confessed that she would like to try an iPhone.
Even though Bill Gates banned iPhone and other Apple products from his home, it doesn't mean that he hates Apple. In the Fox News Sunday interview, he does confess that Steve Jobs was brilliant. He also told the host about how he and Steve Jobs got along well. Moreover, he also admitted that Jobs brought positive competition to the market. In spite of his praise to the co-founder of Apple, he keeps avoiding Apple products. He said that he happens to have Microsoft-based computers so that he needs a mobile phone that is compatible with them.
Speculation on Bill Gates new smartphone
Many people are curious about Bill Gates' Android smartphone model. However, there is a speculation going on about his new Smartphone. Rumor has it that he is using Samsung Galaxy S8 Microsoft Edition. This rumor may be true since this particular smartphone is pre-installed with Microsoft apps, such as Cortana, Outlook, Office, and OneDrive. Those apps are also supported by other Android smartphone models. However, Galaxy S8 Microsoft Edition is a special edition. This Galaxy S8 handset is sold by Microsoft since early 2017.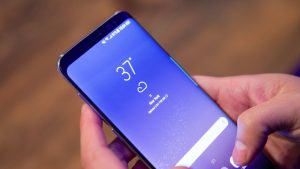 It is not something new for smartphone manufacturer to change its OS to Android. Blackberry and Nokia have done the same. They no longer used their old and original OS and opt to use Android OS on their products.
Galaxy S8 Microsoft Edition
Previously, Samsung had put Microsoft apps in their Galaxy series. Customers can find those apps on Galaxy Note 5, Galaxy S6, and Galaxy S7. However, they cannot find those apps anymore on Galaxy S8 and Galaxy S8 Plus. It turns out that, the Microsoft apps are only pre-installed on Galaxy S8 Microsoft Edition. And this is probably the reason why Gates uses this smartphone. Bill Gates' Android smartphone handset offers something that regular Galaxy S8 doesn't have.
This change is quite positive for customers, Microsoft, and Samsung. Customers who don't need Microsoft apps can choose Galaxy S8 or Galaxy S8 Plus. They won't be bothered with those apps. Meanwhile, customers who need Microsoft apps can go for the Microsoft Edition. As a result, they can get everything they need from this particular smartphone handset. For Microsoft, Galaxy S8 Microsoft Edition allows them to sell this device on their store. In addition, this allows Samsung to sell their product on more channels. It also allows their latest product to be seen by more people. This change will surely help Samsung to gain more sales.
The Galaxy S8 Microsoft Edition means that this device has DeX functionality. It means that users can turn their Smartphone into a desktop. It is something that has been tried to sell by Microsoft. Unfortunately, they were not successful in doing it. It may be because smartphone market is dominated by iPhone and Samsung. It is hoped that the Samsung – Microsoft collaboration can make this multifunction device become more popular and beneficial to smartphone users.