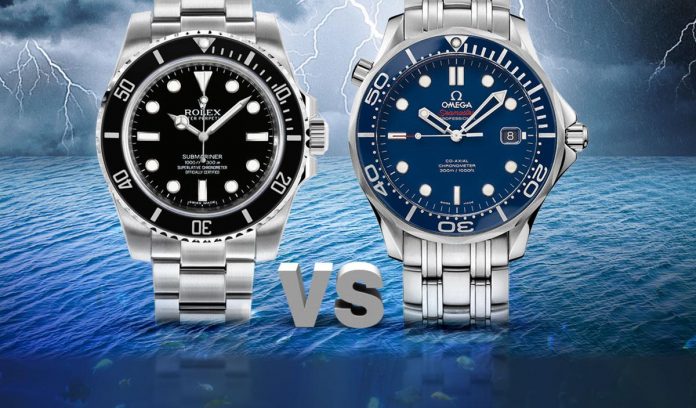 If you have researched a bit about luxury watches, it is very likely that you have heard about the Omega Seamaster and the Rolex Submariner.
Both models stand out in the sports watch sector and have a large number of admirers. Choosing one depends on tastes and intentions, since they have different characteristics.
On the other hand, both the Omega Seamaster and the Rolex Submariner are very resistant diving watches, but it is not a sine qua non condition to submerge in the marine depths in order to enjoy them. If you are thinking about buying one of the two, or even both, it is convenient that you know some things about them, as well as their similarities and differences.
egardless of the conclusions you can draw from the content that we collect below, we want to make clear that both one model and the other are perfect to complete and enhance any collection.
Omega Seamaster
Let's start with the Omega Seamaster, an absolutely iconic watch, especially since it is the watch worn by James Bond in films like Goldeneye or the 2006 version of Casino Royale. And let's be honest, it's hard not to bend to the taste of a guy like James Bond.
It has an impressive sphere. Reading the time in it is very simple thanks to its sharpness and its ability to stay clean for a long time; in this, the Rolex Submariner is below, as its sphere tends to get dirty or accumulate dust with some ease. If the Omega Seamaster you have bought has the word 'professional' engraved, then it means that you are in the automatic version.
Both this model and Rolex offer a brightness function, which allows you to see the time even in absolute darkness. Undoubtedly, something very useful for day to day.
A feature that makes you lower some integers is that the bevel is a little stiff. This can make dealing with it at first cumbersome, but hey, once it gets going it works pretty well. The spy created by Ian Fleming activated many of his weapons with the Helium Escape valve (helium valve) that the watch carries. If you are a diver, you will probably only use it underwater. If you're not, it's a curious feature that gives you something to talk about.
The design of the Omega Seamaster is typical of a high-end sports watch; Omega's taste for detail can be seen in every part of the model, full of a sophistication that makes it a unique piece. For example, if you turn the clock over you will see a beautiful engraving with the Omega Seamaster logo.
Rolex Submariner
The Rolex Submariner is also an authentic emblem. The Rolex watches are characterized by their high value and importance within the collecting thanks to the prodigious reputation of the firm. This model is tremendously elegant and precise, which makes it a winner in the high-end market.
The Rolex Submariner has a bezel of 120 clicks and, like the Omega Seamaster, only rotates in one direction, which is very useful for measuring your dives or any other event. This is due to security reasons, since turning only in one direction avoids losing time. In diving is essential, because if you are measuring oxygen levels you need a clock that does not fail and is of maximum precision.
In the Rolex model, the bezel works more smoothly than in the Seamaster omega, turning smoothly and without requiring any effort. In addition, you have a Triplock crown system, patented by Rolex, which is a plus.
One of the problems with this option is that, like almost all Rolex models, its sapphire crystal-based face tends to accumulate dust and get dirty. This can be somewhat annoying, as it requires constant cleaning so that no finger marks, dust or dirt remain.
Author Bio:
Malik is a digital marketer and versed blogger. He has been working in this field for some time now and knows how to balance creativity and technical side of content. He loves to write blogs endlessly and share his knowledge & experiences with others.  Visit xitepod.com for more info.