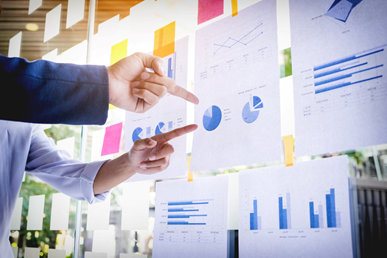 Marketing strategies are ever-changing and since we are approaching the end of another decade it's time to bring in new techniques to promote your business. With the help of marketing automation platforms, you may be kept in the loop as to what trends will hit the industry in 2020.
To make it easier for you to make decisions on marketing strategies you'd like to approach in the new year, we've listed the top six trends that will work for you, no matter what industry you're in.
1. Exceptional Customer Experience
Sales and marketing trends in the past consisted of ways to get consumers to buy products & services from a business, in order to generate revenue. But it's said that 2020 will be the year of the customer.
Massive changes will be taking place in marketing culture because businesses will shift their focus to how they can optimise customer experience. It will keep consumers coming back for more of what you have to offer.
Providing exceptional customer experience is all about creating a positive business culture. If you treat your customers like VIP guests and provide them with high-quality services the marketing will basically take care of itself.
The growth of online information has given consumers more control because if they want to find out more about your business, all they have to do is research your brand. Research can be in the form of reviews on third-party platforms. Now business owners have to offer consumers more than simple information about their products and services. You must ensure reviews written about you are positive!
Also, a survey PWC conducted shows that 73% of people are more likely to buy from a business if they experience excellent customer service. So customer experience and customer service are key to business growth!
So, what constitutes as excellent customer service?
User-friendly mobile apps
Discounts on deliveries
Friendly customer help lines
Fast services
Complimentary items
Personalisation
Comfortable offices to visit
This may also be known as the Disney effect because the business provides a highly positive experience the whole family can enjoy. Use this as inspiration for your marketing strategy for 2020.
2. The Use of Virtual and Augmented Reality
SnapChat, Instagram and Facebook have all used AR (Augmented Reality) & VR (Virtual Reality) to market products. Recently, Twinkie developed their own SnapChat AR filter that customers could engage with.
VR and AR are fun and smart ways to gain more brand recognition & the trend is on the rise. IKEA is another major corporation that uses AR. On the IKEA app, you can visualise what a piece of furniture would look like in your home before buying it.
3. Personalisation Marketing
Generic ads, emails and text messages simply don't have a high click-through rate anymore. People consider generic marketing as spam and so they won't engage with any basic promotions.
Since we live in the digital age, consumers are constantly being flooded with marketing material to the point where they're blocking some of it from their social media and email feeds. Traditional advertising is no longer relevant.
What's the answer?
Thanks to the advancement in technology and extensive data collections on consumer online interactions with brands, better personalisation marketing is possible.
More marketing automation companies are sending out personalised promotions to consumers to create a better connection with them. Personalised marketing can include the following:
Adding the consumer's name to a message or email
Suggesting products the consumer will like
Gift suggestions for loved ones during certain seasons
Holiday suggestions based on past experiences
4. Voice Activated Browsing
Sometimes typing can be incredibly inconvenient, especially when you don't have your hands free or you're in a rush. In 2020 you'll be seeing many websites that will have voice-activated browsing. This way you can search for products and services on websites even while you're performing other tasks.
5. Smart Bidding with Google Ads
Google Ads has included some new updates that marketers will find beneficial. In 2020 you will have smart bidding options. This means that Google Ads makes use of machine learning to optimise your business bids on your ad campaigns.
The smart bidding will allow marketers to select conversion action at their campaign level. Marketers will also have the ability to set bids to change automatically when sales start or stop.
6. Visual Content Marketing
Research shows that consumers prefer visual content to plain text advertisements. You can have better click-through rates if you use visual platforms for marketing, such as Pinterest and Instagram.
Visual marketing content is easier to remember, so include videos and images when you promote your brand. The use of visual content will make your brand more intriguing.
There may be a new trend in the way visual content will be created in 2020. Cinemagraphs will be used more, which is an aesthetically pleasing image with a few moving parts. Brands may be using cinemagraphs to create logos and website icons.
Final Thoughts
If you're new to the marketing industry you can always consult marketing automation companies to create brand awareness fast. But make sure you utilise all the marketing trends mentioned on our top six list, so you can stay ahead of your competitors.
Ready to market your business in 2020?