Starting an online food business needs detailed planning, technique, and plenty of hard work to execute those strategies. As per the industry trends, many food businesses are shutting down within their first five years. Due to some common mistakes, a few food businesses are closing down in just a few months.
Some common mistakes are not keeping a custom design for the products, ignoring negative reviews, not following the food standards, and many more. Scroll down to know more about the top 10 mistakes to avoid when you start an online food business.
Top 10 Mistakes To Avoid While Starting An Online Food Business
Below we will talk about every mistake that people make while starting an online food business. Besides that, we will show you how to avoid those mistakes so that you can remain in the market for a long time.
1. Lack Of Brand Identity And Logo
One mistake numerous food businesses commit is not creating their own brand identity. Having a personality and a story in your brand will make it easy to maintain a proper relationship with customers.
Many of us can easily recognize famous businesses in any industry by looking at their unique logo. The logo represents the entire business, so it is critical to prepare an eye-catchy and meaningful logo for your online food business. Several people would not give much effort to creating their company's logo. Due to that mistake, many food businesses are failing.
2. Not Maintaining A Custom Design For Products
Using regular packaging items will not make your food business popular. You need to make the food products customized if you want people to recognize your online business.
Maintaining a custom design is effective in making your food business stand out and be unique. For example, you can make a distinct glass bottle design and unique shapes and patterns for your food products, including the covers, containers, and other add-ons.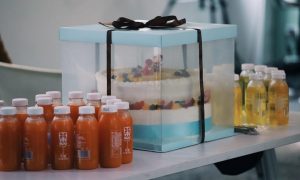 Source: https://unsplash.com/photos/X1UHDnkceIQ
3. Food Product Development Procedure
Several online food businesses often neglect to analyze the troubles they carry while trying to develop a new food product. All the food products have to satisfy the FDA standards or EFSA regulations (in Europe).
The new food product should be scalable, and different ingredients have various certificates and costs. You could face some problems if the food product is prepared without the guidance of nutritionists or skilled food experts. Avoid creating new products without getting assistance from food professionals.
4. Not Getting The Required Licenses
When you are trying to start a new online food business, it is vital to get the necessary food licenses and permits. Some owners run their businesses without applying for any approval. Remember not to make this mistake because you may have to pay a hefty amount of penalty for starting the online food business without any permission.
5. Poor Implementation Of Concept
Here is another mistake that often happens while starting an online food business. Many businesses fail in executing the initial plan or concept. To avoid this error, make sure to preplan everything related to your enterprises, such as the menu, online orders, budget, staff management, and more.
Do proper research and development before finalizing the concept of your online food business. If needed, you can also seek help from a professional online business analyst.
6. Budget
Avoid starting an online food business if you do not have the budget required for the next few months. It is one of the most common mistakes people make while beginning a business.
Besides that, many businesses often fail to keep a track of the selling price of the food product. Make sure to conclude the product cost after calculating the price of ingredients, production cost, and total profits.
7. Ignoring Negative Reviews
Another mistake that many online food businesses often make is ignoring the negative customer reviews. Because of this, some food enterprises are falling even if they have started recently.
If your business receives a negative review, reach out to that customer as soon as possible. Also, make sure to ask the consumer about what changes they would like to see in your business. Finally, remember that ignoring a negative comment can lead to a huge loss, so approach those customers and improve your services.
8. Not Using Social Media Fully
As an online food business, it is crucial to promote your products on as many social media platforms as possible. But, some corporations do not put much effort into sustaining their brand on social media. Hence, you should avoid making this mistake at any cost.
As of now, many people, including millennials, are often active on various social media platforms such as Facebook, Instagram, Twitter, Snapchat, and many more. Promote and advertise your food business on these platforms to gain more popularity and customers.
9. Complex Menu
Some food businesses tend to make a complex menu by giving sophisticated names to those foods. They assume that giving difficult titles to the products will make customers more curious and interested. However, it is not entirely true, and a few customers would not even buy the products because they can not understand the names. It is best to create a simple and detailed menu that the customers can understand easily.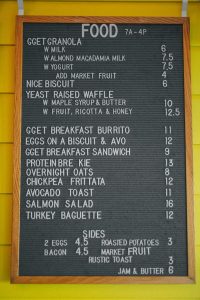 Source: https://unsplash.com/photos/5-tl8DLvYA4
10. Ignoring Mobile Compatible Website
Another mistake that is often seen in the online food business is the lack of website functionality in smartphones. In general, many customers use their mobile phones often to order food products online. Hence, when they can not get access to the entire services of the website, they tend to become troubled.
Hire a professional website builder and make sure that your online food business website is compatible with almost all types of devices.
Final Word
Starting an online food business needs a lot of effort to design the concept and execute it perfectly. To thrive your business and make it profitable, you need to avoid making the above mistakes.
Though some of those mistakes seem small, they can lead to huge losses. Hence, take necessary precautions to avoid those mistakes while trying to start your online food business.