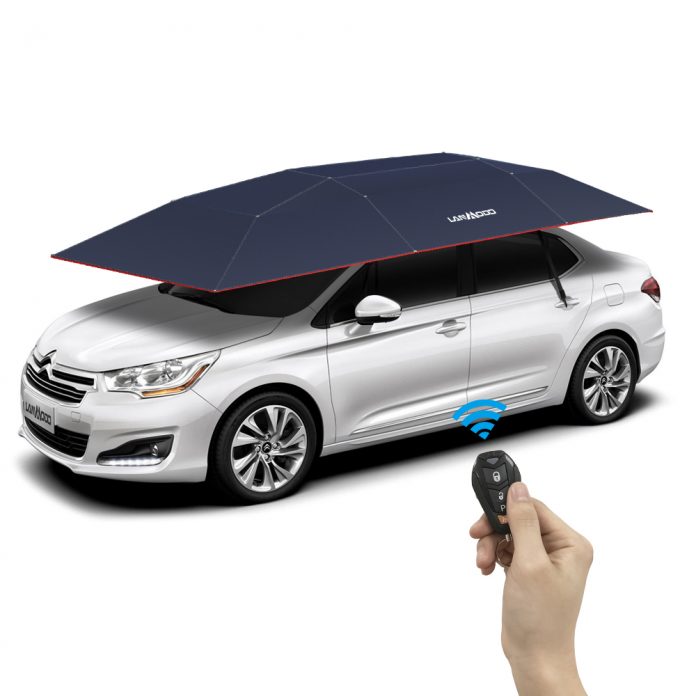 Do you ever feel the need to protect your car from a falling object? You may go somewhere and may not find a parking area or a garage. You may not get a proper roof or room to park the car. In that case, you will have to park it in an open space. There are so many times when you need to park a car outside on the road in an open space. There is no protection at all. You cannot protect the car from the bird droppings, hail or heavy rain. There is nothing you can do. It is a big problem, and many people are its victim. There is a solution to the problem, and that is to use an automatic and a portable car tent. Yes, just like any other tent now you can get your hands on the tent that will protect your car. It works like an automatic car umbrella. There is no need to find a car parking or a garage; now you can protect your car with a portable tent. Make sure that you get the finest car parking shade for your vehicle. One of the best car parking shades is the Lanmodo automatic portable car tent. A car tent has several benefits. It has many other uses besides just a car tent. It is an all-in-one unit which you can use for many other purposes.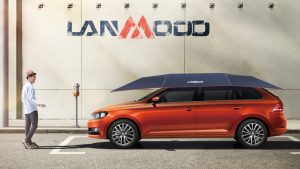 What is a car tent?
A car tent or a car shade is a product which you install on your car. Then you use wireless remote to open and close the tent over the car. It is a perfect shade for your car. Now you do not need to place or install large car covers to protect the car from damage. All you need is a car tent. Install it and use the remote to open or close the tent easily.
What to look for in a car tent?
A good car tent such as Lanmodo Automatic Portable Car Tent is always easy to install. It does not take more than a few seconds to install the tent over the car. The car tent works using a battery and a wireless controller. The tent has strong material which protects the car from strong winds, hail and snow or heavy rainfall. A good car tent will resist the strong winds up to 30 mph.
How does it work?                   
The car tent is an electronic tent. It has sensors and a battery. You will need a remote to open or close the tent. You will only need to charge it once and use it for more than a week's time. You will find all the items that you need to install the tent in the box. It has a tent, a stand, poles, LED lights, charger, remote controller, canopies for sides, and much more. You do not need a big manual to install it. It is all self-explanatory. These car tents will ease the hassle for many drivers. Now you will not have to wash the car covers after bird droppings.
Tent for every vehicle
The best part is that you will not have to buy a separate tent or a separate vehicle. A good portable car tent works on all vehicles. No matter you want a tent over the SUV or an ATV, you can install it on all types of vehicles.
Moreover, if you want the Mercedes-Benz repairs and services in London, we highly recommend finchmotors.co.uk for all kinds of mechanical repairs for Mercedes-Benz cars and light commercial vehicles.
Benefits of a car umbrella
No need to pay for parking lots. It saves you money. Just buy one time and use it for a lifetime.
Protects from sunshine and provides shade which reduces the internal car temperature during summer.
You can also use it as a fishing tent.
You can also use it as a beach tent.
Easy to clean and wash.
Easy to pack and carry in a small bag.
Use it as a camping tent
Why need a car tent?
Many people may think that they do not need a car tent. But, it is a very useful. It will protect your car in the open air and will keep it safe. During the summer when you park the car somewhere outside, it becomes difficult to sit in the car. With a portable tent, you will not face that problem anymore. It is a wise decision to buy an automatic car tent. Make sure that you get the finest quality tent. Look for the features mentioned above in a car tent. The price does not matter, the safety of your car does.