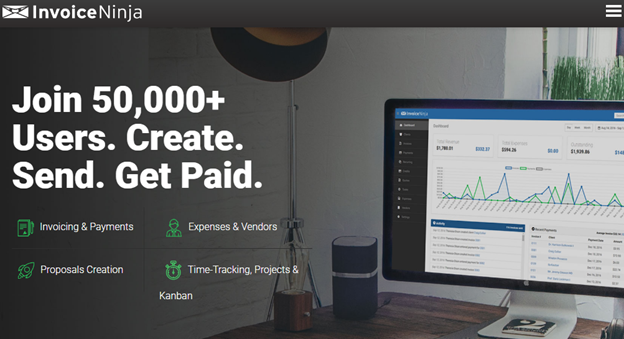 While it has only been around for about four years, Invoice Ninja has quickly become a go-to destination for people looking for freelancer tools and open-source tools. They started with one goal in mind: to create apps that would support today's online businesses, and companies struggling to find a better way to function in the digital world. They are open-source, meaning that they let users self-host on their own servers.
Besides all that, it also means that the company has a lot of developers and computer lovers testing the freelancer tools available to the site, including the invoice template and proposal templates. The website boasts over fifty thousand users who have come to rely on the many tools the company provides their users. One source also means that they have the highest quality apps available. When one updates one of the open-source tools on the site, they know they're getting something that has been painstakingly vetted to ensure not just quality, but security. See their website to learn more about how they keep things secure, and what they have done to become complaint with the recent GDPR laws that govern the handling of data.
One of the big advantages to the site, besides the many invoice templates and other freelancer tools, is the pricing. Check the website to see a comparison page that shows just how affordable the site is compared to a lot of other options out there. Plus, they boast personal support that comes from the founders of the company, something that is rare these days. They are on a mission to help their site users simplify and enjoy the fruits of the businesses they've created.
Another feature they offer relating to quality is they are constantly listening to user feedback and making the changes their clients need. You can see a list of features they'll be adding soon on the "Our Story" page as well.
Besides the online invoicing and proposal templates mentioned, the site offers other things that businesses need, especially today as they compete to build customer trust and stand apart in a crowded digital marketplace. Among these tools are time-tracking, projects, and Kanban boards.
The time track helps people not only to be more transparent in their invoicing, but to possibly identify areas where they might be spending too much time so that things can be corrected. The Kanban boards keep things organized while the option to categorize and search works tasks makes everything one might need easy to find anytime.
There are also financial tools like profit and loss reports, creating vendors, real-time invoicing, and multi-company support. These open-source tools are in addition to the ability to easily view invoice history, accepting deposits, voice control options, and an item and product library system that allows one to easily create product and service descriptions. You also have the ability through the freelancer tools to set up late fees for delinquent accounts and see all of your payments and expenses through your site dashboard. Check the invoiceninja.com site to learn more about what they offer and their pricing.