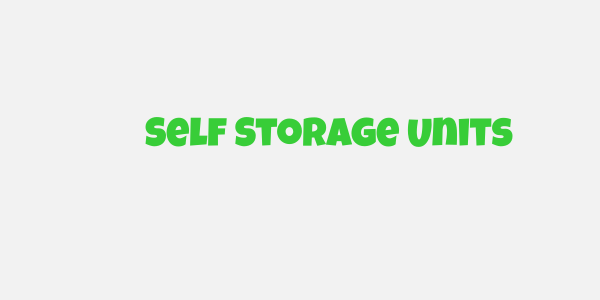 If your house or the apartment you live in is occupied with your personal stuff, you are definitely worried about its safety when you plan to you goes out for any purpose. The main reason for your worry can be a long vacation with family and everyone nearby your house would know that you are not present here. This can give an invitation to thieves and robbers who can attack your valuable personal possessions. Moreover, there can be some other threats including water leakage, luckless accident or any other mishap which can harm your valuable things. Hence, the only safe place where you can store your essential stuff in your absence is a self-storage unit. Taking a self-storage service in this situation can be the best option.
Several people today are using self-storage units in order to safeguard their personal things for long as well as short term duration. This article will talk about how a self-storage unit is best for short term storage requirements.
Uses of storage arrangements for short term
if you are planning to go to another location for work, storing all your important things in a self-storage unit is advised. Self-storage units are very spacious which means you can easily e-store all your important things. The best part is that you can also store your car safely in these storage units. Moreover, if you are a college student and planning to move out of hostel because your semester has finished, you are again advised to store all your important items in a self-storage unit. In this way, you can visit your parents without any fear of getting your necessary things harmed. In addition, you will also free yourself from the difficulty of carrying every important thing with you.
Also if you are planning to go for any event, you should not leave your important items in the care of anyone on whom you cannot rely. The best option is to put your things safely in a self storage unit and enjoy the event peacefully. Similarly, if you are planning to renovate your house and are not able to decide where to keep your precious things, you can put all the important stuff into the self-storage unit. In this way, you will be able to keep all your necessary things safe from any kind of damage that can happen at the time of renovation. Apart from all these things, you can also use self-storage units for storing a variety of things for the short term.
Get self-storage units at easy short term lease
Earlier, you were required to pay the amount of storage unit in advance. But now the scenario is completely different. You can also get the storage unit on lease for a few months also. Simply search on Google best storage units near me and you will find several storage unit options that you can have only for the time period you require. Even now you can renew the lease also. In this way, you only need to pay an amount for the time you have used the service of a storage unit. Hence, the service of storage units has become economical these days.
Self-storage units give surety of safety
You can rely on self-storage units every time. These storage units are constructed in a way that they provide safety and security to all your important things. There is no chance of entry of rats, termites, cockroaches or any other insect. Also, the storage units are under the surveillance so so you need not to worry about the safety of your precious possession. Moreover, entry of any outsider is prohibited and the access is given only to the authorized person. storage units are also available with the facility of climate control that let your delicate items kept in safety under a particular fix temperature.
Therefore, with so many safety options, keeping your things in the storage unit is the safest way to protect them whenever you are not able to look after them. Also now storage units are available at least so you need not to give one year advance in order to use the services of storage units.