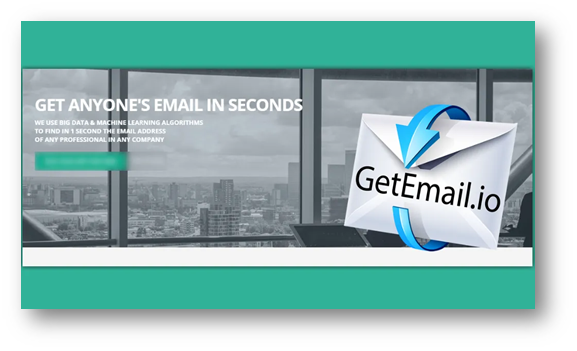 What is GetEmail.io?
GetEmail.io is a powerful tool that helps businesses locate e-mail addresses. It has been developed for use in B2B and not B2C, which means that it will not help spamming or sending bulk e-mails. However, it will save you time by making prospecting easier.
How does it work?
The work is quite simple but extremely effective. It uses machine learning and Big Data algorithms to retrieve accurate e-mails every time!  All you need to know is the first or last name and the domain name of their company. There are billions of e-mails in their database, which have been after scanning multiple websites. The algorithm recognizes how various domains refer to e-mails; it only recreates the e-mails! It sounds simple, but the amount of time it is going to save you is huge.
Since it targets B2B markets, the prospects are limited, making it easier to yield accurate results every time. Still, getting your hands on the right e-mail address is often the first thing we all need to get started. With GetEmail.io, you can personalize your approach wisely in highly targeted B2B leads.
Subscriptions and App Pricing!
All subscriptions have a free test for you to evaluate their service before committing to them. Their packages are as follows!
Free
The free test comes with ten credit points with CSV download and API access. It is the best way to test this service and assess if it will help you in the long term. Most users have stated that it is impossible to work without it once you get used to it, so if your work life is dominated by e-mails, it's time you try it!
Basic
The Basic plan starts at $49 a month with 300 credit points. It supports e-mail and allows you to check up to 300 e-mails every month. Just imagine how much time you save with this!
Standard
The Standard package comes with 1000 credit points, which means that you can retrieve 1000 e-mail addresses and locate your prospects. It will enable your team and enhance their productivity altogether. Subscription charges are $99 a month!
Premium
The Premium package doubles your credit points. With 2000 credit points, you can leverage this and revise your business strategy altogether because finding an e-mail address has never been easier. It is the ultimate bridge for the workplace and intra-organizational communication!
Available at $149 a month.
Ultra
It takes things up by a notch and gives you access to 10,000 credit points! Considering you are prospecting B2B, this is more than enough. You can test this service and avail of their subscription for $399 a month. It is enough points for your entire team!
Get your GetEmail.io today and reap the benefits. It is specially designed for businesses in sales, marketing, recruiting, event management, and approaching new and potential clients where e-mail verification is significant. Having a tool with API access and CSV download might be the answer to all your problems!
Test their service today and never waste time looking for an e-mail address.