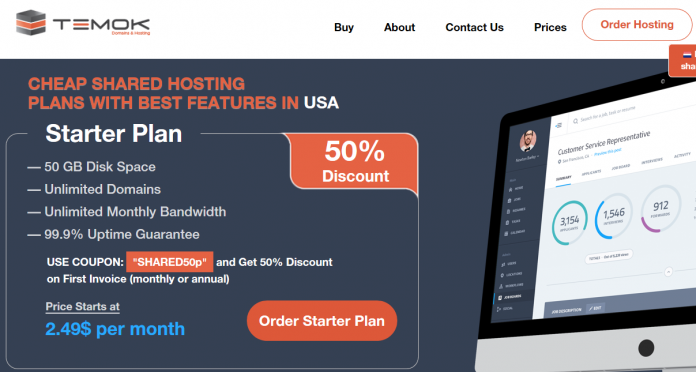 Website development is not an easy task. However, it is essential if you wish to attract and target enough target audience to realize significant profits. While there was a time when not having a website was not considered bad, things have changed. If your company is not there when your customers search for it on search engines, you are bound to lose out.
There are various hosting services that might help you in the website development and web hosting process. Actually, there are one too many. We went on a hunt on finding a holistic company that offered it all. One potential option we found was TEMOK.
What is TEMOK?
TEMOK is an IT company that was founded in 2014. Since then it has managed to receive raving reviews for its various services. The number of people or businesses using its services is ever increasing and is currently 8000 plus. Considering that it has only been operational for four years, this number is quite impressive.
The different services offered by the company range from web hosting plans to website development. It also delivers different servers. The location of these servers includes countries like USA, Netherlands, Russia, France, Japan, Canada, Singapore, and South Korea.
One of the things that garnered our attention towards TEMOK was its web hosting plans. These plans take affordability to a whole new level. There are different packages offered depending on your need.
The starter package starts at a low rate of $2. 49 per month. There are four major features included in this package. Firstly, you are given a choice between unlimited domains. This means you don't need to worry about going through the process of finding the right domain each time you launch a website. This feature is ideal for those who wish to diversify their business.
Moreover, you are also given unlimited monthly bandwidth. Again, limited bandwidth is a source of inconvenience. You can never be sure how much bandwidth your website may need. Having the warning of "Limited Bandwidth Exceeded" flash on your screen is a nightmare for all. With the unlimited bandwidth option, you can easily avoid this.
Additionally, you are also provided with a 50 GB disk space and an uptime guarantee. Both are features you generally look for in a web hosting plan. The fact that TEMOK delivers it all at a low rate is refreshing.
Apart from the cheap starter plan, you can also choose between three other plans. These plans include Premium, Business, and First-Class. The first-class Plan is the most expensive of the lot. The only difference between the four plans is in the offered disk space. While Premium package includes 100 GB, First-Class Package includes 200 GB. Just because First-Class package has more doesn't mean it is the one for you. Instead, you must decide on the basis of your need.
Promotions offered
Another thing we liked about TEMOK was the sheer number of promotions they offered. When you are a new and coming business, every penny saved matters. These promotions make the act of web hosting and web development a tad less costly and hence is appreciated.
The three major promotions offered include:
50% promo on shared hosting plans
On the shared hosting plans discussed above, you can also realize a discount. On your first-month service subscription fee, you can get 50% off. The shared promo code for the starter package is "SHARED50p". This makes the already affordable package even cheaper.
50% of web design plans
There are different packages for web design as well. Each differs on the basis of services offered and the price charged. For instance, the basic web design package is offered at $99. It delivers a .com domain free of cost for a year. It also gives you a custom built a five-page website. This package is ideal for personal blogs. For professional use, a start-up package and a business web design package is offered. Both of these differ in the number of website pages offered. Moreover, the business package, being the priciest, has the most services.
Regardless of which one you pick, you will be able to realize a discount in all. Due to the 50% promotion, you will have to pay half the subscription fee for the first month.
30% discount on VPS and reseller hosting plans
TEMOK also offers servers and reseller hosting plans to its users. As mentioned, the number of countries in the server network is quite extensive. There are four different hosting plans offered by the company. In each of them, a 30% discount is given for the first month.
Verdict
For those of you who are looking for a holistic solution, you will find TEMOK to be a great IT servicing company. From getting your logo designed to web hosting, it delivers it all.