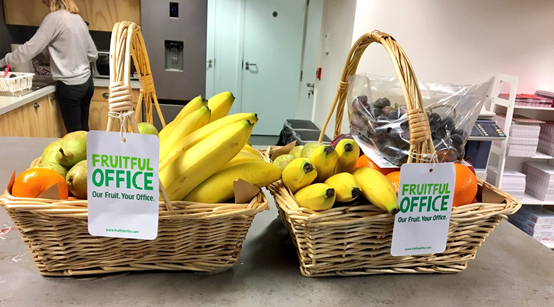 Every business has a story to tell and coming from humble beginnings as a concept debated by flatmates Vasco de Castro and Daniel Ernst in their flat, the tale of how Fruitful Office reached the heights of success it has reached 10 years into operations, is no exception.
Working in conventional day jobs Daniel and Vasco both dreamed of a different life. While the two founders were certainly not financially deprived while working as an accountant and an investment banker, the two yearned for a business they could call their own, that could make a difference to people's lives and that could bring their unique idea to bring fresh fruit to offices across Europe to life.
Like most successful startups, Daniel and Vasco began by identifying a problem they could fix with their business concept. Both had encountered the problem that good quality fresh fruit was rarely available in their office. Fixing this simple problem was the germination of Fruitful office.
The beginning – not an easy ride and some mistakes along the way
Asked what the beginning of their business operations was like Daniel and Vasco give an honest, humble account. Determined to keep distribution costs down the pair invested in cheap, old vehicles which resulted in disrupted initial operations. Looking back they regard it as a false economy they later learned to regret.
Finding good quality employees willing to work in the "twilight" hours between 4.30am and 8.30am proved to be another challenge to their early operations. Mistakes were made, learned from and quickly fixed to guarantee the growth that comes from hard work and a brilliant concept.
The beginning wasn't all doom and gloom though. Daniel and Vasco were able to leverage their vast array of business contacts to convince corporations to trial their products. With business "top brass" soon becoming wowed by such a simple concept (i.e. bring fresh fruit to businesses), the word quickly got out that providing employees with fresh fruit boosts their productivity and morale. Business was on the up for these two budding entrepreneurs. Orders started to increase and the two founders who came from humble beginnings were beginning to see their hard work pay off.
Scaling up
The task of scaling up their business was initially fraught with uncertainty. Would they be able to ensure smooth delivery of their products? Would they be able to maintain the quality of their product in spite of staff shortages?
The two eager founders set about establishing local distribution hubs to ensure the quality of the fruit they supplied was not affected by traditional problems affecting fruit sellers i.e. that fruit had a short shelf life and needed to quickly make the transition from supplier to end consumer, fast, to ensure the consumer enjoyed prime, fresh fruits.
Ethical factors
The founders also faced the problem of ethical issues surrounding their fruit supply – would their fruit harvesting cause problems for the communities where the fruit was being grown? And so began Fruitful Office's tree planting community scheme which aims to plant 2.5 million trees across Africa by 2018. The scheme was designed to ensure that Fruitful Office's harvesting of fruit didn't leave the communities it came from short of fruit, short of firewood and adversely impacted by deforestation.
Finally – exponential business growth
Now supplying more than 5000 companies in 5 different countries with fresh fruit, the two founders from humble beginnings can look back on their years of hard work with pride and satisfaction.