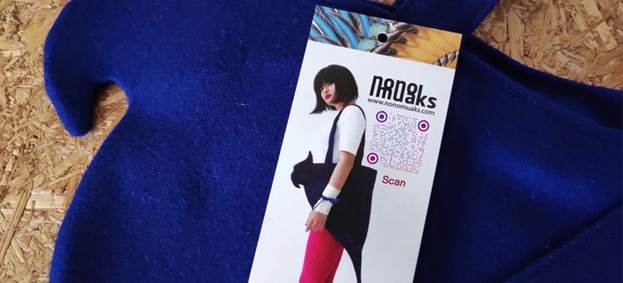 Fashion and apparel industry is expanding every single minute. People are becoming more and more self-conscious about their appearance. The youth has become more fashionable, chic and stylish than ever before. Social media forums, as well as the easy access to the celebrity culture, has made people set and follow trends. In a market of thoroughly aware customers, the apparel brands are opting for all the strategies of maximizing Customer Engagement.
Employing strategies that would use the right technology saves companies from the dilemmas of traditional approaches. QR codes are considered one of the latest tools for customer's retention and ease, thereby the apparel industry is opting for it. Use a QR code generator with logo as QRzebra to have higher scanning rates.
How are QR codes being used by the clothing brands?
The usage of QR codes has not reached its full potential around the globe, however, it has been embraced fully in many countries. This also stands true for the fashion and clothing industry. People in these industries are recognizing the importance of QR codes. Since there is a lot of scope for QR codes to engage with the customers. Let's see how QR codes are helping the clothing brands:
Elaborate details of the products
These codes give you a chance to talk to your customers directly. For instance, by placing the QR codes on different dresses, you can enable them to get all the information about the sizes, colors, and options available to them. Moreover, these codes can give ingenious ideas of dressing up to your customers. The attachment of videos with these codes is going to give extra details to convince them.
Share the vision
As a brand, you need to be able to stand apart from your competition and QR codes are a great way to tell your customer your story. Share a little bit of the brand's history or show them the inspiration board used when creating the latest collection. Do you use only organic fabrics when manufacturing your garments? Share a video with your customers showing how this is done. In other words, use QR codes to help your customers know you a little better and to be able to identify with your brand's goals.
Accumulation of feedback
These QR codes work as an exceptional tool for getting direct feedback from your customers. This can get easily done by scanning the codes. This would, in turn, direct them to form a maximum of five questions. These questions can be answered in a simple 'yes or no' format. QR codes would also give you the opportunity to store the statistics about the customer's shopping inclinations.
Linkage to the social media
By using these QR codes, you can simply link your customers to the Facebook page. Similarly, these codes help the customers scan the tag, click their pictures and upload them on social media. The clothing brands that are using QR codes make their customers a part of their brand story, this gives them a sense of belongingness.
We see a big trend in luxury brands using QR codes to communicate their vision with their clients, QR codes also help also to verify the authenticity of a product.
QR codes play a very efficient role to ensure customer loyalty and retain them in a long-term relationship. Unquestionably, these codes help you for better customer engagement. Therefore, it is valuable to opt for QR codes, to give your customers the best possible experience while shopping.
It's important to make use of dynamic QR code as they can help you in updating all your information behind your QR code like URL instantly and on top dynamic QR codes allow you to track valuable consumer data! One of the best QR code generator out there is QRzebra as you can customize your QR code!