Business websites use thousands of technologies in their work. From web servers to analytics and traffic monetization tools, each company can use various solutions for its own purposes.
Other companies benefit from learning what technologies are used on this or that website. For example, knowing that some business is using competing technology, some software developer may offer the business to use their producs as an alternative.
Demand creates supply, so today there are plenty of tools that allow companies to identify what technologies are used on different sites.
We'll talk about one of these solutions today. It is called Webspotter.io.
You can use Webspotter to find list of websites using the technologies that interest you. For example:
list of websites using Magento
list of websites using WordPress
list of websites using Wix
Webspotter is sales intelligenct tool. This means that Webspotter collects data regarding technologies used on different websites, such as analytics platforms, web servers and so on.
So, what's in it for you? Can Webspotter benefit your business?
Not only that the use of our tool does not require any payments, but it can also help you earn extra money instead.
Today, you will figure out how.
How Detecting a Website's Technology May Benefit You?
The answer is simple – you will be able to build a list of potential customers.
In order for you to understand what we mean, let's look at one example.
Let's say you are working for a custom software development company providing Magento CMS customization. You want to generate a list of leads which may be interested in your company's services.
How do you now know which platform is used by one or another e-commerce store? It would be strange for you to contact each store and say: "Hi, guys! Are you using Magento?"
That's when Webspotter comes in handy. The tool is able to provide you with a list of potential leads.
How to Detect a Website's Technology Using Webspotter?
The process of detecting a technology is like shooting fish in a barrel, but there are some subtleties.
If you just want to find the technologies used on a specific website, you should enter the name of the website in the search line and in a second you get the necessary information:

You will see the site profile and its data.
But what if you want to get a list of websites using the technology that interests you?
You hardly want to manually check each e-commerce website to learn whether it uses Magento or not.
In this case, you will have to do something different.
Let's continue to use our example with a company that offers Magento customization and is looking for customers.
First, we should enter the word "magento" in this field:

You can just start typing the word and the program will offer you the relevant option.
We see the technology's profile with its description and usage statistics. Now we only need to download a list of all sites that use this technology: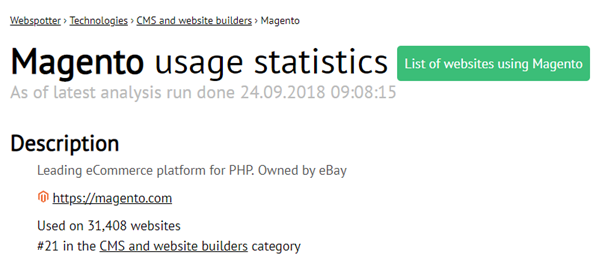 You just need to press the green button on the top of the screen.
Congratulations, you got a list of potential leads for your custom software development company.
There is another simple way to get a list of leads.
You can open the list of technologies and choose one that interests you among all others (for example, Magento).

For example, you can find Magento in the "CMS and website builders" category.
As before, you'll see a technology profile so you'll be able to download a list of all the websites that use it.
Wrapup
Webspotter is a website database which collects and stores information about the technologies that are used on thousands of sites.
The truth is that the tool becomes very valuable in capable hands. For example, after a couple of clicks, you can get a list of dozens or even hundreds of potential leads (not bad, isn't it?).
For example, you develop solutions for certain CMS platforms and want to find customers.
You only need to enter the name of the platform you are interested in in the search bar.
On the next page, you can download a list of all companies that use the technology. Companies on the list are your potential customers.
Companies from various industries can search for leads in this way. Try it and get your own list with potential customers.