One of the most widely used and popular presentation making tool available at our disposal is PowerPoint. The user-base which Microsoft has created and maintained over years is commendable. Today, almost in every industry, PowerPoint has secured its inevitable place. It is a routine making presentations in corporates to convey a project's goals, company business and more. Now, creating a presentation requires a dedicated strategy. You can always create a so-so presentation with ordinary tools available with PowerPoint. But, when it comes to crucial presentations like pitching an idea to executives, investor meeting etc., you certainly need a game-changing presentation.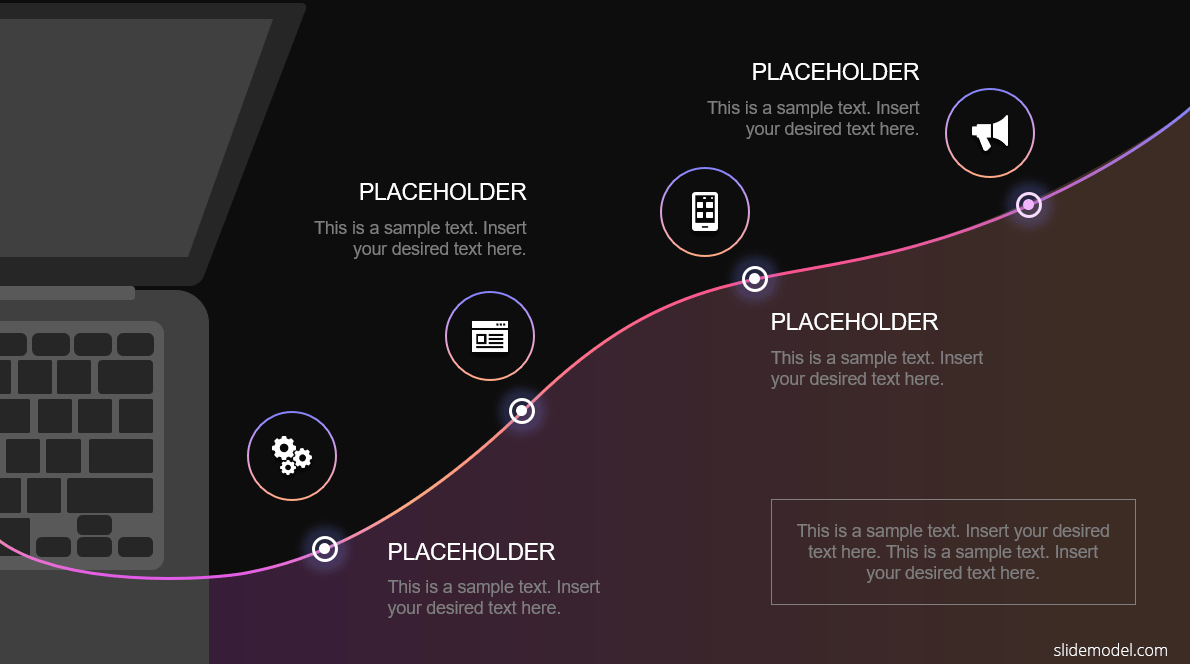 SlideModel.com provides visually creative as well as appealing presentation templates for use. These templates are already designed and tailored. In short, graphic designers at SlideModel.com have already catered the difficult work and you won't have to start making a presentation from scratch.
Everybody from a student, educators, business enthusiasts, executives and other professionals can leverage the potential offered by these ready to use templates. Just think about when you can save your time while boosting the creativity factor in your presentation, it can certainly give you an upper-edge over your competitors. There are thousands of lush PowerPoint presentations available on SlideModel, the content available for grab here is just overwhelming.
What is SlideModel.com?
SlideModel is a game-changing presentation template provider. The platform aims to help presenters when it comes to making presentations. You can make awesome presentations in record time and that too without much hassle. It would be evident to mention that not every human has mastered the art of creativity. Same goes for presentations, it might look appealing to you, but your audience might find it dull or boring. Now, making state of the art presentation doesn't mean that you must spend hours making your presentation.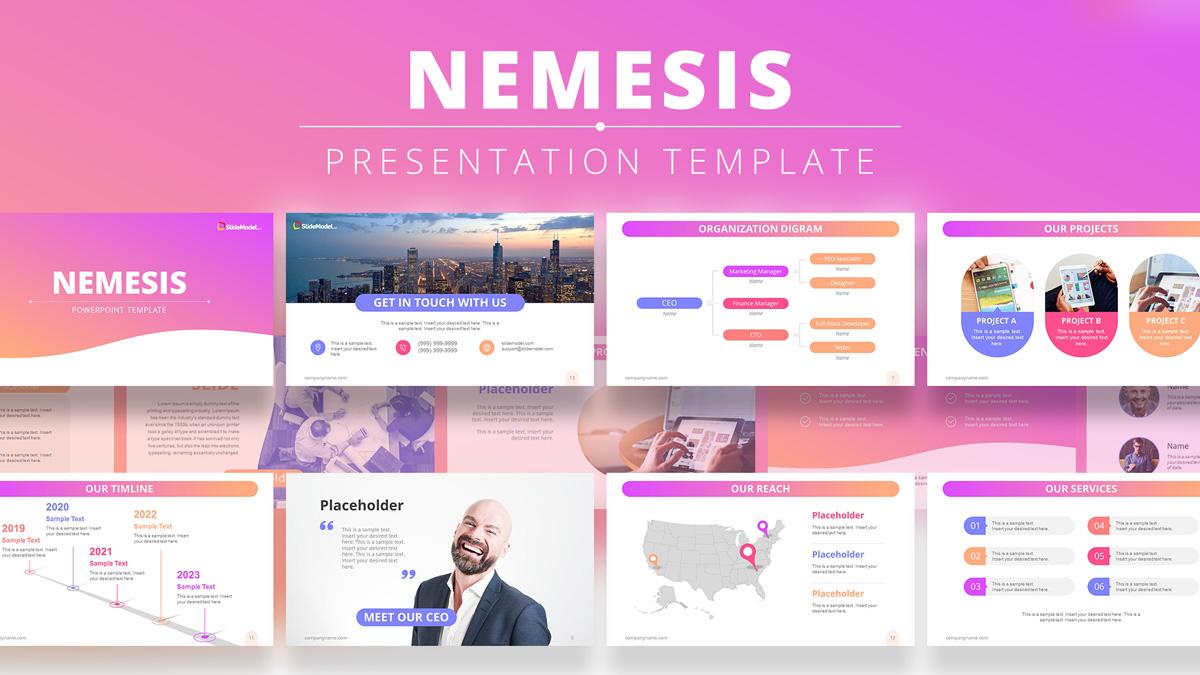 Source: Nemesis PowerPoint template
When you can simply get access to ready to deploy PowerPoint presentation template, you can save your resources big time. Also, you will be having new layouts, fresh graphical elements, a unique identity at your disposal, respectively. The pre-designed templates will surely help you maintain your company's or your own identity throughout the presentation. Also, one should note that SlideModel.com's presentation templates are fully compatible with recent versions of Microsoft PowerPoint, Google Slides, Keynote etc.
SlideModel is revolutionizing the way presentations were made. In addition to helping presentation enthusiasts with never seen before graphical support, you can even further manipulate these presentation templates. The 100% editable feature of SlideModel.com's product is what, making this portal dedicated and popular. The portal has housed thousands of presentation templates which are absolutely editable and can be customized as per the wishes of an individual, a start-up or even a fortune-500 company.
100% Editable PowerPoint Templates:
Either the purpose is business or education, SlideModel is thoroughly equipped with professional templates which are suitable for every occasion. The portal has some of the best looking business templates which can help you convey your message precisely. You can get your hands on templates such as folded product roadmap template to support any timeline, 4 steps maturity diagram can be used to display the product development cycle, hotel business template can be used to provide a premium touch to your presentation.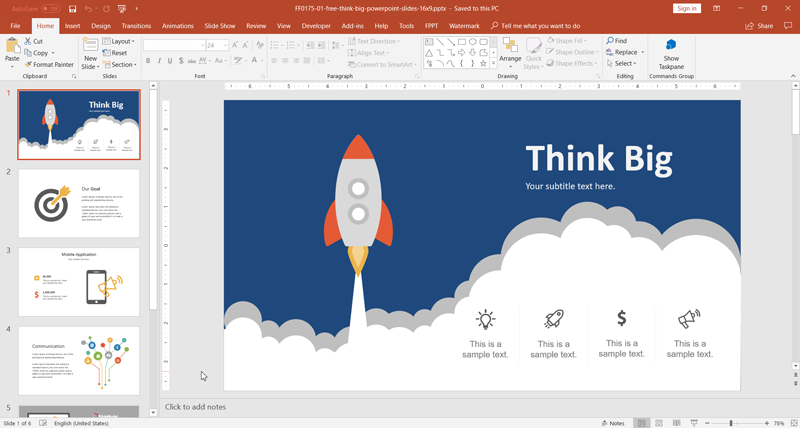 Source: Free Think Big PowerPoint Template
PowerPoint Charts & Curves:
As a matter of fact, any presentation is incomplete without the data. However, people often end-up overstuffing a presentation with ordinary text and numbers. Now, you can make use of SlideModel Charts, Diagrams and Curves to depict crucial business-centric data easily. The goal in hand is to minimize the dull factors and say more with less text.
For instance, Chevron process flow diagram can be used to differentiate or depict the development phase of any product. Infographic support is available around the clock at SlideModel and hence, you can certainly engage your audience more into the presentation. Other diagrams like Timelines or Roadmap templates can be used in presentations, like in the following example.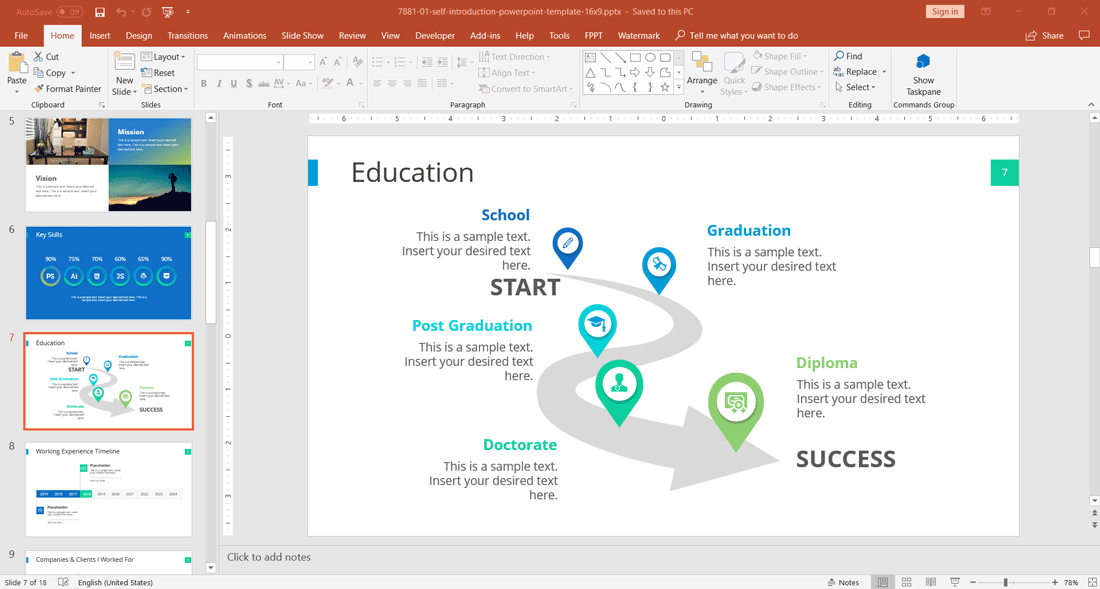 Editable Maps for Presentations:
Now get exclusive access to Maps and associated outline at SlideModel.com. You can search and download Maps of almost every country, city or even continent at the portal. Further, the same can be edited and can be used for blogs, presentation and more. It is often required to include Maps in our presentation when talking about territory specific growth. SlideModel has made it flexible to include the Map images without any third-party API etc. From Barcelona to Oman, India to United States Of America, Map support is available at your disposal.
SlideModel is a potential-filled tool which can be utilized to make presentations great and simple. In addition to making quick presentations, now you're not required to jeopardize the quality. Save time and don't waste your efforts on re-inventing. The outstanding range of templates is suitable for students attending school or college, tutors, professionals with special needs as well as hardcore corporate enthusiasts. Also, you should understand that SlideModel updates the collection of templates frequently, hence, innovation never stops.