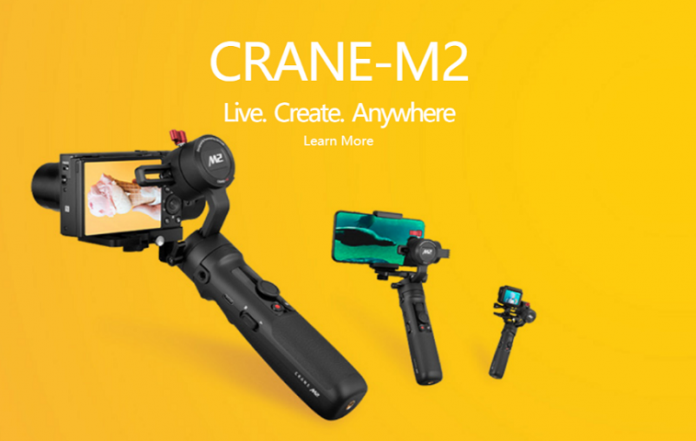 Video camera stabilizer, a smart device helping to keep the filming and capturing in balance, is of vital importance to every film making fans. Whether you are a beginner or a professional, you could gain tremendous assistance from the handheld stabilizer for DSLR. Zhiyun, as one of the world's leading tech companies of the professional stabilization system, is about to launch its new star product, Zhiyun CRANE-M2. Let's see what is unique with this oncoming product.
Balance function
With newly upgraded motors, CRANE-M2 could keep the balance of the video camera to the maximum. No matter how you put your hands with the stabilizer, it could automatically balance the frame as much as possible with free rotation. In addition, the scale marks and memory locks could help keep balance in a more precise way.
Convenient
The functions of the DSLR video stabilizer is easy to be triggered; only a single push of the slider on the side of the handle can zoom in/out to capture smooth footage at a distance. Adopting a WiFi-and-Bluetooth control module, CRANE-M2 is able to make you control your camera wirelessly through the gimbal handle; and once paired via ZY Play, your camera, and the gimbal will automatically match again when turned on next time. The intuitive OLED display can show you the gimbal mode, Bluetooth & connection status, battery level and various gimbal parameters, making the operation clear and evident for you to control.
Portable
The new offering of CRANE-M2 weighs just 1.1 lbs (500g) and with its modest maximum payload of 720g, who is designed with a sleek body and compact size. This makes it easier to be held in hand, be put in pockets. As a result, you could feel free to take it anywhere you go. CRANE-M2 has also been equipped with special design to be set up quickly and get ready to capture at any time. A whole new quick-release system – Lite can assist you to mount or dismount your camera quickly with a single press of the lock button. With a smart lock design, you will have no worries about the axes from swinging around during travel.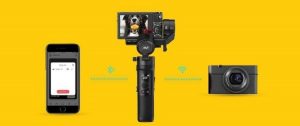 Compatible
CRANE-M2 is specially designed for the all-in-one functions, which means it could perfectly match with different camera products, including compact cameras, light mirrorless cameras, smartphones, and action cameras, etc. With only one video camera stabilizer, you could manage all of your filming devices.
Multiple-modes
The handheld stabilizer for DSLR could provide various possibilities to capture life moments, for example, PF mode, F mode, L mode, POV mode, Vortex mode, GO mode, etc. This could highly meet your different needs to create a film, inspiring as many ideas as possible.
PF mode: the camera pans when you turn the gimbal left and right.
F mode: the camera follows the handle movements.
L mode: the camera locks its direction so you won't miss a shot in any situation.
POV mode: the camera allows 360°synchronous movement on all three axes.
Vortex mode: the camera gives you the freedom to make 360°barrel shots in all dimensions.
GO mode: the camera captures every fast movement without missing a single beat.
Long-lasted
CRANE-M2 owns an impressive runtime of up to 7 hours to keep you powered throughout your adventures. Besides charging your phone, CRANE-M2 can also be charged with a power bank. Your Vlog filming could be lasted without pausing in the middle.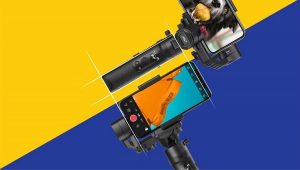 With so many powerful functions, CRANE-M2 is gearing up to bring you a brand new experience to capture memorable moments in life. Just get started to make your life full of creativity.