Many words have been written about the importance of website speed optimization in SEO. Some never stop to praise it, others totally ignore it. For some, it's their "nr.1 white-hat secret", for others, it's just another thing on a list. So what's the truth about the importance of optimizing your website for speed in 2018 ? When listing results for a search query, Google algorithm takes into consideration over 200+ factors. Some of these factors are more important, some are less important. But where exactly is speed optimization standing in the great scheme of things?
Well, let's take a look at this graph from a 2017 SemRush study: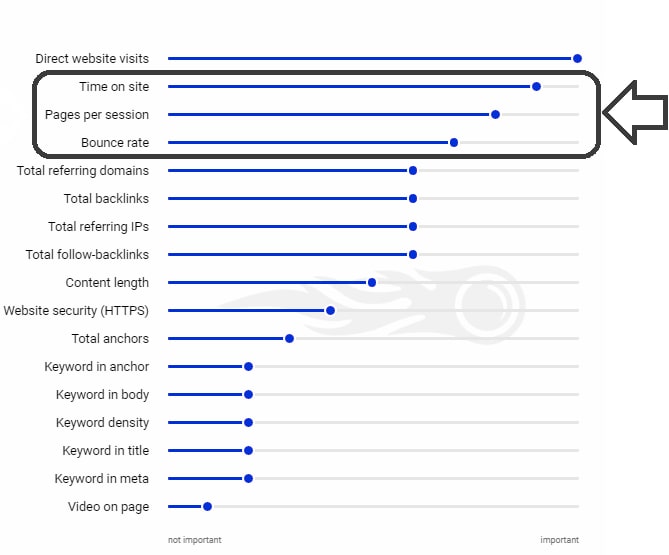 We notice that nr, 2, 3 and 4 most important factors are "time on site", "pages per session" and "bounce rate". These are all "UX" (user experience) factors and are heavily dependent upon page speed. They measure how well the visitor interacts with your website. Google aims to provide results that are relevant for users. If visitors spend a small amount of time on your website and visit few pages or leave immediately, this tells google that your website is either irrelevant for the search in question, either of low quality. And since you're probably using Google Analytics to track your visitors, guess who else has access to these statistics?During recent years, Google has slowly transitioned from an algorithm based mainly on backlinks to one based mainly on user experience. This trend will continue in 2019 when Google will transition to a "Full Mobile Index".
What does this mean ?
Right now, results shown by Google on mobile are different than results shown on desktop. Google is giving more importance to user experience metrics when listing results for mobile users than it does on desktop. In 2019, Google will use the current mobile algorithm on desktop search queries too. Therefore, the importance of user experience factors is expected to increase in the near future.
Personal opinion:
From my experience, these user experience factors are particularly important when reaching the first page of results. It's like Google ranks based on content, backlinks, etc. until reaching first page. Then, it starts taking user experience factors into consideration much more seriously than it does on the second or third page. This is why user experience factors have become a focus of SEO professionals who aim to rank high on first page. Slowly but surely, the SEO field is becoming more complicated and more expensive. From a SEOer point of view, more complicated means more work. BUT, it also means that, as an expert, your edge is getting bigger. The more complicated things become, the better it will be in terms of profits for those that know what they're doing and take care of all the little things. The world of SEO is always changing and SEOers have to adapt.
Conclusion:
With the importance of user experience factors rising through the roof in 2018 and similar trends being expected in 2019, improving your page speed has become a priority for mid-level SEO professionals and E-commerce entrepreneurs. And after all, this is a good development. At the global level, millions of hours of our time are lost due to slow websites. A single slow website has the power to make thousands of people lose valuable time that little by little adds up. Trillions of dollars of productivity are lost every year due to slow websites. It's good to see that even low-traffic, presentation websites are now forced to improve their speed due to potential SEO losses, to say nothing about slow news websites with high traffic.
These SEO developments will soon start impacting our day to day lives. For example in Eastern Europe, where I live, local press websites are not optimized at all and we can find a couple of un-optimized websites even in central press too. This is causing many people to have a negative experience when browsing the internet. Hopefully, recent Google updates will determine more and more webmasters to optimize their websites for speed and provide a more pleasant user experience. May the internet of tomorrow be a faster place than it is today!