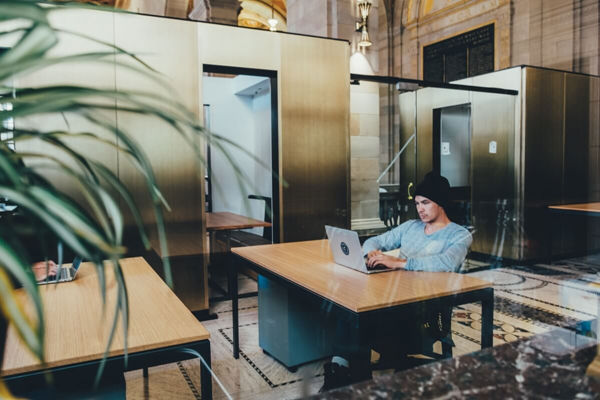 Coworking spaces are becoming more and more popular as the years go by, and as a remote worker, freelancer, or student, the chances are that you've heard of them opening in your local area. The world of offices and cubicle-based productivity is starting to slip away into history.
That being said, when it comes to choosing the right coworking space for you to maximize productivity, the decision can become overwhelming. To help, when choosing your space, here are six things you're going to want to consider.
#1 – Location
This is, of course, the most important aspect to consider. It's important to remember that not only do you need a space that you can easily commute to, but you'll always want to consider what amenities are in the local area.
Being in a well-connected area means you won't have to go far if you need any services to help you with your work. You may also be bringing clients to the space for meetings, so consider how well they'll be able to get there.
#2 – Who Else Goes There?
When selecting your coworking space of choice, you'll want to make sure it houses a good community that suits what you're looking for. Some spaces will be designed with entrepreneurs and freelancers in mind; some may be designed for students, so bear this in mind.
#3 – Is It Distracting?
Within your coworking space, you'll want to make sure you're able to focus on your work and maximize your productivity. Visually, you're going to want to look for a space that's not too overwhelming but does engage you mentally. You'll also want to make sure there's a good atmosphere that isn't too quiet but not too loud.
#4 – Does It Have Everything You Need?
While you're working in your space, you'll want tomake sure you have everything available to get your work done. Are there easily accessible plug sockets to charge your computers and phones? Is there a high-speed internet connection that can handle multiple people signed on? Do you have enough space for papers and documents you may need?
#5 – Does it Fit Your Budget?
Coworking spaces don't have to be expensive, but it pays to shop around to see which place suits your budget. Prices can vary depending on the location, amenities and the services that each place provides, so all you need to do is pick the one that's right for you.
#6 – Do You Enjoy It?
This is perhaps the second most important aspect you'll want to think about. There are some places you're not going to enjoy working for whatever reason and being in a place you don't like will stop you getting work done. Make sure you're choosing a place you enjoy being in for the best working results.
Summary
There are plenty of things you'll need to think about when it comes to choosing the coworking space that's right for you. The best way to approach it is to think about what you want to achieve with your work and use that as your end goal for choosing the best space.