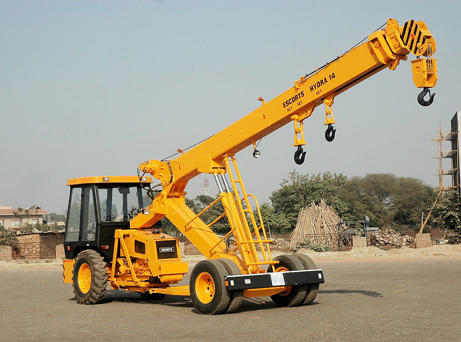 Are you in the construction or manufacturing industry? Do you constantly have to lift heavy loads from one place to the next? Are you financially constrained?
If you answered yes to all of these questions, crane truck hire might very well be the solution to your problems.
Many business owners are conflicted regarding whether to purchase their own crane or simply hire one. If you're only just starting out, then you're aware of how hiring a crane service provider comes with many advantages.
You don't have to spend large amounts of money to purchase your own equipment. Limited space challenges are eliminated. And you don't have to worry about maintaining the machines—which by the way is pretty costly.
To help you look for the right service provider for your business needs, we've outlined the top eight tips you must keep in mind.
1.      Reputation of the Service Provider
Pick a reputable service provider to avoid disappointment. Consider how long the company has been operating for and what other customers think of the business in question.
People tend to favour companies that have been in business for longer than their newly founded counterparts. Reason for this being that such companies—for instance hiab crane hire—have years of experience in transporting heavy loads.
Aside from technical expertise, chances are that these companies have the necessary support structures in place to handle the task swiftly. This can include anything from inventory management to established networks.
2.      Insurance Compliance
When engaging the services of businesses that specialise in crane truck hire Melbourne locals must check if the companies have insurance. Given the nature of the tasks handled, accidents can happen causing damages and loss of life.
The last thing you need is to deal with companies that can't compensate you under such unfortunate circumstances. But don't simply take their word for it; ask to see the proof of insurance for yourself and make sure it aligns with your business's needs.
3.      Make Sure the Company is Licensed
Is the crane service provider licensed? Pick a company that's authorised to handle crane operation in your state.
Different states have varying laws regarding crane operation. The right company must know—and abide—to these laws. Ask to see the relevant permits, making sure to keep an eye on the expiration dates.
Only then are you guaranteed that the task will be completed professionally and swiftly. Failure to execute your due diligence with such matters and you're at risk of facing possible lawsuits or fines.
4.      Know the Kind of Crane You Need
Cranes aren't a one-size-fits-all solution. There're different types that handle specific tasks. That's something you need to be well aware of before picking a crane service provider. There's no guessing that this affects the price you pay. You don't want to end up paying for the wrong equipment.
Does the company have the right crane for your project? Do you need a hydraulic, forklift or crawler crane? Is the crane supposed to be used indoors or outdoors?  Do you want to lift small loads at a time or plenty in one go?
If you're overwhelmed or aren't sure about the kind of crane you need, consult with a specialist beforehand. Seek opinions from different experts to ensure that you end up with the right crane for your project.
5.      Is the Equipment in Good Condition?
Before signing on the dotted line, feel free to inspect the cranes' condition. Ask for service records of the machinery to ascertain if they're in compliance and up to date. You want to pay for equipment that's hazardous free and guarantees swift task completion.
Reputable companies will be more than happy to share these records with you. Any form of resistance from the company regarding furnishing you with such information should be considered a red flag.
6.      Does the Machine Come with an Operator?
Some crane hire companies take it a step further by providing you with an operator to handle the task. This is likely to attract an extra charge. But if you have no knowledge regarding crane operation, then that's an extra service definitely worth paying for.
Ask to see the qualifications and service records of the operator in question to ascertain that you're dealing with a capable individual.
7.      Customer Service
Evaluate the crane service provider regarding their customer service. Are the staff members friendly, professional and approachable? When queries or questions arise, you want to deal with a team of highly courteous and responsive individuals.
Chances are that you'll be in business with this service provider for long, so make sure you have mutual respect for each other.
8.      How Much Does the Company Charge?
Compare quotes from different companies before selecting a crane service provider. This way you can settle for a company whose rates you can afford to avoid missing payments which can affect project deadlines.
Conclusion
The key to finding the right crane service provider can be summed up in three words—do your research. Only then will you pick a company that'll give you value for your money.
Keep our tips in mind and you'll find the right crane service provider in no time.