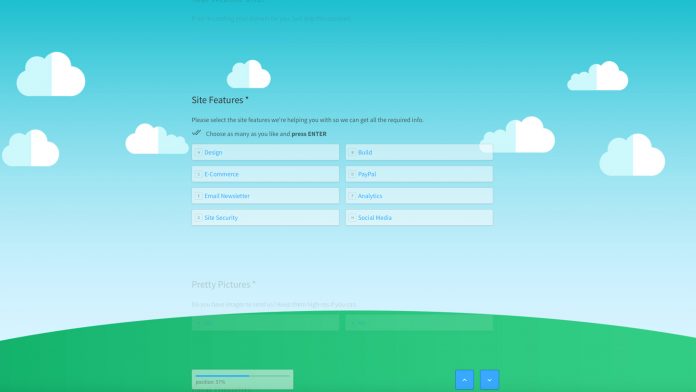 Online forms (also known as web forms) are essentially a tool to collect information. For bloggers that makes them extremely useful – and there are several types of online forms that could have a big impact on your blog.
If you're planning on adding online forms to your blog, there are four types in particular that you should start with:
True to their name, contact forms are designed to allow visitors to get in touch with you. In general they are simple, and normally consist of just a few fields to collect information such as a name, email address, subject, and message.
The reason contact forms are so useful is they tend to be a better alternative than listing your email address directly. Not only are they easier for visitors to fill out, but they can help to reduce spam – especially if you use CAPTCHA.
Building an email list is a powerful way to reach your target audience, and one way to do that is to add a newsletter signup form to your blog. It is a simple form that will collect the name and email address of subscribers, and allow you to send them emails with content you think they'll like.
To encourage more responses you could even add an incentive, such as a free report or eBook that is sent when someone submits their details.
If you want your blog to truly engage your target audience, it helps to know as much about them as possible. That is where market research surveys can be extremely useful.
Try to limit your market research surveys to a specific area, and identify the goal that you want to achieve. That will help you keep them as short as possible, and allow you to collect more responses.
In general these surveys are more involved than other types of forms however, and you may need to use different types of fields when you build them. As such you should make sure that the premium or free survey maker that you use is up to the task.
Few forms will be as appealing to your blog visitors as contest forms. Not only can you attract more visitors to your blog by running the contest, but the form itself will help you collect contest registrations that you can use to build your email list.
The caveat is that you need to carefully set up the contest itself, and come up with a prize that is able to entice people to join.
Starting to see how these types of online forms could help to improve your blog on several fronts? At the end of the day it shouldn't be too hard to create them, and the impact they will be significant.
Keep in mind that there are lots of other types of online forms that you can try out as well – and be sure to explore all your options.
Author Bio:-
Mahendra Bajiya has been an SEO specialist, guest blogger, and content creator for years. He has had his work published on many websites, and even owns his own guest posting service. To reach him you can visit his social media pages at LinkedIn – Facebook – Twitter.