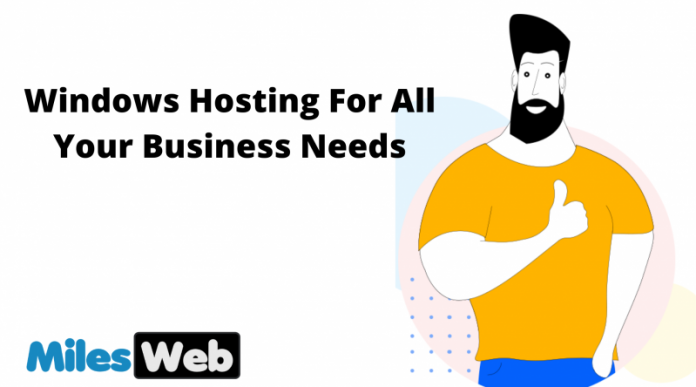 We have seen most web hosting packages run on windows vps hosting servers, Linux servers, because, Linux operating system is fast, reliable, secure and free. It also includes some of the best web applications around. With all the benefits, still, Linux cannot be the best suitable option for everyone. If you have a site that is based on Microsoft technologies such as ASP.NET or .NET, or you use Microsoft SQL server or any other Microsoft products then, you will have to choose a Windows hosting plan.
Windows hosting is easy to use and using it doesn't limit you to only Microsoft products. Most of the cheap cloud hosting and Windows shared hosting plans offer 1 click installation of popular applications like WordPress, Joomla, Drupal, phpBB, PrestaShop, etc.
MilesWeb allows you to host the ASP.NET website with the SQL database on Windows Server 2016. Plesk control panel is provided that managed all the hosting database.
Windows hosting with Plesk Control Panel :
All the windows plans come with a leading control panel that is Plesk. The control panel is designed by keeping in mind the ease of use and its powerful behavior. It allows you to effortlessly manage all your emails, apps and website smoothly. The Plesk control panel can easily manage your cheap windows hosting account.
MilesWeb offers Windows shared hosting plans starting at just Rs. 40/month.
W-Swift and W-Turbo plans offer free domain name with them for lifetime.
Features of Windows Shared Hosting are :
1) Free SSL certificate 
SSL certificate is offered with all plans that make your site secure for data transmission. The 'https' symbol denotes that the site is safe to surf and visitors can visit it without any hesitation.
2) SSD drive 
The accelerated website performance is given by SSD drive which is 200% faster than the traditional hard drives. Your website will be stored on a powerful SSD based server that provides blazing fast speed.
3) Plesk control panel 
Plesk control panel allows you to seamlessly manage the domain, emails, and databases without much effort.
4) 1 click installer 
Save your time of apps installation with a Softaculous 1 click installer. With MilesWeb windows hosting plan you can install over 200 applications within clicks.
5) Secure email 
Emails can be accessed through a web browser on Windows, Mac or any other mobile device. MilesWeb provides the support of POP3/ IMAP/ SMTP protocols to send and receive emails.
6) Programming and Database 
MilesWeb offers various programming languages like ASP/ ASP.NET 3.5 and 4.6, PHP, SSlCurl, GD Library, MVC, AJAX, MySQL, and MS SQL 2012 Express with their windows shared hosting plans.
7) Instant account setup 
You don't have to wait for long hours to activate your account, as soon as the plan is bought, the technical team installs it on your system so that you can start the work immediately.
8) Free migration 
If you are tired of your current hosting provider and looking for someone who can move all your database securely then your worry is over now. MilesWeb takes the responsibility of transferring your website's data to their server that too for free.
Along with all the features, MilesWeb also offers Windows add-ons for their customers. As the site gets mature and business grows, you need to take more care of it. The statistics need to be checked and also malware protection is needed. So, these add-ons are really help-full in such situations.
(i) Sitelock basic 
A Sitelock badge secures your website from hackers, malware, identity thefts, website vulnerabilities, and other possible threats. It increases the rapport and trust between the site and its visitors.
(ii) Google webmaster 
The technical team setups your website in Google webmaster that is also known as search console. The Google webmaster indexes your site, provides its statistics and also performs diagnosis. Additional they also provide sitemap submission and reporting.
(iii) Analytics integration 
The technical team integrates analytics properly so that you can keep track of SEO, keywords performance, top content performance, best referrals, etc so as to boost the site. It helps you to identify the bounce rate of a particular page and the reason why a website is not performing well.
(iv) Website backup 
The risk of losing website data can arise from anywhere. Natural or unnatural calamities have the same effects on your data, and saving it is your topmost priority. Once the data is gone, it cannot be recovered again. You might be taking backups using the traditional method of using a pen drive or other storage devices that too manually. But, this is not all feasible, as the power-off can happen anytime. Thus, our website backup service ensures that your data remains safe as the backup is taken automatically.
It isn't compulsory to opt for all add-on services, you can choose that are really required for your business.
Conclusion 
Windows users always search for the handy an easy to use windows hosting at affordable price. At this cost, I think MilesWeb is the best choice for all. Their 24/7 technical support and 99.95% uptime is added advantage for all hosting hunters.