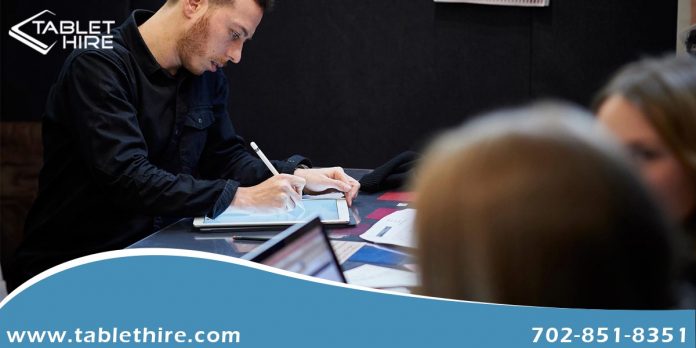 Business events are significant for more than one reasons. Not only do you need high tech business events to enhance your brand value but also to gain that competitive advantage in the market. Whether you are holding a conference, a board meeting, a tradeshow booth appearance or any other type of event, iPads can provide that much-needed boost.
Apple's latest and greatest iPads are equipped with advanced hardware and software features. You can simply do so much on these digital slates that functionality gets boosted for all events. Content sharing, business meeting agenda performance and many more are some tasks that can be carried out with these. Here are some major reasons why you need iPads for your Business events:
IPads Offer Best Hardware Specs
Apple has been leading the tech industry when it comes to hardware for many decades. Their modern iPads have some of the best hardware you can ever get in any tablet sized machines. IPad Pro 2019 models are even rivaling some great laptops with their speed and hardware output. Combine that with the largest ecosystem of apps and software for the tablet devices and you have the best combination.
Whether you need to run basic tasks like emails, content sharing or more complex ones, iPads will provide ultimate functionality. The optimized hardware and software combo on iPad devices maximize usability under all conditions. For app testing, graphic intensive gaming sessions or any other business events, iPads can provide that cutting-edge tech you need.
Large Screens Offer Great Content Sharing
Business events are all about content sharing. Whether you have a public event or an in-organization type occasion, sharing information and content will be essential. Modern iPads like the iPad Pro 12.9 models and even the 11" screen ones offer great screen real estate. Using this large canvas of display, you can share any kind of content or information across all domains.
Latest iPad OS also supports widgets and multiple app content sharing in the real time. Using this technology, your business events can benefit greatly with great content sharing opportunities. Any number of iPads can also by synced together offering a unified content sharing platform. When you have board members or other important people in the event, this can be a great option as well.
IPads Are Great for Attendee Participation
Ask any event organizer or business manager about the most important task for a business event. Attendee, participation will always be right at the top. This is also the most difficult and notorious step for any kind of business event. Modern iPads can provide great solution for your attendee participation problem. You can have supported apps like feedback and questions loaded on iPads for events.
Rather than having one large display screen, you can opt for many handheld iPad devices. These will manage the flow of your event presentation as well. People can go on their own pace rather than having to settle of the presenter's pace. Great levels of attendee participation can be achieved once you have these iPads ready for use at every table/seat.
IPad Hire Services Keep Costs Down
When planning your next business event, cost efficiency is always a great concern. Rather than having to purchase these expensive iPads on their full prices, you can have iPad Hire services instead. All you need to do is to find an iPad rental service close to your business event location. This way, you will only pay affordable rental prices and not their full price tags.
Considering the large number of iPads, a professional business event will need, costs can get astronomical when buying these. Getting professional iPad rental services instead for your short-term or most probably one-time usage is the best solution. This work around helps business spend their allocated budget on other betterments of the event.