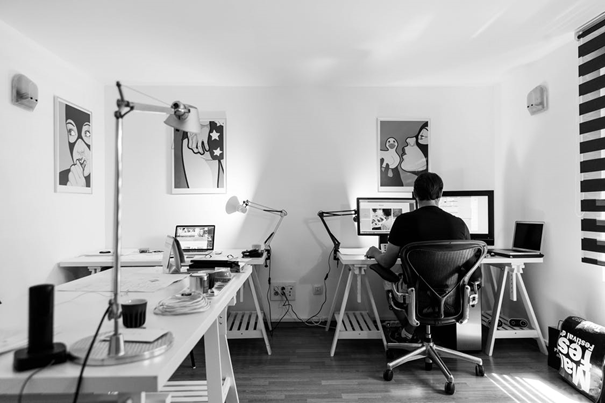 There are hundreds of articles about running a home business, with topics ranging from tax advice to branding. However, there are issues that are particular to running a business from your house that those who go away to an office or other work environment wouldn't understand.
One of those is organization. How do you separate your work area from living space and maintain productivity when your home is also your business location?
The Benefits of Casters When You're Dealing with Space Limitations
Unless you have a dedicated building like a garage or other area that you can convert into an office/work space, you're going to need to find a way to make space to conduct business without cluttering up your home.
Products like Colson series 4 casters are an often-overlooked accessory that can make a huge difference when you have to move furniture or equipment. Casters can:
∙ Increase your mobility by allowing you to move work benches, storage cabinets and other
items where you need them.
∙ Prevent back and joint problems.
∙ Make moving and storing equipment and furniture fast and effortless.
Aside from the obvious advantages, casters actually solve some common home and business problems. You can even save money by purchasing casters and converting an existing cart, work station, or table to a more mobile variety.
Move Heavy Items Safely
This is a common issue with repair or diagnostic services. Many home repair businesses are located in a garage, but you don't want equipment in the way when it's not in use. Casters that are attached to work benches or storage cabinets allow you to bring the equipment where you need it.
For example, you may have a computer board and parts on a work table, but there's no room for the tools you need to complete the repair. That's where a small table or cart on wheels with all of your equipment can free space on your work space while keeping your tools within reach. Once you're done with the repair, you can just roll the cart up against the wall. This also works well for auto or small engine repair, and it makes cleaning up the office or work area a breeze. Make sure to choose the type of casters that have a built-in braking system for increased stability.
Help with Ergonomic and Durability Issues
A table or other work surface that's adjustable in height and can be placed within easy reach will help avoid strain from constant reaching or stooping. Since there are so many varieties of casters, and they're made from different materials, you can easily select those that are made for your particular floor materials.
For example, metal casters are durable and move easily on smooth, even flooring like vinyl or tile. If you have an uneven cement floor, you might want casters that are made from poly, rubber, or another synthetic material. You should also consider the weight of the table or office equipment when it's fully loaded.
Improve Service Delivery
Customer service is all about speed and convenience, and casters can help with that also. Imagine that you're a nail technician or provide another service where your customers need to be comfortably seated and immobile for long periods of time. You can move your station and position it in such a way that you and your client are both at ease.
Casters also improve service delivery times when you operate a mobile business like DJing or photography. You can load and unload your vehicle quicker when the equipment is on wheels, and set everything up faster at the job location.
Not All Casters Are Created Equally
Casters are underestimated. They're an accessory that you rarely notice unless they're removed or not working properly. That's why it's important to purchase quality parts that are suitable for their intended purpose.
Before choosing casters for your home or business, you should consider:
∙ The purpose. Why do you think casters will benefit you?
∙ The price. Is it really better to save money if your casters will see heavy use and need
replacement?
∙ Your flooring. Certain materials and designs work better with a particular type of floor
surface than others.
∙ Usage. How will the casters by used, and for how long?
The single most important consideration is load capacity. All casters are rated to carry up to a specific weight capacity. To determine the load range for your purposes, add the total weight of the table, cart, and equipment, and divide it by the total number of casters. This will tell you the load capacity you'll need per caster.
An efficient business is a business that earns customer trust and loyalty. It's much more difficult to keep things separated when you're working from home, but having the right equipment and accessories like Colson casters 4 series can help.