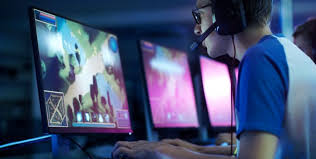 Avid gamer? Video games have been a big part of modern culture for a long time, but in recent years they have exploded in popularity with the rise of technology, esports, and online streaming. This has radically changed the landscape and gaming is now one of the biggest industries in the world and this only looks set to continue. If you are an avid gamer then there is nothing better than sitting back with your favorite game, but how can you enhance the experience? There are lots of ways that you can do this which will help you get even more from your favorite pastime.
Upgrade Your Monitor/Television
One of the most obvious and effective ways to improve the gaming experience is to upgrade your monitor or television that you play on. Advances in this area are constantly being made so even a screen from a few years ago will now be dated. Splash out on a larger, HD screen and it will bring you much closer to the action.
Improve Your Gaming Environment
Leading on from this, you could also make changes to the area where you play to make it a more comfortable and immersive experience. This could include a new gaming chair or sofa, decoration, mood lighting, new speakers, storage units and even a mini fridge so that you don't even have to get up for a cold beverage.
Start Streaming
Streaming gameplay has become a huge part of modern day gaming with Twitch being a fantastic platform for this. This allows you to share your passion with the world, connect with fellow gamers, and show off your skills. Utilize Twitch alerts to make your stream more engaging to attract more followers – you may even find that you are able to make money by doing this.
Enter Competitions
Leading on from this, the esports industry is going through extraordinary growth, and it is a great way to enhance the gaming experience. Start off with small tournaments and work your way up to develop your abilities and compete against the best in the world.
Upgrade Hardware
Whether you are a PC gamer or you prefer consoles there will always be new hardware to improve the experience and you could even find that it improves your abilities too. Headsets, microphones, keyboards and even VR equipment can greatly enhance the gaming experience.
Try New & Old Games
Everyone has their favorite games that they lean towards, but you should consider branching out and trying some of the best new games that have come out recently along with the older classics. This can keep things interesting and you may even find a new favorite that will provide many hours of entertainment.
There has never been a better time to be a video game fan as this is an industry experiencing extraordinary growth and the technology has never been better. If you want to improve your gaming experience then these are just a few ways that will make it more enjoyable for you and some could even help you to improve your abilities.