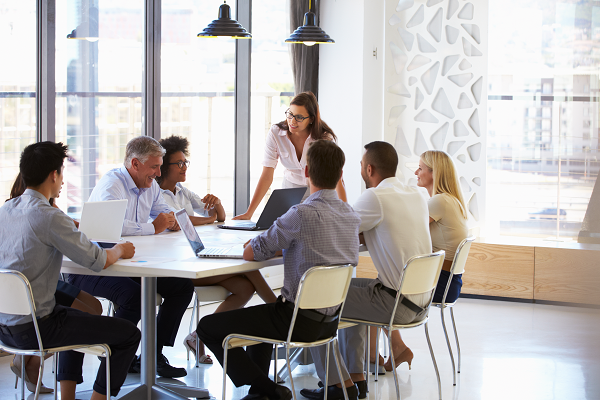 Every company has a primordial goal of success and prosperity. As simple as it sounds, this goal is a set of several objectives, which are developed on some complex processes. Among the fundamental objectives, producing and managing customer services is crucial for any development to pursue its accomplishment.
For a good customer service to prosper, the process must be organized and must be reflective of the characteristics of the corporation. However, to gain a competitive edge over other market rivals, many companies use a knowledge sharing platform (KSP).
The KMS enables salespersons to troubleshoot problems and get access to updated, relevant information anytime and anywhere – from documenting customer data to product information. The comprehensive reach and easy-to-search approach of the knowledge management system, thus, has been used by companies that opt to improve their sales.
6 Ways using a Knowledge Sharing System can Empower Sales
In this article, you'll discover how using a knowledge sharing system can skyrocket your sales.
Strengthen the Knowledge Base For an Enhanced KSS
A knowledge base is the asset of a company, and ultimately is the foundation of a good knowledge sharing system. Nowadays, the best way to strengthen, organize, and maintain your knowledge base in one place is to go digital. By utilizing effective and reliable knowledge management software, your sales team and customers can have their set of relevant information and can get in touch with sales support 24/7.
Provide Easy-to-find, Relevant and Up-to-date Solutions
With knowledge being easy to access and most information being at hand, salespeople can respond to any FAQ that comes their way. If they notice any new questions, they can post them on discussion boards and platforms, where employees and management might share up-to-date knowledge regarding the subject.
A knowledge sharing platform as such allows sales representatives to make independent moves in responding to customer concerns and extending the knowledge sharing sphere.
Align Sales and Marketing
Although there is much difference in what the sales and marketing teams do, their ultimate goal is a combination of the efforts of both. The marketing teams provide the recent search and trends that are fluctuating up and down the customer-market curve. The sales team, on the other hand, takes advantage of the content produced by the marketing team. However, it seems unlikely, as an average sales department doesn't use 90% of the content produced by the marketing team.
At this point, sales can be improved by employing a KMS that incorporates fresh content into the knowledge pool of the sales team. If the sales team knows it's there, they'd better take advantage of it.
Track Valuable Information for Better Customer Service
With a KMS braced with feedback feature, you can track vital information and customer feedback that might help you improve continuously and foster the engagement of salespersons.
A couple of insights can be obtained via an advanced KMS and focus can be derived more towards how the customers feel about the product and services. The right information delivered at the right time gives a leading edge to the marketing and sales teams to improve their performance.
Refine Employee Training Process
As mentioned before, discussing new FAQs on KMS-based open discussion platforms can help employees share knowledge, but it also has other advantages.
Using a KMS can help the salespeople pinpoint the trending questions and best solutions offered by the sales agents. All this information leads to the development of a strenuous sales training strategy.
The training content can be managed, organized, and uploaded to the KMS and made accessible to the sales employees depending on their level of expertise. This way, a KMS can be used to train and develop a better sales team that can handle customer support issues single-handedly.
Improve the Sales Team Communication
In order to function properly, the sales team must be well-connected. Each of the team members should have a transparent idea about their responsibilities and company's core values. They must realize the value proposition of their organization and strive to propagate the message to the entire unit. Within the KMS, the company's value proposition can easily be defined and be accessible to the sales team members. Everyone should be prepared to deliver the company's value proposition and how it affects their personal goals.
Conclusion
If you want to empower your sales reps and yet want it as neat and organized as possible, the first thing you need to do is employ a knowledge sharing software that applies the fresh and recent sales training content along with advanced features. Offering the appropriate training content to your sales team is guaranteed to catapult your sales to the outer space.
From strengthening your knowledge base to refining employee training and your customer service practices, choosing a right KMS can make your sales and marketing teams more efficient while skyrocketing your sales.