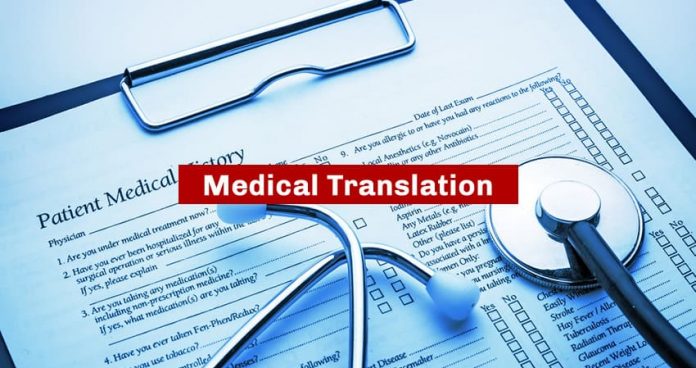 Globalisation of the Medical Industry
Due to the ever-changing nature of the medical field, where new discoveries and innovations are around every corner, there comes a need for a proper global outreach source. Many times companies find this source through a translation agency, however, with the competitive nature and vast variety of manufacturers, this is not always a meek task. When looking to globalise your company, it is vital to choose an agency that will not merely translate but correctly help you carve a niche with the native audience. Nevertheless, in an industry, such as medicine or healthcare, trying to make sense of the terminology isn't always that straight-forward and involves the requirement of specialised medical translators.
Translator or Interpreter?
Not to be confused with a medical interpreter, where their job requires them to assist patients or healthcare professionals in an administrative setting. The responsibility of a medical translator is to accurately translate and convey complex medical terminology into another language. Sounds easy enough right? Think again. The knowledge of two languages simply does not suffice. Along with a basic understanding of medical terms, a medical translator is required to obtain extensive knowledge of diseases in the native language as they may not have a direct translation from English. Documents that often come under the jurisdiction of medical translators may include:
Clinical Protocols and Clinical Protocol Synopsis
Informed Consent Forms (ICF)
User Guides for Medical Software
Patent Applications
Pharmacovigilance Reports
Patient Reports
Localization of Medical Software
Test Procedures
Production Requirement Documents and SOPs
Translation of Websites
Company Newsletters
Autopsy Reports
Study Drug Labels and Drug Inserts
Patient Information Leaflets (PIL)
Case Report Forms (CRF)
Physician Manuals
Clinical Study Agreements and Contracts
Instructions for Use (IFU) for Medical Devices
User Manuals for Medical Devices
Localisation of User Interface (UI) for Medical Devices
A study recently conducted by theBJM, tested the use of the automatic translation service Google Translate. In their study, they used ten common medical phrases in 26 different languages (8 Western Europe, 5 Eastern Europe, 11 Asian, and 2 African). This resulted in the translation of 260 phrases of which 150 were done correctly, while 110 were incorrect. Lowest on the totem pole were African languages with only 45% accuracy, while Western European languages showed a 71% accuracy. More so, some of the results showed a major concern. For example, the phrase "your child is fitting" in Swahili translated to "your child is dead.
We live in a world where the solution to every answer is "just Google it" however based on the study results above, in the medical field it showed only a 57.7% accuracy. So while machine-based translations are a great way to cut-cost for most companies, in the healthcare industry we're going to have to rely on the human-factor more.
A Common Misconception
When one hears the word medical translator, we automatically think doctors or hospitals. And while yes medical translators play a vital role for them, there is a sea of other fields that they cater to. Pharmaceutical translations, clinical research, medical device, and regulatory to name a few. Each sector of healthcare comes with its own challenges when it comes to translating and localising content for the "targeted" audience.
Let's take a look.
Pharmaceutical Translations – not only require the knowledge of the basic language but might require translators to be familiar with foreign medicinal names. i.e., in the United States, when referring to Benadryl is most commonly referred to the anti-allergic medicine. In some countries such as Australia and New Zealand, it is often marketed as a cough syrup.
Some documents that may need translation in the pharmaceutical field only may include:
Registration dossiers
for medicines
Summary of Product Characteristics (SmPC), Annex II, Labeling, Patient Information Leaflet (PIL), and Annex A
CMC documentation
Packaging and labeling
Patient reported outcomes (PROs)
Informed consent forms (ICFs)
Study protocols
Case report forms (CRFs)
Global value dossier
Patents and patent applications
Clinical study protocols
Clinical Research – translation of clinic research documents are vital as they are the pathway for ground-breaking innovations in any field not just medical.
Documents that may need special attention:
Patient Information Sheet (PIS)
Patient Questionnaires
Patient-Reported Outcomes (PROs)
Investigator's Brochures
Case Report Forms (CRFs)
Study Protocols
Patient Diaries
Medical Records
Informed Consent Forms (ICFs)
Medical Devices – a medical professional's key ammunition, proper equipment. A patient's worst nightmare walking into a hospital where a doctor wouldn't know how to operate basic equipment, such as a stethoscope.
This field might include the translation of:
Engineering
Clinical
Regulatory
Marketing
Corporate
Training
Regulatory – Something as sensitive as a medical profession can face potential lawsuits in a snap by not being simply up to code. Our medical translation specialist can help you ensure that everything is up to the regulatory standard.
Why TW Languages?
At TW Languages we let our experience do the talking for us. Since 1999 we have a consumer-driven company that is backed up by our highly trained professional team. By trusting us with all your medical translation services needs, we are guaranteeing you a 100% professional result.
From the moment you choose us your translation agency, we assign you a project manager, who holds a minimum of a master's degree, which will guide you through every step of the project process. With our wide range of linguistic experts, we cover over 250 languages. We at TW Languages are a proud member of ATC (Association of Translation Companies) and are ISO 17100 certified.
Our client testimonials will tell you that we do not believe in cutting corners just for the sake of a quick turnaround, we take the time to certify a quality product. If you're looking for a team that is willing to go above and beyond your basic translation requirements contact our sales team today.