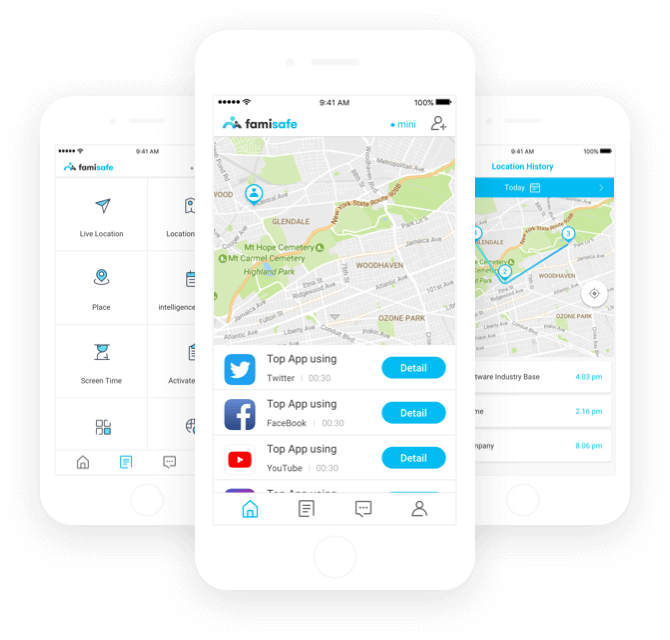 The world is digitizing at a fast pace and today every individual has an electronic device may it be kids or adults. Before you think that, kids shouldn't have cellphones or electronic devices – think again!
At one electronic device are bad for kids but they can also prove to be helpful. For instance, kids can use good apps for math solving, science games and even for homework. Even, they can learn paintings by watching some fantastic art channels available over internet.
The Internet is a black hole filled with various things both good and bad. You can never tell when someone is using it for a positive purpose or a negative purpose.
Alas, the solution to save your kids from these devices is here it is called 'FamiSafe App'. It is an app when in both your and your child's device it can help you monitor the child's activities on the mobile. Here are some features of FamiSafe
Safeguards against Cyber-bullying
The app helps you to track your kid's conversation with other contacts based on inbuilt and customized terms and phrases. You can view which contact is a threat to your child using these reported messages. The app will analyze all text conversations of your child across all digital platforms to find inappropriate language and harassment.
Monitors and Filters Online Activity
So, you are worried that your child may engage in an age-inappropriate activity. Porn, violence, substance abuse are a big no for your kids. Or maybe you want them to focus on studies and, hence, forbids them to use certain time-consuming apps.
Read more at how to hack into yahoo email without password.
And you don't want to keep nagging them to leave the addictive game or app. FamiSafe has got you covered. It not only identifies unwanted apps but also blocks them from opening on your kids' phones.
There is a thing called internet addiction that is a by-product of easy access to this medium of communication. And this addiction can mean intense health hazards for people of every age. So, how do you protect your child from this addiction? Simply, you install FamiSafe on their mobile. The app will interfere with the use of their device as soon as they try using it at the wrong time. Some examples of such wrong times can be sleep or study time.
Tracks Their Location
You want to ensure your child's safety at all costs. FamiSafe uses the power of the internet of things and creates a custom-made geo-fence for your child. Geo-fence, or designated safe area, use the data parents provide to outline the geographical area where the child is considered safe.
The app reports to the parent immediately their child step out of this area. This feature also helps the parents to know if their children spent time in the right places during the day.
Even if you're not yet satisfied with the features thinking this is impossible, FamiSafe developers allow you to have a three-day free trial period. Other than that they have easy monthly and yearly subscription plans which are reasonable and cheap.
Good News!
The app costs only $9.99 per month. But if you use our discount coupon, it will be reduced by 20%. SENSOFF is our coupon code.