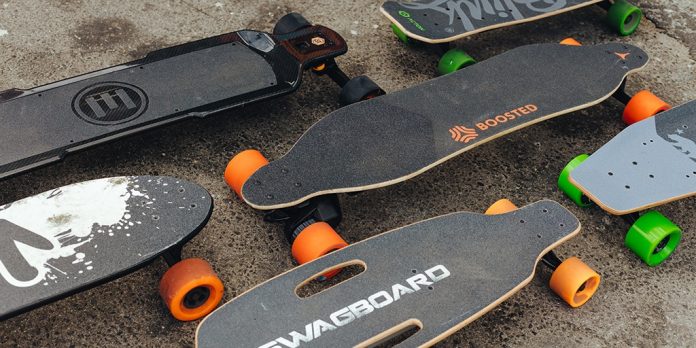 Are you a big enthusiast of electronic longboards and skateboards, or do you see yourself using this cool stuff in the coming days, months or years? Skateboards and e-longboards not only offer a sense of control to the riders, but also offer many health benefits such as flexibility, strengthening body feet and arm muscles, improving nervous system, etc.
Electric longboards and skateboards have been gaining people's love for many years. And with the transformation from conventional to contemporary ones, they have emerged as a fun and reliable mode of transport for people of all age groups. Also, the perfect braking mechanism allows you to take charge of your speed on any road conditions.
Are you planning to buy an electric longboard or skateboard either for yourself or someone who is already crazy about them? If yes, then it becomes really crucial to know about the motor, price, features, and other nitty gritties related to them.
Here are a few tips that you should consider wile buying your next electric longboard and skateboard:
Weight
Nobody would like to carry a heavy longboard or skateboard along with them. Would you? Generally, these boards weight between 16 and 29 pounds depending on the size of motor and battery used.
While lighter boards are easy to carry, they can be really expensive and can come with lesser battery. So, it's always advisable to invest in top electric longboards and skateboards for the money in the long-run.
Brake System
It can be difficult to know how well the braking mechanism of skateboard or e-longboard works unless you try it on your own. The weight of the rider and the battery will play a huge role in deciding how effective the brake is. In addition, if you are eyeing on some specific boards, then do read what customers have to say about them, especially their braking system.
Size
You should not ignore the size of e-boards no matter what. After all, you won't want to go for a mid-sized board if you are 5'5" and more. Rather, you'd like to go for full board. Mid-sized boards are for the ones who are 4'5" and taller, while mini-sized boards will be feasible for the ones with height of at least 3'5".
Pace
Does speed excite you? If yes, then you might want to consider between single and dual motor mechanisms. As the name suggests, dual motor means double power for your boards.
The speed of boards will depend on the size of motor and how much you weigh in comparison to the maximum allowed weight of the skateboarder. Newbies who are not much confident about their boarding skills can get a few handy tips at https://www.youtube.com/watch?v=b3yG8NWXQQE.
Durability
Not to mention, a long-lasting skateboard or longboard is something every boarding enthusiast would crave for. So, it's always a good idea to prefer the ones that have a strong motor and battery life that can work seamlessly for 7 to 10 miles after being fully charged.
Quality of wheels
Whether you agree or not, wheels are the basic yet most important factors that decide the longevity and reliability of these cool modes of transport. Inspired from traditional boards, these electric rides are composed of premium quality rubber that are enough to give you a smooth riding experience.
Easy to carry
Are you the type of person who loves to carry his or her boards along wherever you go? If yes, then make it an obvious choice to go for the ones that you can carry without any hassles. Not just travelling, there can be times when you may need to carry it because of low battery, unfeasible road conditions, etc.
It is always good to strike a balance between the longboard's or skateboard's weight and material so as to arrive at the right buying decision. Remember, going for a pretty light-weighted board may not offer you value for money in the long-run.
Material
If you want to focus on the material of boards, make sure to keep an eye on their lower body and the motor. Boards, donned with materials such as stainless steel, offer a great sense of heat resistant that ultimately adds to the life of your electric longboards. To know more about how these boards are made, check this.
That being said, let's take a sneak peak at a few FAQs about skateboards and electronic longboards:
Is it possible to take my longboard along during air travel?
Well, the answer can be yes and no depending on certain conditions. A skateboard, equipped with a lithium-ion battery that is charged beyond 160Wh, won't be allowed in plane anyhow.
However, if your battery is below 100Wh, then airlines won't restrict you to either add them to your luggage or personally carry them in plane.
How should I take care of my longboard and skateboard?
Just like traditional boards, electric boards will also require some of your time for maintenance. After enjoying a couple of rides every time, you should unassembled the front and back wheels, and clean them gently with the solution and water, and once dried up, fix them back.
In order to enjoy your rides in every season, you should focus on oiling or greasing your bearings. Also, you can through your board's instruction manual to know the right time for replacing them with new ones.
Why do I need an electric longboard or skateboard?
These boards have made commuting easier and more comfortable than before, especially if you live in populated areas with a lot of traffic. Forget about cars, you won't get stuck in traffic anymore and worry about super-expensive parking costs while using these eco-friendly and low-maintenance modes of transport.
However, if you are confused between skateboarding and longboarding, then you this should help: https://adventure.howstuffworks.com/outdoor-activities/urban-sports/longboarding2.htm
Skateboarding and longboarding indeed offer mind-blowing experience to users. However, buying a good and reliable one involves a good chunk of money. So, make it a priority to invest wisely in the one that offers you comfort and confidence at the same time.