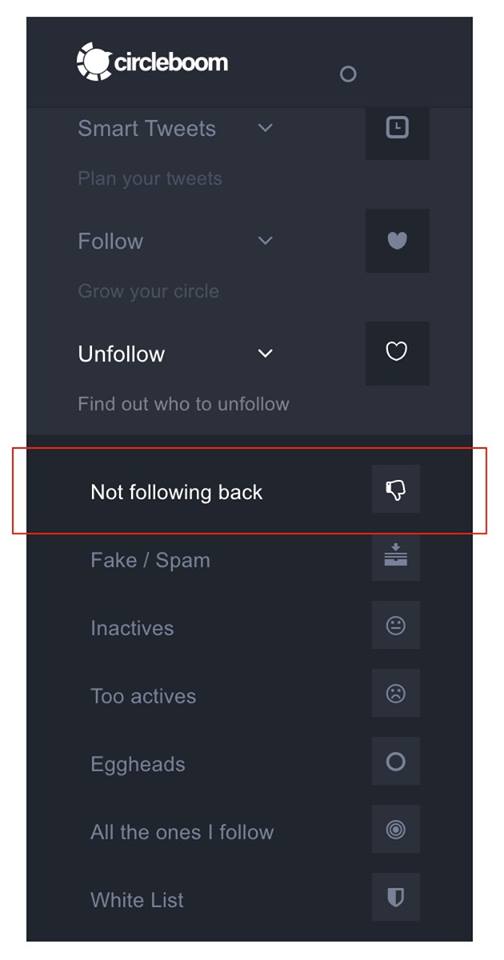 Stop following who do not follow you on Twitter:
It's time to clean up your Twitter account: some people who followed you some time ago have stopped doing it and would like to remove twitter unfollow from your list of followed. Others have stopped using Twitter and have not posted an update for months. Do you want to stop following with twitter unfollow tool who do not follow you on Twitter? Do you know how to do it quickly and comfortably?
Why do unfollow who does not follow you on Twitter:
We are very clear that it is not one of the best practices to do unfollow to those who do not follow you on twitter but we cannot deny that it is one of the most frequent questions that we usually ask. In fact, there are many companies that are dedicated only to this so that some benefit you will have, as long as it is for a punctual action and there is no abuse of this function. Let's see why we might consider doing unfollow.
One of the best ways to gain followers on Twitter is to start following profiles of your interest: people who enter your target audience, current or potential customers, or users who follow accounts similar to yours. We repeat not to abuse these functions.
It is very possible that many of these people start to follow you too, and thus win your first followers. But some will also stop you from continuing with time. That's why it's a good idea to periodically clean up your Twitter account:
People who no longer follow you: you can interpret it as not being interested in your services or your content.
Inactive accounts: people who no longer use their accounts.
Users who tweet too much and who introduce too much noise into your account.
Of course, you do not have to eliminate from your followers all the people who do not follow you. Before you stop following a person, ask yourself what your tweets give you and if you may be interested in establishing a relationship with her in the future. This point is one of the most important do not have to be all people if not profiles that you really think you do not contribute anything.
How to stop following who do not follow you Or Inactive Accounts:
Stop following the people who have stopped following one by one is uncomfortable and slow because you have to go looking at your list of followed manually. We propose some tools that you will go faster with:
Probably the most interesting at the business level. This app helps us detect unfollowers ( not following back) fake accounts, inactive accounts, those created by bots or spam and allows us to eliminate them if we wish. It also tells us what accounts we should continue to expand our influence. Lastly, there are no limitations to eliminate the unfollow.
Circleboom is the best twitter tool of 2019 if you want to unfollow someone or want to unfollow your friends you can easily unfollow with the help of unfollow module on circleboom twitter tool. You can also create Twitter Lists with just a few clicks.
There is also RSS feed feature of Circleboom which enables you to connect your RSS feed to your Twitter account like Twitterfeed or dlvr.it.
It provides different types of features like unfollowing the fake accounts, unfollows the inactive accounts, and unfollow spammers and many more. Circleboom covers all important features that others twitter tools have that's why circleboom is the best twitter tool.
If we compare with the other tools, We definitely recommend Circleboom. All features at very affordable prices. If you want to buy pro subscriptions it starts from just $4.5 for a monthly membership.
Audiense:
This tool sends you an email every day notifying you of the people who have stopped following you, so you can decide if you want to do unfollow or not. It also shows you which accounts are inactive and have not tweeted in a long time.
TwitNerd:
This tool shows you all the people who do not follow you, you only have to select them and click on the 'Unfollow Selected' button. Easiest impossible.
Untweeps:
Unlike the other tools in this article, Untweeps specifically performs a function: to list us and help us to stop following those users that we follow on Twitter and who remain inactive without publishing for a certain period of time. One advantage of Untweeps despite its specificity is that it is a free tool.
The downside is that, as you will see, the design of the tool seems to take a long time without touching and that makes its aesthetic is not very modern precisely. However, this is not an inconvenience to perform its function properly.
Unfollowerstats:
Unfollowerstats is a tool that, among other things, allows us to stop following inactive users. It is a totally free and very complete tool, which has a section to identify the inactive followers of your timeline and filter them by those who have been inactive for a week, 30 days, 6 months or 1 year. In addition, next to each identified user will show us the number of days that it has been inactive and a button to stop following it if we so decide.
Unfollowerstats is not a well-known tool, but given its number of functions and its gratuity, we are sure that little by little it will be gaining in use and popularity among digital marketing professionals.
Crowdfire:
Crowdfire is a tool that had great popularity, but due to its limitations, it is not so used anymore. With this tool, we can identify the inactive users for more than 1.3 and 6 months and leave them to continue with a button for it. However, the account is limited to 10 unfollows a day, so if we have many inactive accounts that we follow, this process will last several days.
These tools are the most popular and useful to stop following inactive users on Twitter, but if you know any more we will love to know them, so share them in the comments!
ManageFlitter:
A very complete tool that besides telling you who do not follow you, alerts you about inactive accounts or possible spam accounts.
So, are you sure you want to use this practice? Are you ready to start your follow-up cleaning on Twitter? With these tools, we make it very easy for you to stop following who do not follow you on Twitter! If we compare the prices, No need to pay more to the same feature. Circleboom is the ultimate choice as a Twitter Unfollow Tool.