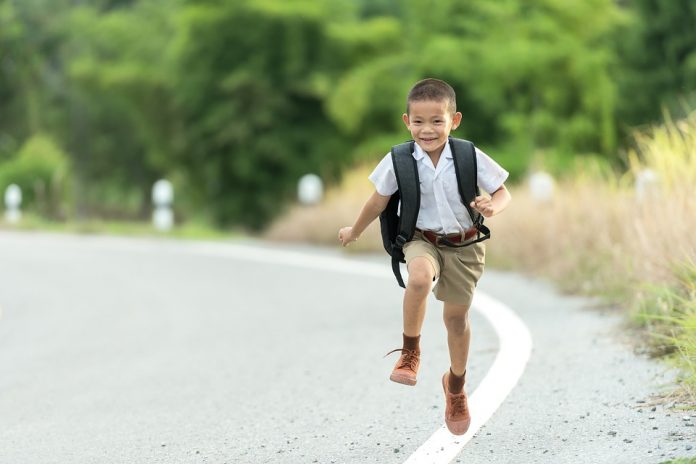 When doing a research proposal or thesis writing, the most common problem students face is plagiarism, and this is the concern of most of the students, teachers, article-writers and scholars as well. Students in their high school and Universities whether they are submitting their assignment, making a research proposal or writing their final thesis, the content has to be unique. The similar problem is being faced by many researchers in University. In few cases things get worst if submitted research paper gets rejected by the supervisors.
When you copy the data from the internet, you might not able to detect it accurately by using online various available services. There can be many issues with the provided results and authenticity. The software which some teachers use is web-based. The good thing about them is that you don't need installation, but on the other side, there is high possibility that your data will be stored.
When we research for some article and then come up with your idea, there is still a chance that your data find matches to someplace on internet. Why this happens because there are so many research papers available on the internet now and when you are writing about something some other scholar has also written something about it and due to the same terminologies use in the relevant fields your wording did match to some research paper available on the internet or even with your own University Student from whom some of your variables do match. So how all this problem should be solved, is there any way out that the students can check their data with every available resource on the internet.
After few comparisons the solution I have personally came across this software called Plagiarism Checker X, a new exciting world came to me in terms of checking plagiarism.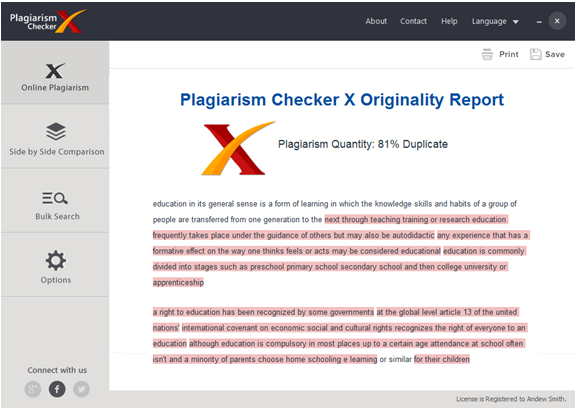 The exciting tools it offers made it much easier for me to verify the authenticity of my data over the internet and also with my classmates. When you put your data into this software, it gives you a highlighted report in different colors telling you the percentage of data that makes the material over the internet. Another problem which was solved by this software was my data privacy.
This issue pretty common especially when your data is uploaded online to the server. That is a massive problem because in few cases it has been found that businesses which offer plagiarism checking services are actually the ones which are stealing user's original data and publishing it to other blogs. This situation totally raises the concerns towards user's data-privacy violations.
So now the question came that how anyone check the paper without being cheated. There is one solution, use plagiarism checker x. One of the most popular desktop application which offers online plagiarism, side by side comparison, bulk-search (cross-check documents) for duplication with each other. It does not only make you save from penalties but also protects your genuine content. We only have to insert our content (plain-text, word, pdf) files into the tool, and the program sees if they have certain plagiarism with the Internet or other respective documents.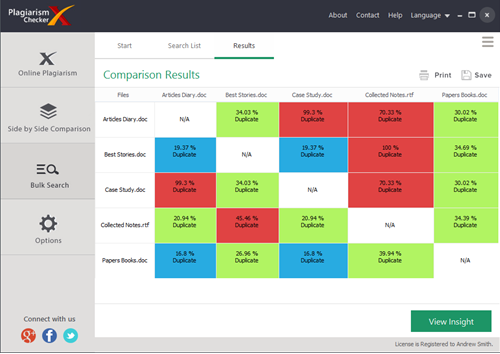 This is not only the best tool available in the market or the internet, there are others too. But it offers good speed and accuracy which makes it better than its competitor programs and also being used globally by a large number of users. We can do a bulk search using its tool when we need to access a lot of research papers for writing our thesis. It saves much time for teachers and researchers so they can focus on writing their essay instead of spending huge time in accessing essential research papers.
Another problem which it solved was I don't have to stay connected to the internet all the time while checking my research papers. Some of its features also work offline, which was a significant relief to anyone. So, what are you all waiting for?
Grab your Free copy now. Download Plagiarism Checker X