The company Sames successfully developed the powder electrostatic spray technology and the corresponding spraying equipment in 1963. Then powder coating spray technology was widely used in industrial production, and powder coatings are rapidly emerging due to their zero-volatility and non-polluting advantages.
Electrostatic spray application of powder is the most common application method. The average coating thickness should be 60-80um, and the minimum local coating thickness is more than 40um. The coating is good on impact resistance, abrasion resistance, corrosion resistance, weather resistance, etc. And this method is widely used in architectural and industrial products, which mainly used in windows and doors as well as other architectural buildings.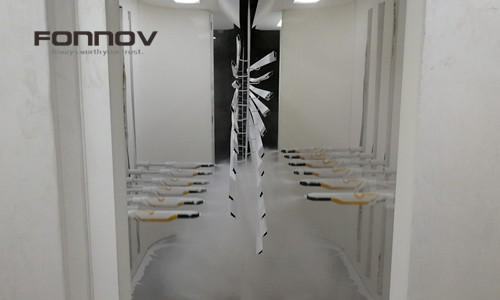 The main surface treatment of aluminum used exterior is powder coating. Conventional outdoor powder coatings are based on polyester powder. The aluminum material of the powder coating is affected by factors such as light, temperature, and humidity in the atmosphere, and the surface coating will have natural aging phenomena such as fading, powdering, foaming and shedding, which affects the service life. Ordinary outdoor powder coatings are available in a 5-year warranty, and some painters can guarantee a 10-year warranty. The weather resistance of the improved super weather resistant polyester powder coating has been improved. The coating manufacturer guarantees 10 years and some can guarantee for 15 years.
However, with the rapid development of the construction industry, especially for buildings in hot and humid areas, it is particularly important to ensure that the surface of aluminum is used for a long time. Powder coating profiles with 5 years of weather resistance or 10 years of super weather resistance are no longer sufficient. The biggest weakness of the powder coating is that it is afraid of the sun's ultraviolet radiation. Long-term exposure will cause natural fading. The color difference between the sunny and non-positive sides of the aluminum plate is obvious after a few years. Generally, the color difference is obvious after 2-5 years. At the same time, salt spray in the offshore area can cause strong corrosion on the coating surface.
The company Pennwalt developed a fluoropolymer coating for building based on polyvinylidene fluoride (PVDF) (trademark Kynar500) in 1965. Since then, PVDF coating has been used in buildings.
Rotary electrostatic spray application of PVDF coating is the most common application method. There are 2-COAT system, 3-COAT system, and 4-COAT system. The average thickness of coating is ≥30um for 2-COAT, ≥40um for 3-COAT, and, ≥65um for 4-COAT. It has excellent resistance to fading, anti-blooming, anti-air pollution (acid rain, etc.), strong UV resistance, strong crack resistance and ability to withstand harsh weather conditions.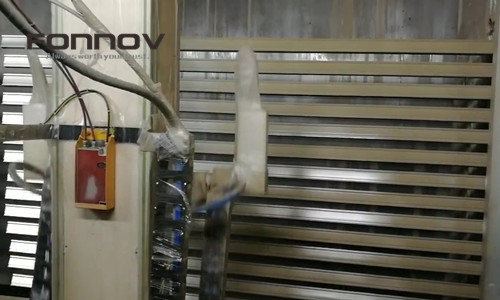 There's test on PVDF coatings, super durable powder coatings and exterior powder coatings. The coated samples were placed in the hot sun of Florida, USA, and exposed to the harsh environment of humid salty air for 12 years. The test result proves that the stability and durability of PVDF coatings are 30-80% higher than the other two coatings. PVDF coatings are guaranteed to be used in a variety of harsh environments.
In order to ensure the coating performance, three AAMA specifications should be referenced: AAMA2603, AAMA2604, and AAMA2605. These three specifications apply to progressively stronger levels as indicated by South Florida outdoor exposure and laboratory accelerated testing results as shown below.
AAMA Specifications – Organic Coatings on Aluminum

Specification
2603
2604

2605

Expose Time
1 year, South Florida
5 year, South Florida
10 year, South Florida
Chalk resistance
1 year: "slight" chalk
5 yrs: Chalk < 8
10 yrs: Chalk < 8
Color Retention
1 year: "slight" fade
5 yrs: Fade ≤ 5 Delta E
10 yrs: Fade ≤ 5 Delta E
Gloss Retention
1 year: "slight" fade
5 yrs: ≥ 30% retention
10 yrs: ≥ 50% retention
Erosion Resistance
No specification
5 yrs: < 10% loss
10 yrs: < 10% loss
Humidity
1,500 hours
3,000 hours
4,000 hours
Salt Spray
1,500 hours
3,000 hours
N/A
For coating manufacturer, generally a common exterior powder coating can meet AAMA2603, an improved super durable powder coating can meet AAMA2604, and PVDF coating can meet AAMA2605. It can be seen that PVDF coating has excellent anti-fading, anti-blooming, anti-air pollution (acid rain, etc.) corrosion resistance, strong UV resistance, strong crack resistance and ability to withstand harsh weather conditions. In addition to the abrasion resistance in terms of mechanical properties, impact resistance has excellent performance, especially in harsh weather and environment, showing long-term anti-fade and anti-ultraviolet properties. The coating manufacturer's guarantee for the service life of PVDF coating is 20-30 years.