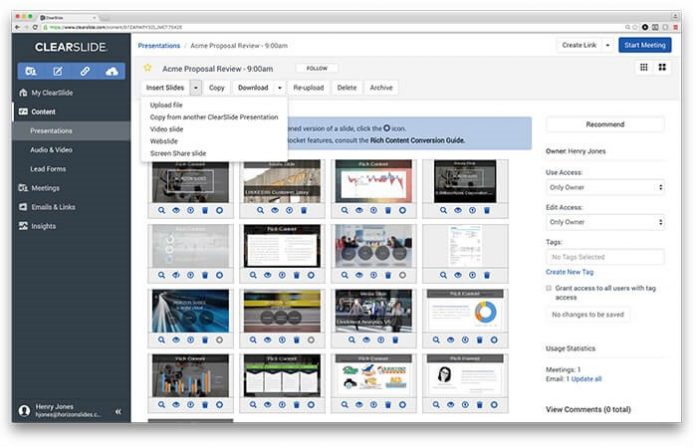 It seems that in some circles, Microsoft Powerpoint is almost synonymous with professional presentations. It's true that there was a period where Powerpoint dominated the landscape, and if you didn't know how to use its various features, then you were an anomaly in the corporate world. However, now you can use Beautiful.AI to create smart presentations, along with several other worthy options. Here are four alternatives to Powerpoint of which you should be aware.
Prezi
Prezi is a form of cloud-based software with which you can make nonlinear presentations. With it, you can zoom and pan from one page to the next without seeming to move to a new slide. When you use it, you can edit and view your presentations on any device. You can collaborate and share with others. You can download it for office use, and you can store all of your presentations in the cloud, where you know they will be there waiting for you when the time comes. It also has privacy settings to ensure that no one will look at your presentations until they are ready to be unveiled.
Emaze
Emaze is a presentation tool that utilizes HTML5 so that you can run it on a tablet, Chromebook, or virtually any other device or browser. It is easy to use and designed with speed in mind. You can create a simple presentation within minutes using it, and it has professional-quality 2D and 3D templates. It also features the ability to create video presentations that can be accessed from anywhere online, and you needn't be a professional photographer or videographer to master the various features. The software is cloud-based so that you can access it anywhere, and you can also share your presentations with anyone in the world since it comes with an automated translation tool.
Haiku Deck
Haiku Deck allows you to access 27 different templates and 35 million stock photos that you can use as part of your presentation. It is cloud-based as well, and with it, you can create presentations on the go using Chromebook, Mac, PC, iPad, or iPhone. The templates are easily recognizable for their strong visuals and big, bold text. You can use it to add private talking points to published slides or export presentations to Keynote, Powerpoint, or PDF if you so choose.
Visme
Visme is drag-and-drop presentation software which offers users the necessary tools to create not only compelling presentations, but also resumes, product demos, reports, data visualizations, and infographics. The more you play with it, the more features you'll find to love. It offers professional-quality layouts and HD backgrounds, and it has thousand of vector icons and millions of free images that you can use. The customizable design area allows you to create virtually any kind of visual content that's sure to be perfect for any occasion.
We're a long way off from when Powerpoint was the only game in town. These are a few of the other options on the market, but there are many more. Most of them offer a trial period that's free of charge, so shop around and see which one has the features that seem like they will be of the most use to you.