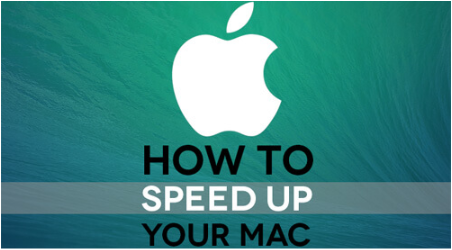 Our laptop is one of the most useful gadgets that we have nowadays. We use it for entertainment, for office jobs, or for school projects and presentations. This is why we want that our laptops will be able to perform at a maximum speed. This is the reason why we use our laptop often.
However, there are instances that we tend to experience that our Mac is running slow. This situation can become annoying most especially if we need to finish something to meet deadlines.
Our Mac usually begins to slow down because of age. However, there are still ways to fix this. This will still depend on the Mac that you are using. But do not worry because we are going to show you with how you can improve the speed of your Mac.
Part 1: Things That You Can Do to Improve Mac Speed
1. Clean Your Hard Drive
This is one of the reasons as to why your Mac is running slow. Once that your hard drive is almost or already full then your Mac will have a hard time processing other things. Make sure that you try to clean your hard drive and remove any files or junks that you no longer need.
2. Update Your macOS
Once that you have an old version of your macOS, then this could be a reason that your Mac will start to run slow. For this, you should update your macOS for you to have a better experience in using it.
Having the latest version of macOS all the time is a good option that you can do. This is because once your Mac is updated, then it will begin to run smoothly. Go ahead and go to your Mac App Store and get the latest update of your Mac which is currently the macOS High Sierra.
3. Manage Your Startup
Always remember that once you start your Mac, it also tends to load up several things in your background. This will greatly affect your startup speed and it will also slow down your Mac as you go along and use it.
For you to be able to fix this, go ahead and give your Mac a clean startup. Make sure that you lighten up a load of your Mac whenever you start it. You can speed up your startup by removing all the unwanted app which loads up when you start your Mac.
4. Minimize Apps That Are Running in the Background
Once that you have a lot of things running in the background while using your Mac, then this will cause it to slow down. Because of this, your Mac will have a hard time doing simple things.
You can go ahead and fix this by going to your Activity Monitor and this will show you all the apps that are running in the background. With all the given apps, try to select all the things that unnecessary to you for you to speed up your Mac.
5. Get A New Hardware
Stating the obvious, one reason is that you have an old hardware. Maybe it is too old that it slows down the performance of your Mac. If this is the case, then what we would suggest is for you to get a new hardware. This will actually cost you more especially if your what you have cannot be just upgraded.
You can check online or go to the nearest Apple store to you and ask for a new hardware or update your old one. After getting a new hardware for your Mac, then you will definitely experience your Mac speed getting faster.
Part 2: The Best Way to Improve Mac's Speed
With all the said things above that you can do for you to improve the speed of your Mac, we have the best option for you. This is by using the iMyMac Cleaner.
Having the iMyMac Cleaner will make your slow Mac speed up in no time. This is because the iMyMac Cleaner will safely and quickly remove all your junk files from your Mac for you to get more storage space. It can also find and then remove all your email attachments, iTunes Backup and multi-language that you no longer need. Aside from that, you can also remove all of the large and old files that you do not need with the help of this software.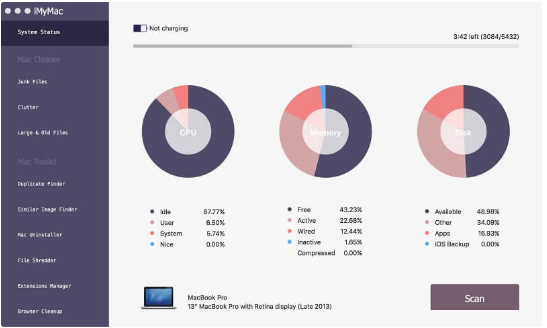 Here is how to use the iMyMac Cleaner.
Step 1: Download, Install and Launch
Have the iMyMac Cleaner downloaded from this website, www.imymac.com and install it on your Mac that you want to speed up.
Once that the software is installed, go ahead and launch it. You will be able to see on your screen the system status of your Mac.
Step 2: Choose the Module
On the left side of your screen, there are different modules that you can choose from. From that list, go ahead and click on the "Junk Files" module.
TIP: You can also choose a different module like Clutter, Large and Old Files, depending on what you want to do to clean up your Mac. And then you can follow the following steps below.
Step 3: Scan Your Junk Files
Once that you have selected the module, go ahead and click on the "Scan" button located on the right side of your screen. The iMyMac Cleaner will then start scanning all the junk files on your Mac.
Step 4: Preview and Choose Items to Cleanup
After the scanning process is complete, the iMyMac Cleaner will then show you a list of your junk files. These junk files are organized according to their categories and will appear on your screen by folders.
You will see folders like Application Cache, Photo Junks, Mail Junks, System Logs, System Cache, User Logs, and more. Choose the category that you want to clean up and preview all the items in it.
Once that you have selected all the items that you want to clean up, just go ahead and click on the "Clean" button located at the lower left corner of your screen.
Step 5: Mac is Clean
Once that the cleaning process is done, you will be able to see an indication beside each folder that says "Zero KB". This means that your Mac is free from all your junk files.
However, there are folders that will not have this indication. Don't worry because this only means that the folder is an auto recreated folder.
Part 3: Conclusion
There you have it! Your Mac is all cleaned up and will run faster now. Having your Mac cured of its slow performance is pretty easy. All you have to do is to make sure that you regularly maintain your Mac as much as possible. This is for you to avoid your Mac to run slow.