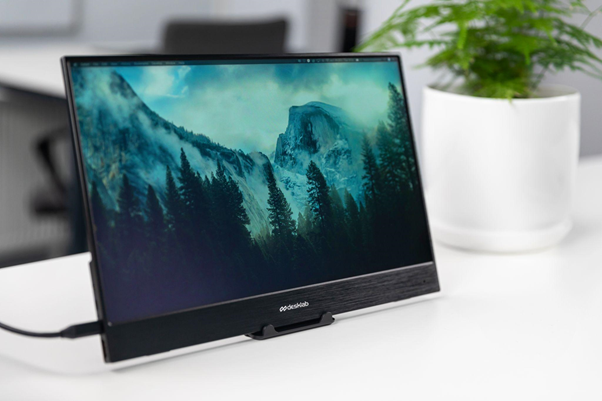 Portable monitors are extremely convenient gadgets. The market is constantly improving, bringing innovations often more expensive than laptops. But Desklab is different. It's packed with all the specs to satisfy the most demanding designers, business workers, or gamers. On top of that, it's relatively affordable.
This article will walk you through what Desklab (DLab) has to offer and why it's among the best portable monitors money can buy.
DLab Specifications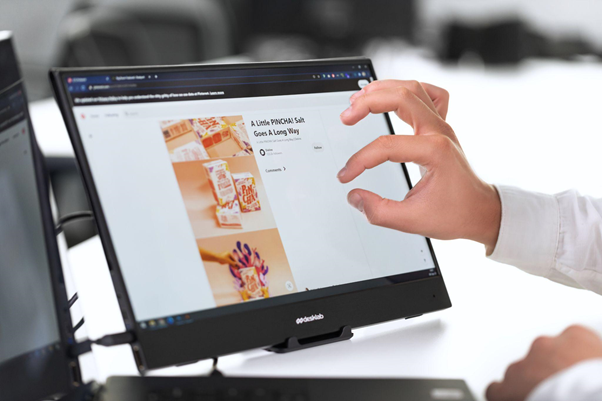 DLab is a powerful monitor by any definition. Equipped with a brilliant 4K display with LED backlighting that's twice as bright as its closest competitors, it's equally well-suited for designers and passionate gamers. Designers get to experience detail and lighting in a never-seen format, while gamers can immerse in super-realistic gameplay. There are 720p and 1080p versions for those who don't need 4K.
Another feature that makes DLab the best monitor for designers is the ultra-responsive touchscreen, allowing for ultra-precise movements.
Weighing just over a pound and 6mm thick, it's a lightweight, slim, and portable device to carry around.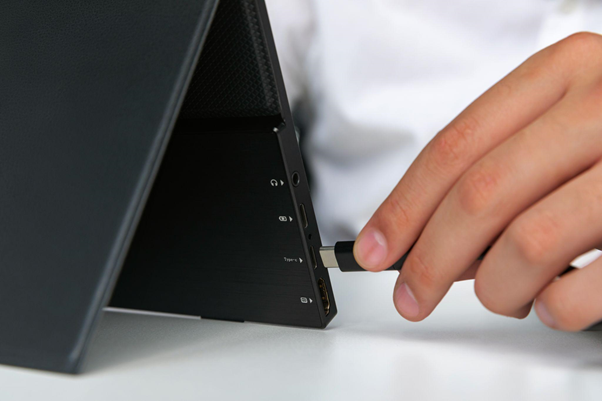 In terms of compatibility, DLab performs immaculately. Equipped with two USB-C, a micro-USB, an HDMI, and a 3.5mm jack, it'll work easily with your Mac, Android, Apple, PlayStation, Nintendo, or other devices.
DLab has two built-in Hi-Fi speakers, making video streaming possible without external speakers.
Frequent travelers or those who keep forgetting their chargers at home will love the fact that the DLab monitor also acts as a portable charger. Simply plug the device into the monitor for a quick power boost.
Finally, the low blue light, low flicker, and anti-glare properties make this monitor safe for the eyes. Long shifts don't have to be so hard on your eyesight anymore.
Plug and Play Technology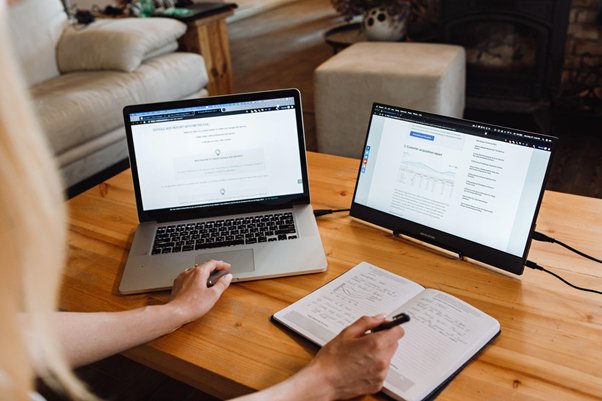 One of the best things about DLab is its Plug and Play technology. All it takes to start streaming content is to connect the monitor to a device of choice. No setup or installation is needed. Thanks to a plethora of ports, there's not even a need for adapters. A simple cable will do.
With the easy setup, wireless, and lightweight design, DLab is a gadget built with minimalism in mind.
Perfect Solution for Designers, Developers, and Business People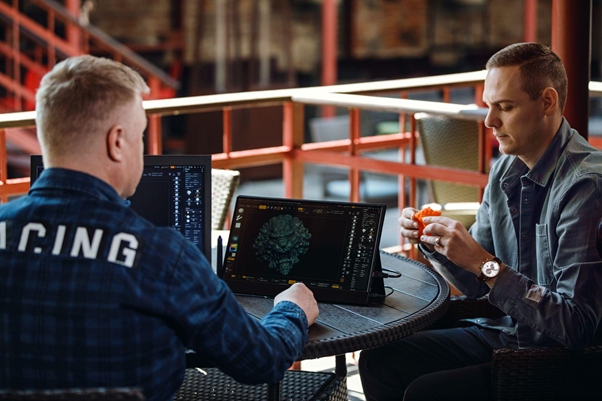 We live in an era of remote work. This means thousands of people have replaced their office setups with home office arrangements, using their kitchen tables as desks. Some people had to bid goodbye to dual monitor setups, which might have kept their productivity levels up. Thanks to DLab, enhanced productivity is back on. Perfect for a dual-monitor setup, DLab monitor helps remote workers get back on their feet faster.
Designers have all the necessary tools, such as precise color accuracy and vivid picture. Developers have full graphic fidelity and ultra-fast response time, just as business people can enjoy the durable, thin, and easy-to-use gadget for their travels. Photographers can handle any lighting work just fine, thanks to the 4K resolution and the ultra-bright screen.
Your Portable Gaming Device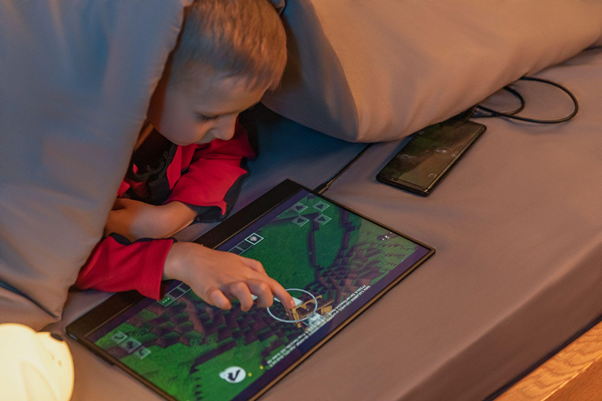 This ultralight portable 4K monitor never fails to deliver when it comes to gaming. Gamers cherish dual monitor setups and this monitor can fit just that. It helps them multitask, browse the web, watch videos, or look for game-related information without leaving the gameplay.
It's no secret that many passionate gamers spend a fortune on dual monitor setups. Thanks to its affordable price, the DLab monitor finally makes the 4K playing experience more accessible.
Those who can't go a day without their PS Slim can now pack it up and take it on vacation. Plus, gamers can connect just about any console, including Nintendo, PlayStation, or Xbox, bypassing the TV set. Gaming just got way more convenient with DLab!
Finally, mobile gamers have the opportunity to expand their gaming experience to a 15-inch screen. We all know how playing on six-inch screens is often not the most practical way to break records. But thanks to the larger viewing area, gamers can increase their productivity and achieve the best scores much faster.
Leisure Time Just Got Better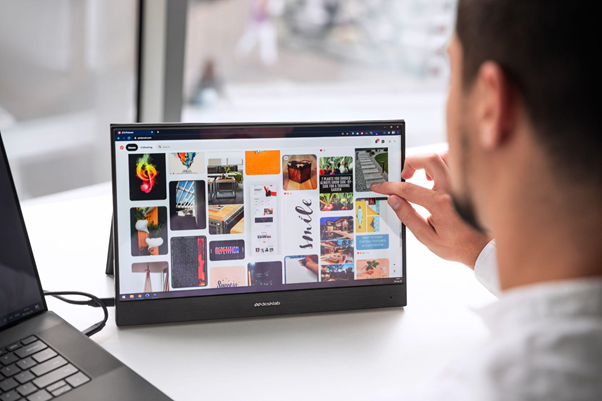 Even though most people invest in electronics for work or gaming, we still use these gadgets in our leisure time. Many people browse the web, watch TV shows, chat, or read books on their tiny smartphone screens. This is often damaging to the eyes, especially after a long day of staring at the screen.
Thanks to DLab, leisure time can now expand to a 15-inch screen equipped with eye-protection tools and filters. Plus, the Plug and Play feature makes DLab convenient to use even for the elderly.
DLab – Portable Monitor for Everyone
Whether you're a gamer looking for a sharp screen, a traveling businessman, or a student tired of streaming movies on a smartphone, DLab has got you covered. This extremely lightweight, portable, and fully functional device can replace expensive computer setups. Its unparalleled ease of use makes it an excellent solution for all ages.
You can learn more about DLab the lightweight touchscreen monitor at https://dlmonitor.com.