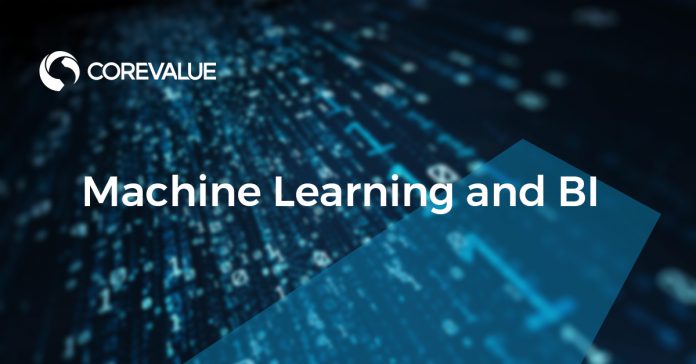 In today's customer-centric world, businesses are leaving no stone unturned in finding new ways of obtaining consumer insights from data and discovering how those insights help in influencing business growth.  Businesses have grown to realize that machine learning and business intelligence (BI) facilitate each other. When a large volume of data is analyzed for business purposes, BI and machine learning offer the best results by working in conjunction with each other.
While you can define BI as a logical commencement, machine learning can be defined as a tool that helps in obtaining a deeper insight into the available data. BI offers answers, by means of some basic calculations.  Machine learning, on the other hand, comes up with prescriptive, cognitive, and predictive analytics and uses mathematical models for determining attributes and offering predictions.
How to apply the concepts of machine learning to your BI strategy?
Using predictive analytics for improving BI capabilities
BI is no longer restricted to static reports, now, it operates with real-time analytics and interactive dashboards, which provide businesses with a more descriptive vision. Machine learning works by using aggregated data. It allows evaluation, interpretation, and description of specific future actions of businesses, depending on the synergy or interaction of various existing systems including data acquisition, data cleansing, and production databases. That's how BI's mission is bolstered by predictive analytics.
Machine learning happens to be a tool used for detecting irregularities in the workflow of BI. It keeps getting notifications on avoidable incidents or sore points in various critical KPIs. This allows businesses to identify the areas that require evaluation in order to satisfy the customer's needs and to make the most of profitable opportunities.
Predictive analytics, when applied successfully, can help in improving the  efficiency of various complex systems in industries like energy, IT, healthcare, pharma, logistics, and so on. Here are some benefits businesses would enjoy:
Data available for analysis results in better productivity and it also allows businesses to set achievable goals based on the past data instead of relying on traditional presumptions. This automatically speeds up the entire decision-making process and enhances the efficiency of the team.
There would be better risk management and a significant decrease in operation costs. This method enables a quick response to challenges, which automatically saves expenditures associated with delayed processing.
Machine learning algorithms help in building consumer behavior models for understanding the journey of customers better. This, in turn, allows businesses to come up with cheaper and more effective campaigns and also successfully retains profitable users. Businesses can offer much faster results for optimizing customer success.
Application on predictive analytics in BI
Big data based predictive analytics have several applications in BI. Below, we have listed some of the most vital ones among them.
NLP or Natural Language Processing: NLP, which is also often referred to as computational linguistics, combines AI, linguistics, and machine learning aptly. It enables communications between humans and machines.
NLP helps in making business intelligence (BI) more personalized and insightful. This is really good news for the proponents of machine learning. Data obtained from various sources makes predictive algorithms more accurate. When these algorithms are integrated into applications, they (the applications) automatically develop predictive capabilities.
Customer segmentation: It works by empowering businesses to distribute customized marketing messages to potential customers. Statistics obtained over the years have shown that predictive analytics are capable of identifying target customers more accurately than other traditional techniques.
Financial modeling and risk assessment: Data mining makes the process of risk assessment much simpler by predicting which business operations would bring in profit and which ones would result in losses. The term "financial modeling" is used for a specific mathematical model that works by translating market and agent behavior into definitive numerical predictions. Those predictive models get utilized when making decisions on investments for defeating rivals and eliminating risks.
Machine Learning and BI. Playing in tune.
BI and machine learning differ significantly in their analytics delivery and functionality. However, businesses will gain more benefits from BI when it works together with machine learning. Whether it is enhanced functionality of existing analytics or detection of hidden insights from unstructured data, the combination of BI and machine learning would play a huge role in the betterment of your business operations and performance.
The algorithms used in machine learning help in accumulating the maximum possible data and thereby complement business intelligence appropriately. The larger number of inputs fed, the greater the accuracy of the outputs. This helps in uncovering different hidden patterns in order to obtain better insights into the available data.
Author: CoreValue