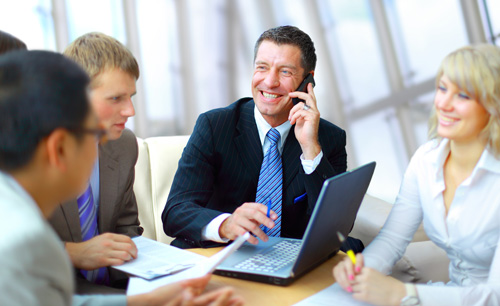 Communication is the most important part of any successful business. The more open and engaging you are with company leadership and employees, the easier it is to maintain high morale and a collaborative environment. While there are many ways to communicate, one of the most convenient, effective, and flexible option is conference calls.
Conference calling not only saves money by offering an all-in-one communication solution, it also increases efficiency and can be used to overcome business challenges such as distance and space limitations. By using conference calling, you're able to greatly improve and extend your business' lines of communication.
If you're looking for the best conference call service, there are many factors that you'll want to consider before making your final decision. Keep reading to learn about each of these factors.
Call Quality
There's nothing more frustrating than setting up an important business meeting, only to be left dealing with poor call quality. Even worse are dropped calls or calls that won't connect at all because of poor connection. Call quality is a crucial factor to consider when choosing a conference calling solution for your business.
Poor call quality is not only inconvenient, but it can also cause confusion or missed messages. This can cause serious issues during an important budgeting meeting or a call with a prospective business partner.
Take the time to compare call quality between conference call providers. Make sure that the solution you choose works well on a consistent basis. Before choosing a vendor, opt to test the system first or use the company's free trial to get a feel for the product.
Security & Privacy
We live in a fast-paced cyber-based world, but as we continue to develop new technologies and advances, there are risks to be aware of. With any new technology comes the chance of it being attacked. In fact, cyber-attacks have increased in the last few years.
One of the first factors to consider in choosing a conference call service is security. While it's convenient to be able to conference call with a prospective business partner or an investor, you want the peace of mind that your calls are safe and secure. A quality conference call service should offer a wide range of security and privacy features included password or PIN protected calls, access control lists, and more.
By choosing a conference call company that offers security and privacy, you can be assured that all sensitive information that is discussed during a call is completed confidential.
Supported Features
With a conference call service, you can expect to be able to make phone and video calls to people around the globe. At the bare minimum, you'll want to find a solution that supports video and audio features. But, if you want a conference calling service to be used for other purposes like training or collaboration, there are other features to look for.
A quality solution will offer a wide range of features to include:
Recording
Screen sharing
Whiteboard capabilities
File sharing
Access control
By choosing a conference call service that offers a variety of features, you can use the system for much more than communicating. In turn, you're able to maximize your business dollars while also meeting other business needs.
Usability
Even though we live in a world that is dominated by new technology, you'll find that some of your employees are highly resistant to change. Why fix something if it's not broken? Since some employees are likely content with email and phone calls as methods of communication, you'll want to really focus on finding a solution that is easy to use.
Find a conference call solution that is designed with usability in mind. If the user interface is hard to understand or frustrating, you won't get the initial buy-in that you need from employees to accept the system as a long-term communication solution.
Cost
Last but definitely not least, the cost is another factor that's worth considering before choosing a conference call service for your business. You want to find a solution that not only meets your short-term budget, but also one that you can afford to pay for years from now as well.
Upfront costs are important, but consider how much money you need to pay each month for support, feature updates, and more.
By factoring in the cost of a conference call solution, you can ensure that every dollar you're putting towards communication is worthwhile and benefits to your company.
Conclusion
Choosing the right conference call service for your business can have a huge impact on productivity, communication, and efficiency. Take the time to research the factors above to ensure that you're making the best decision for your company.