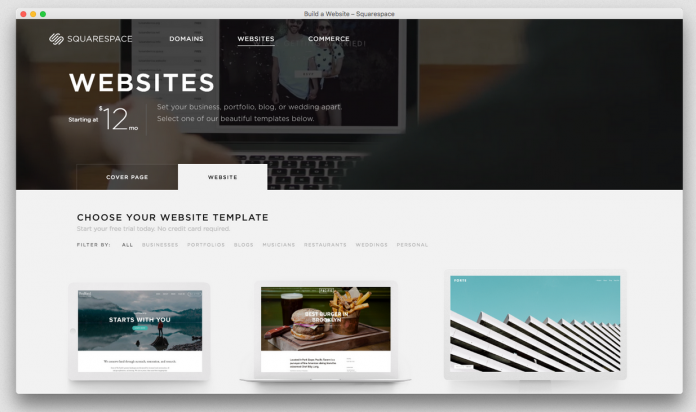 Creating a website might not seem to be everyone's cup of tea but with Squarespace, it can be as easy for a beginner as for a pro. You can create a website without any struggle using pre-defined templates and layouts. In today's era, it is really important for businesses to have an online presence. For some companies or startups, it also might be difficult to catch up with the expense of an expensive web developer. And this is where online website building tools come into play. Squarespace is one of the best and most convenient website building tools.
Along with all these compatible options, it also provides a drag-and-drop option to add images, videos, animations, and many more things. They also provide all the tools that a business owner needs and can think of to maintain and optimize a website. From search engine optimization to comprehensive e-commerce solutions, they have it all. You can get all these facilities just with three easy steps which are listed below:
Choose A Template Or A Layout
You just have to simply go to the website of Squarespace and click on the "Get Started" button. Now you will be redirected to a page where you can select the template that suits you the best. You can choose a niche and then you will get all the templates related to that niche. After that, you can also see how the website will look like by clicking on the preview button.
Start A Free Trial
After you choose a template, you can start your free trial. You can design your website the way you want it to look. Click on "Start Designing The Website" and you are good to go. Then you have to create the account. Enter your first name, last name, email id, and password and your account will be created. Then your sample will look exactly like the template you chose and now you can either carry on with the same template or click on the "Remove It" button to start making the layout from the scratch.
After doing that you can easily add pages using the navigation panel, or you can add tools and elements according to the theme of the website which you want to create. If you want to edit elements, you just have to simply click on them and then modify the content. After doing all the edits you can preview your website as many times as you want to by clicking on the eye icon. You can also add website management tools, edit the title, view your visitor's statistics, and configure advanced settings.
Free Domain
After creating the template and customizing it, you will need a domain that will look like the URL that users will type to search for your website. You have to choose it when you are ready to publish and have to make your website live. Squarespace provides three plans to choose from. They are listed below:
If you need a basic website, then this could be the plan for you. This plan starts only at 8$ per month. It offers 20 galleries, webpages, and blogs with 500GB bandwidth, 2GB storage, and 2 contributors.
It starts with 16$ a month and offers unlimited landing pages, blogs, and galleries. It also comes with unlimited bandwidth, storage, and contributors. Also, If you are a web developer, it also provides you with a developer platform.
This is for businesses that require fully integrated ecommerce platforms. It starts at 24$ per month. It includes an online store with unlimited physical, digital, and service products. It also includes tax shipping and coupon controls. Along with this, it has unlimited bandwidth, storage, and contributors.
Conclusion
It is very convenient and easy to create a website using Squarespace. Along with all the above-mentioned features, it also comes along with a mobile website and 24/7 support.