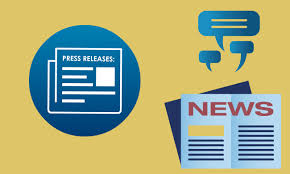 An effective and efficient press release is crucial for marketing related to people. Press release distribution service is very helpful in letting the media channels know about your contemporary news and events.
There are two major benefits of the press release distribution. Let us have a look at them:
Press release distribution is budget-friendly to do because there is no cost involved most of the time. The only investment you need to do is to invest your time to jot it down. Although some press release distributions can be paid as well.
 

Search Engine Optimization:
If the proper researched words are put down in the press release copy, then it helps in your press release showing up on top of the online search engine results. All of this results in gaining an increase in your website traffic.
How to Write a Good Press Release?
Now that we know what a press release is, let us have a look at how to provide the best press release distribution service:
What you are doing by writing a press release is, giving the journalists data and information that they adore the most! So do make sure that the information that you are providing them with is authentic and well-researched. You do not want to write things that you are unsure about! Always know what you are doing!
The "Attaching" Technique:
Let's suppose that you do not have a very hot topic to write about. Or maybe the topic you are writing about is boring and not very trendy. What will you do in this situation? You will have to make your data more eye-catching and trendy. 
 Now, this is where you will use the attaching technique. What you will have to do is, find a hot and trendy topic that is going on currently. Now you have to find out a way to "attach" this trendy topic with your news! This is how you will gain the interest and attention of the journalists.
Heading of your Press Release:
Make sure that you focus a lot on this area. Because the headline of the press release is what people look at the most. You will have to ensure that the heading of the press release that you are writing is concise, but at the same time, it also gives a good summary of your content.
 Also, keep in mind to use direct language and be straight-forward. That is how you will gain social interaction.
The Body of your Press Release:
You have to make sure that your press release's first paragraph does not have more than fifty words. Lengthy introductions discourage the people to continue reading and maybe lose interest right at the start.
 In this paragraph, you will have to give a total briefing on what the news story is all about. Make sure that you find out a way to include all the relevant information in this paragraph.
Make sure that you include the mission statement of your company in the press release. Including contact details like this leaves a good impression on minds.