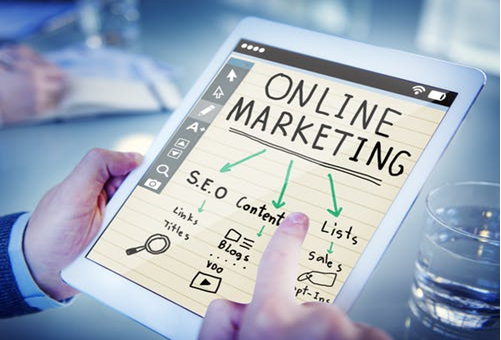 The person who just walked into your store during the mid-day rush simply exited after browsing through the aisles probably meant nothing to you simply because you're handling a chain of brick-and-mortar stores and couldn't be bothered with the flow of people.
If we take this little charade online, then the people entering and exiting your e-commerce website are actually termed as 'leads'. Leads are people who might be interested in doing business with you – your job here is to make them stay while they're busy snooping through your website.
How to Generate Leads
Leads are generated whenever potential customers lend their contact details to your website in response to a call-to-action (CTA) that they simply found embedded within your webpages or blog posts. This entire process of generating a lead is strategically one of the hardest chores known to a digital marketing veteran.
85% of digital marketers believe that lead generation is one of the ways to ensure that their content marketing techniques aren't exactly the bare minimum. Despite this practice, only few of qualified leads go through conversions towards the completion of a successful sale.
In order to ensure that your content marketing techniques help you in lead generation and improved sales statistics, make sure that your content is thoroughly optimized for the purpose in the first place.
Content Optimization Tips to Improve Lead generation
Mentioned below are 5 content optimization strategies that might help to give you an idea of how they ensure lead generation.
Audit Your Outreach Channels for Maximum Traffic
Before you optimize your content, it is important to analyze the forums and webpages that act as primary channels for lead generation. This might help you to assess those webpages that are already bringing in traffic and those that are somehow creating differences within the gaps.
From e-mail marketing to content marketing via social media channels, live chat and blog posts, your traffic might come from backlinks within your webpages and external sources.
Identify your sources so that all you need to do is optimize your content with a simple form – one that allows your users to fill in their contact details – via a click-through option to ensure lead generation. This can be done by employing an analytics tool to your disposal which would ultimately help you to discover your best resource for lead generation so that you can optimize its content thoroughly and accordingly.
Optimize Your Webpages
Due to a greater number of landing pages, companies get to optimize their content accordingly with calls-to-action distributed evenly towards the end or mid-post for viewers to take notice of.
Optimize your landing pages with a redirection towards a 'Thank You' page or pop-up that shows promotional offers and plug-ins to a successfully registered user on your website. Send your generated lead a 'Thank You' e-mail that will serve as a kickback e-mail with specific CTAs and promotional offers in context.
According to another survey, lead nurturing emails help to generate 4-10 times the response via the featured click-through and other user engagement options as compared to generic marketing emails.
Personalized Calls-to-Action (CTA)
Start by optimizing the content on your home-page – the pillar of your content marketing funnel – with a personalized CTA towards a newsletter or a recurring social media campaign to grab the attention of a maximum number of leads.
Personalized CTAs help to generate 42% more leads than those that are basic and standardized at best. Make sure you don't suffocate your home-page since its design alone will help to grab the attention of your visitor till the time of lead generation and possible conversion.
You need to offer promotional coupons, discounts and updates regarding the latest trends or bargains to consumers who opt to stay on the e-mail marketing list proactively. By opting for an active subscription to a marketing list, your visitors now have the opportunity to turn themselves into marketing qualified leads (MQLs). This will ultimately help them uncover the top industry trends by allowing you to keep their interests and buying options at bay.
Free E-books and Trials
Optimize the content on your home-page and other landing such as category pages with specific CTAs to trial offers of free products or services at a reduced price for your leads. This will help you to generate leads faster since people are more interested in trials and demos that concern their needs.
You can follow-up on the lead with a testimonial or review and feature it on your website or social media pages for subsequent leads to see.
E-books too, act as an amazing source for keeping a lead interested in the blog post they just read about. This is a prime SEO technique where you can generate leads via optimizing your blog content to the maximum with backlinks so that Google can recognize your page authority for recommendation and higher search engine ranking.
For instance, in order to keep your reader interested and craving for more content, present an e-book with additional resources, guides and tutorials in return for their subscription to your website's newsletters and regular updates. You can send them a user-specific key to activate their subscription offer via a kickback email and send them their resource via the same to ensure maximum lead generation and protection.
Live Chat
Artificial Intelligence has helped brands to automate their webpages with chatbots for the facilitation of customer care service representatives. However, despite this breakthrough, users prefer live chat options with customer care representatives so that their queries have a more personalized approach and therefore, can be answered instantaneously.
In order to integrate your website with live chat options, audit your webpages, including your home page and landing pages for the analysis of maximum outreach and traffic. By doing this, you'd know about the pages that host the most number of visitors for you to peruse the next step towards lead generation.
Next, you can incorporate specifically trained reps from your customer care team to the webpages that are integrated with the live chat feature. Live chat will help to ensure prompt responses with step-to-step guidance or navigation assistance as per the questions of your visitors, therefore, converting them into leads.
Nurture your leads with follow-up e-mails as this might help you to generate 50% more conversions than those that don't and are already at a 33% lower cost. The highlight of every business is to make sales at the end of the day. So, learn how to optimize your content so that you can go through the steps of lead generation and conversion for sales and subsequent growth of your business accordingly.