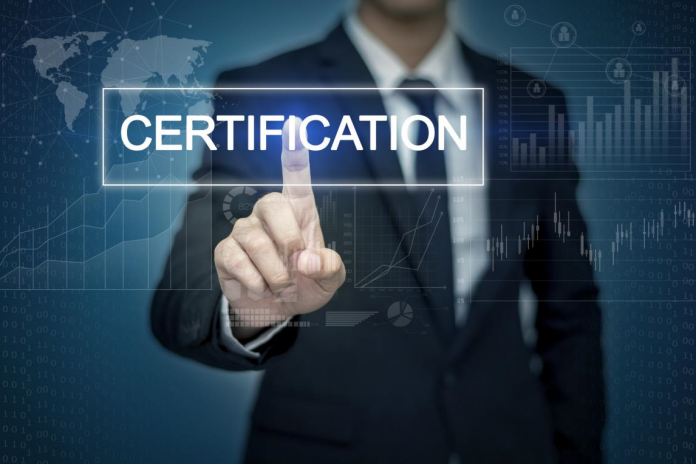 The workforce calls for us to continually grow. We are required to learn new skills and to master concepts to achieve success. But, we may wonder how we can get ahead with a busy schedule. 
Fast certifications that pay well may be the answer. Certifications are the result of short educational programs that teach you a specific skill. They demonstrate to others that you're proficient in a certain area of study. 
In many cases, a certification makes you more qualified. This makes certifications highly appealing to those already working a full-time job. Especially, online certifications that allow you to participate when you have the time. 
The reality is not everyone can afford to go back to a traditional school setting. They may not want to spend the money or time to complete a degree. Or, they may have too many responsibilities.
Fast certifications that pay well can allow you to achieve greater success without needing to make a large commitment. They can help you to get ahead in your career and better your life overall. 
So, which certifications could help you to earn more? Read on to learn about 7 fast certifications that pay well. 
Fast Certifications that Pay Well: 7 Options for Success
In today's world, we seem to be busier than ever. If we missed our opportunity to go to college right after high school, we may feel behind. We may have decided to join the workforce and begin making money instead. 
However, people who don't have a college degree aren't the only ones who can benefit from certifications. College graduates struggling to find a job or who want to make a career change can also benefit. What's more, is that getting a certification may benefit their careers more than their college degree alone. 
This is especially true if a college graduate isn't working in the field their degree is in. A certification can help this individual to achieve a more focused career path that will pay well. And, they can do this without needing to get an additional degree. 
Explore the following fast certifications that pay well to enhance your career. 
1. Microsoft Office Specialist
Many companies use Microsoft Office to complete daily tasks. From PowerPoint to Microsoft Word, Mircosoft Office is a useful office tool that helps businesses to further their goals. 
By gaining this certification you are demonstrating that you are an expert in Microsoft Office. This can cause you to become the go-to person for answering Mircosoft Office questions at work. This will make you an important asset to any company that uses Microsoft Office.
2. Lift Truck Certification
Lift trucks are key to many warehouse and industrial operations. They assist in moving large items from one space to the next to save time and money. But, operating a lift truck can also be dangerous. 
To demonstrate your commitment to safety and successful lift truck operation, consider getting a lift truck certification. Discover more about lift truck certification to determine if it's right for you.
3. Health Coach Certification
Health coaching is a growing field. Health coaches help people with mild conditions to improve their health, and in turn, their lives. Health coaches also help people to remain accountable when reaching their goals while offering encouragement and support. 
Consider getting your health coach certification if you're in the medical field or interested in helping people to better their health. 
4. Adobe Certification
Many companies are in need of employees who are skilled in graphic design. However, they may not be able to afford to hire an in-house graphic designer or outsource their graphic design needs. Make yourself indispensable by getting your Adobe Certification.
This certification covers important graphic design programs such as Photoshop and Adobe Illustrator. 
5. Website Development Certification
46% of small businesses in the U.S. still don't have a website. This may be in part due to a lack of web development and design skills. 
It may also be due to not having enough resources to hire a website developer. If you want to help small businesses to create their websites or help your current employer to create an online presence, then consider getting a website development certification.
Doing so will not only help your boss and the business but also your career. 
6. Professional Trainer
Every great company knows that they need to train their employees. They understand that training helps employees to prepare and succeed in their daily tasks. It also helps to establish the company's expectations while training employees on how to successfully met them. 
Professional Corporate or Business Trainers can help businesses to train their employees. These certification programs are most useful for people in management or in human resources. They can help you to get promoted and help your employer to create a well-trained workforce.
7. Foreign Language Certification
Knowing a foreign language is a highly marketable skill. We live in a global world where we come into contact with many different languages and cultures. To bridge these gaps, we need people who are experts in foreign language.
To prove that you have mastered a language, consider getting a certification. This will demonstrate to an employer your skill set and your ability to communicate with ease in a foreign language. 
Fast Certifications that Pay Well: Which Will You Choose?
Fast certifications that pay well provide us with a meaningful way to better ourselves. They also make way for us to earn more money, receive more job opportunities, or get a promotion. 
In a competitive world, these certifications can help us to stand out. They can also help us to feel more accomplished and confident in our skills. 
Want to learn more about technical certifications? Check out our blog post to learn more.